Overview
Together is an online qualitative research and community platform from Further (formerly known as Dub).
It can be used for one-off discussions or – more commonly – for multi-stage projects or communities with a series of different exercises. These can take place over the course of a single day, a few days or a few weeks.
It's a qualitative platform, and well suited to small respondent groups taking part in creative, exploratory, projective or interactive exercises.
For larger groups, it's possible to create different segments of participants. This allows groups to be ring-fenced from one another and managed separately if needed.
Research tools include diaries and journals, blogs for private storytelling or social sharing, discussions, surveys & Polls, co-creation and brainstorming, video blogs, picture walls and mood boards.
Community management features include member portals with content widgets, profile pages and email scheduling tools.
Features
Participants can come from anywhere: traditional offline recruitment, customer lists, facebook ads – the only requirement is an email address.
Once they join, the interface will be familiar to most people who use the internet so the learning curve is not very steep. It mimics some features of social networks and forums, and is quick to pick up.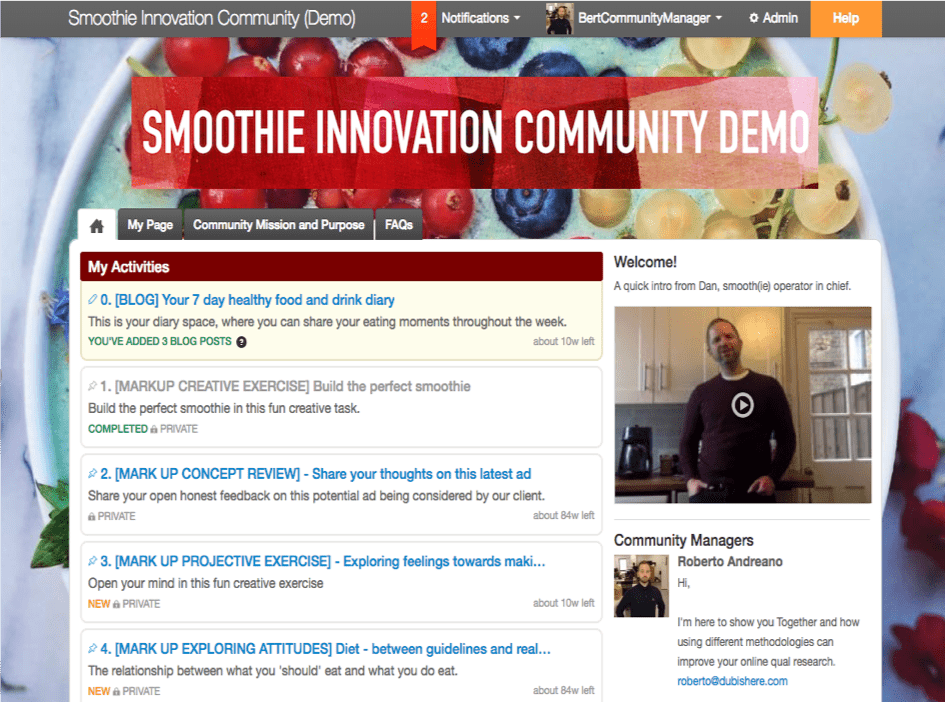 Settings can be applied to most activities to manage task scheduling/ sequencing; allocation of activities to specific segments; social settings, which enable or disable participants to discuss with one another; and bias control, which prevents participants from seeing other answers before they have submitted their own.
Together is a self-service tool, but flexible support is available at all stages if required – for setup, research design, moderation, project management and even analysis or reporting.
These are the main research tools: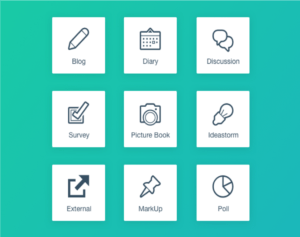 Blog
The blog tool can be used for digital diaries and journals using pictures, video, text and web links. Blog activities usually remain open for several days so respondents can return, add more detail or complete multiple entries (eg. to document daily habits).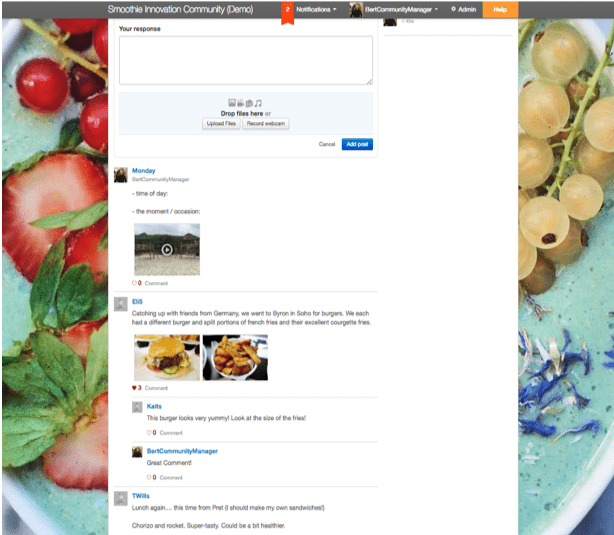 Discussions
Similar in format and features to the blog tool, discussions are used for conversations involving several community members. The community manager (researcher) sets the topic to be discussed and controls the discussion.
Surveys
Although it's essentially a qualitative platform, Together also has a basic survey capability that includes open-ended, single choice and multiple choice questions. There's no routing and logic, so the main use is to get simple, structured responses – like a virtual show of hands.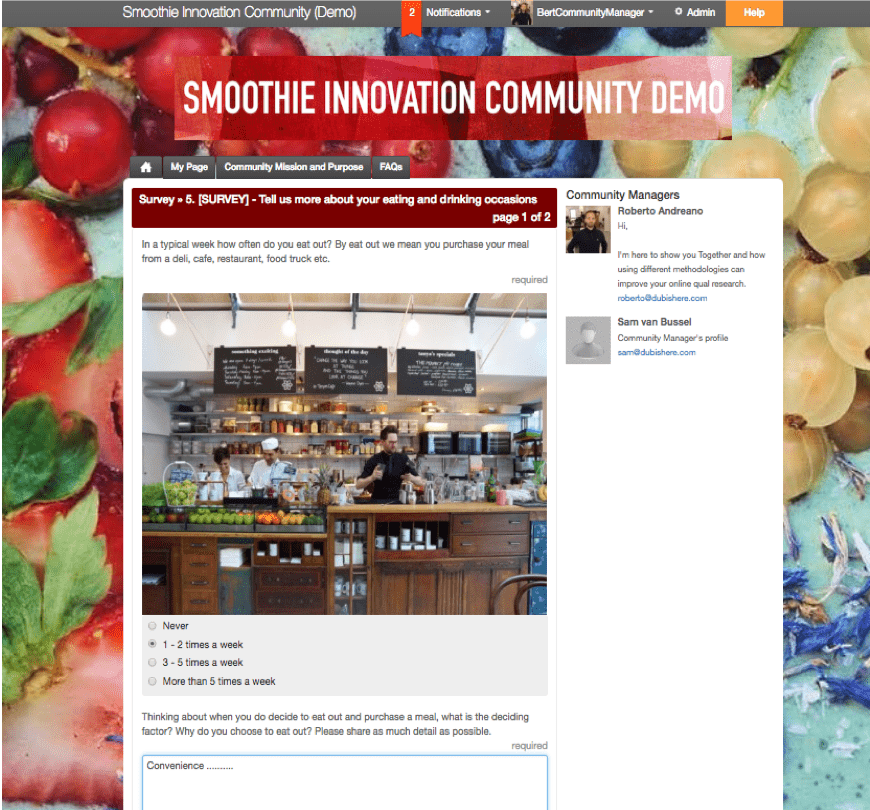 Ideastorm
This tool is for co-creation and crowdsourcing ideas. Participants are given a challenge and asked to submit concepts using text, images or video. They can also then feed back on each other's ideas with comments and ratings to create a leaderboard.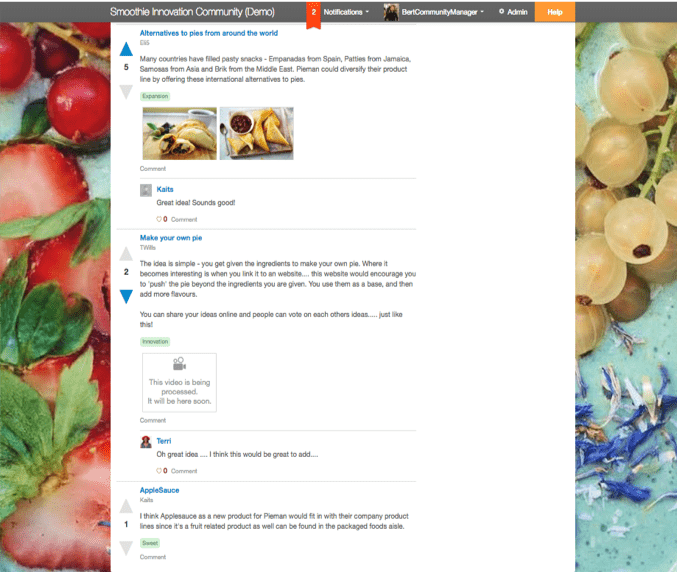 Markup
This tool is mostly used for ad and concept testing. Participants drop pins onto specific areas of an image and can enter text responses or post emojis to explain what they like or dislike about the stimulus. The output can include a heatmap of pins.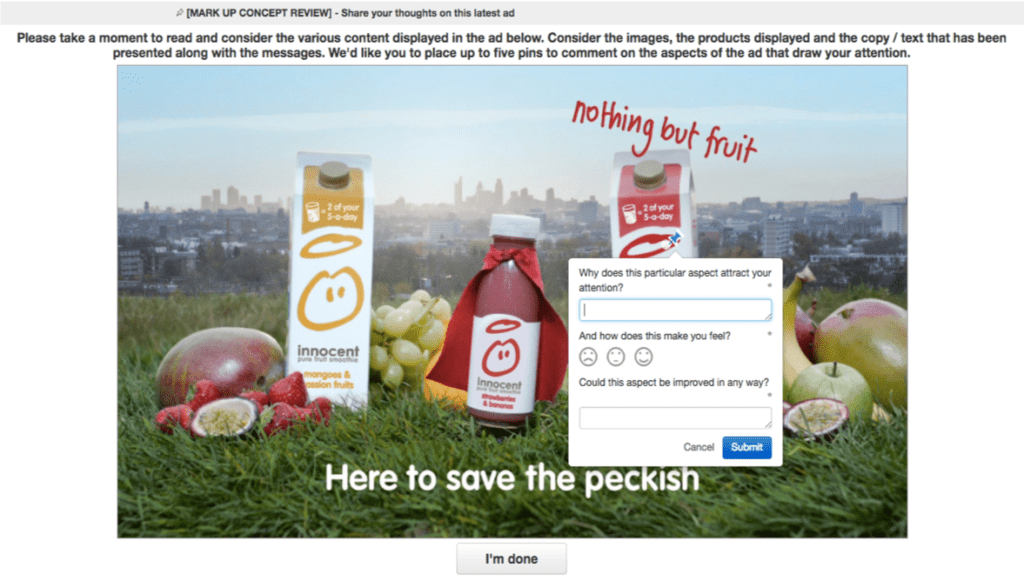 Picturebook
This tool allows participants to capture a lot of images quickly and create galleries. It's not quite Pinterest, but it's a good way to gather lots of visual input in one place.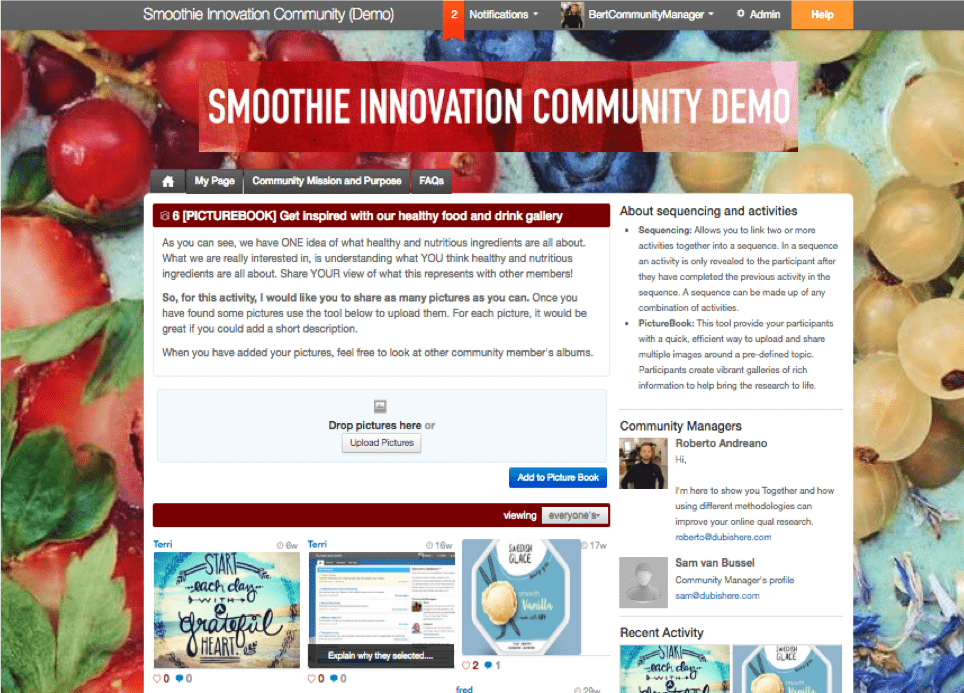 Pricing
There is no published pricing for the tool as all studies are costed individually.
What we like
I recently used the Together platform for a complex exploration / ideation project in a niche food category.
As a moderator, it was quick to learn the basics and easy to use. We had about 25 participants and a dozen clients on the platform as observers. None of them had any difficulty completing the tasks or accessing the software.
This project was ambitious and had an aggressive timescale. We had 2 weeks in field with a new task every day: blogs, dairies, picture books, videos, concept ideation, mini surveys.
The toolbox covered everything we needed. It is fairly comprehensive, but – crucially – it's also flexible. Even if it looks like a feature is missing, it can probably be cobbled together by twisting one of the tools to fit what you need.
This flexibility comes from experience: the team behind the software has been going for about 10 years. They have had plenty of weird demands from researchers, and have tweaked the platform to make it work.
Support is also a very strong suit. The team is responsive, capable and creative. For a self-service SaaS product, the value of this can't be under-estimated.
What can improve
Longevity also has drawbacks. The platform was originally designed in a desktop-first era, and not all features are available on mobile. This makes sense for certain tasks (like marking up large format stimulus), but it means there's no native smartphone app, no scope for offline tasks and email is the only option for communicating with participants.
A second, related, quibble is the pretty dated look-and-feel for both the participant and moderator interfaces. It could really do with a more modern skin like its sister app Tandem.
But for me, the biggest limitation is the lack of analytics to help speed up reporting. There is a simple tagging feature for posts, which can then be used for filtering; but beyond that, it's a question of exporting to Excel and doing good old-fashioned heads-down content analysis.
The 25 participants in my study generated huge volumes of text, hundreds of photos and a few hours of video. It's a lot to get through manually. It would have been great to have some topic-based text analytics, auto-transcription of the videos, or object recognition for the photos – just to lighten the load.
Bottom Line
Despite the somewhat dated interface, the desktop-first design and limited analytics, Together is still one of the best qualitative research and community platforms out there.
The features are comprehensive, the toolbox is very flexible and the support services from the team are outstanding.