Platform Demo – inca On-Demand Demo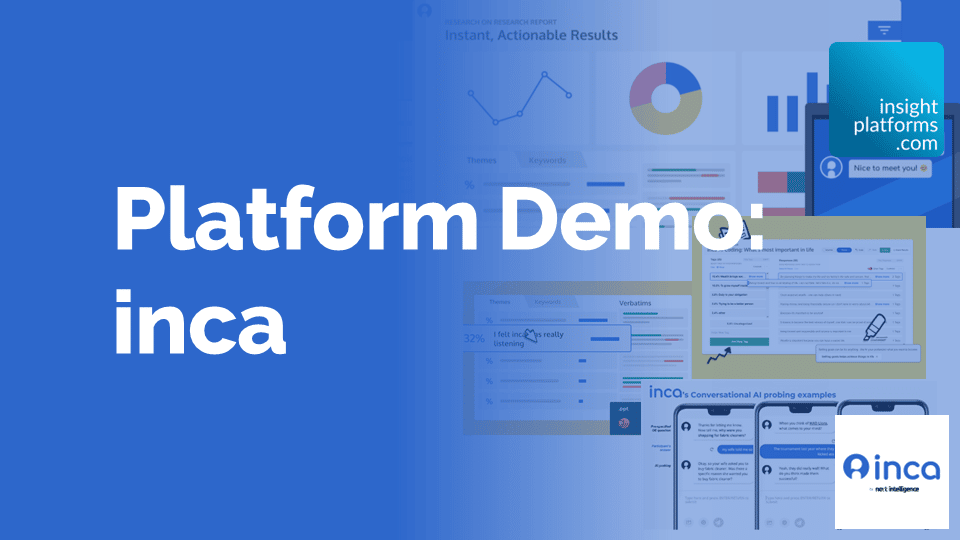 On-Demand demo of inca – an AI enabled tool that blends qualitative capabilities into quantitative surveys for at scale insights and speed.
inca – inquisitive, natural conversational agent – is the most powerful and easy to use conversational AI toolkit. Inca takes the latest advances in AI large language models and trains the AI so it asks really good probing questions for market research. The result is deeper insight at scale, with participants' answers to probes frequently yielding richer insight than their answers to the original open ended question.
Inca is fluent in many languages and can be used in two different ways:
Inca end-to-end conversational survey platform – blends qualitative capabilities with quantitative surveys to reimagine the online survey experience. In addition to AI probing, the inca platform provides a highly visual, conversational experience featuring qualitative projective techniques at quantitative scale. The result is a much more engaging participant experience than regular online surveys which leads to better quality data. All data is available live on the inca dashboard, including AI coding of open-ended answers.
Inca works for any sized business, in most countries across the world. We partner with research platforms, research agencies, consultancies and enterprise brands to enable them to benefit from leading-edge conversational AI.
Please login below or register for a free Insight Platforms account to watch videos.