Medallia is one of the undisputed leaders in customer experience management.
Its platform takes customer feedback signals from dozens of places: surveys, reviews, social media posts, complaints, call centre transcripts. It then summarises trends, flags remedial actions and even packages insights for the C-Suite in the Voices smartphone app.
Since its IPO in July 2019, the stock has done OK – judged against other recent tech IPOs – and is up by about 25%. Revenue growth is healthy at c. 20% year on year.
The company has also been on quite the buying spree:
That makes 5 very different, very interesting additions to the core platform.
This obviously tells us a lot about Medallia's priorities.
But, more importantly, what does it tell us about the future of Customer Experience Management?
---
1. Margins will continue to tighten.
Customer experience management is a maturing category.
As one of the early players in enterprise CX, Medallia helped to define the space. It has also commanded a serious premium for its kit.
But despite good top-line growth and top end pricing, profit has been elusive. After tightening up costs before going public, the last two quarters have seen the return of heavy EBITDA losses.
Margin pressure is increasing throughout the CX management category as it matures, and three factors are contributing to this.
Crowding
If you want to measure and manage your customer experience, you have a lot of choice these days. The tools for capturing and analysing customer feedback are commoditising.
This market map needs updating, but it contains nearly 70 different providers of CX feedback solutions.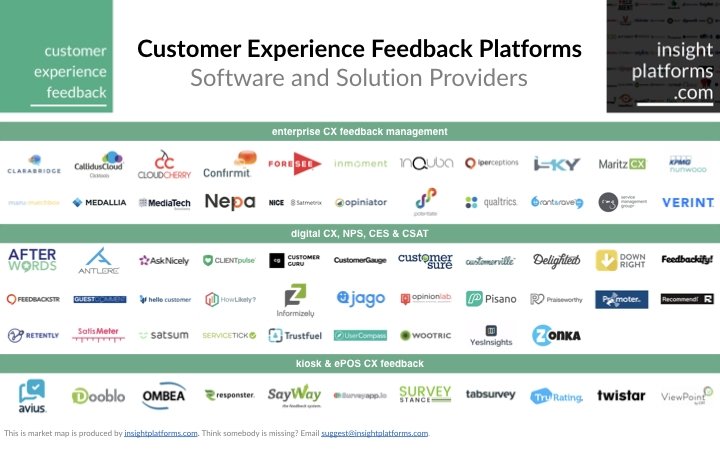 That's a lot of people fighting over the same budget.
Thin Slicing
Medallia, Qualtrics and the other large CX players offer 'full stack' solutions. But dozens of more focused startups have launched over the last few years. These companies target slices of the CX value chain rather than the whole thing.
They include lighter touch digital NPS tools like AskNicely and Wootric (see below).
They also include CX Analytics tools that process natural language feedback – like Sentisum and Heartbeat Ai.
And they include the crowning achievement of CX feedback: smiley face touchscreens in public restrooms.
New competitors generally have lower overheads, sharper focus and more flexibility. That means more margin pressure for large incumbents.
Lateral threats
Competition often comes from outside the core category, and the relatively new discipline of Customer Journey Analytics is one such place.
It includes platforms such as Pointillist, Clickfox and EngageCX – whose gifted copywriters explain what this is all about far better than I ever could:
ENGAGEcx is a customer-aware IoT middleware platform that transforms, orchestrates and analyses data in real-time from physical and digital sources to provide profound new insights into consumer activity enhancing engagement, revenue and brand loyalty.
Medallia's purchase of Cooladata signals how CX management will have to evolve over the next few years.
Combining behavioural data from CRM, e-commerce and other digital systems will help to offset the commoditisation of purely feedback-based CX platforms.
---
2. The gap between feedback and action will close.
Here's a prediction for you: in 2 years' time, nobody will refer to CX feedback programmes as 'Voice of Customer'.
It's a label that's dying, and deservedly so. Like so many artefacts of market research, it denotes passivity. It's about listening, not acting.
But the future for CX management is all about action. Not just red-flagging grumpy customers or closing the loop – but fully embedding in sales, marketing and service workflows.
This will come from increased use of behavioural data; better predictive and prescriptive models; and tighter integration with CRM, customer support and communications platforms.
This is why Medallia acquired Zingle. It's a messaging platform that helps front-line staff in travel and hospitality to respond more quickly to customers.
Hotels are one of the biggest buyers of CX feedback programmes. Integrations like this will help them respond in-the-moment with service recovery actions, up-sells or surprise-and-delight offers.
---
3. Startups and SMEs offer scope for growth.
Do you have at least £1 million to spend?
When Medallia first entered the UK market, this was rumoured to be the first qualifying question used by its sales execs.
It's almost certainly not true.
But what is true is that Medallia is an enterprise platform – for large customers with complex setups and hefty budgets.
But there is a lot of growth in customer experience management tools for smaller customers with simpler needs and less budget.
In fact, even if you have no budget you have options. Pendo and hotjar both offer free digital NPS solutions (as acquisition hooks for paid analytics products).
This is why Medallia bought promoter.io, why NICE bought Satmetrix, and why Qualtrics bought Delighted. It's a portfolio strategy to provide CX management tools for different market segments.
---
---
4. Customer experience management will extend to customer collaboration and experience innovation
If gathering feedback and tracking CX metrics is commoditising, where do you look for more premium value?
One place is customer co-creation: helping to innovate customer experiences as well as measure them.
Some companies – Potentiate, Maru/Matchbox – already combine customer experience management with insight communities. Technically, you can also use Qualtrics or Confirmit for both.
Medallia joined the party by acquiring the idea management platform Crowdicity. We can safely expect to see more of these combined CX / customer collaboration plays in the future.
---
5. Dashboards are dying, storytelling is in.
OK, maybe dashboards aren't dying.
But remember this next time you create something you think is beautiful, with gorgeous visualisations, drill-downs and trend lines. Most of your users want to scream at you:
Not. Another. Fucking. Dashboard.
The more data we have, the more that customer experience management will need to get creative about storytelling and engaging audiences better.
Medallia's Voices app gives senior execs a regular feed of curated stories from real customers. It helps them feel plugged in without the pain of combing through dashboards and data.
And this is where much of the value in the LivingLens acquisition will come: using video to tell customer stories for internal audiences. Voxpopme's VideoCX solution aims to do something similar.
It's storytelling gold. Once you filter out videos with bad lighting, mumbling, background noise, weird accents and those with nothing interesting to say.
---
So that's it.
Expect the future of customer experience management to be more behaviourally-driven, action-oriented, segmented, collaborative and engaging.
Thanks Medallia for showing us what's coming.
---