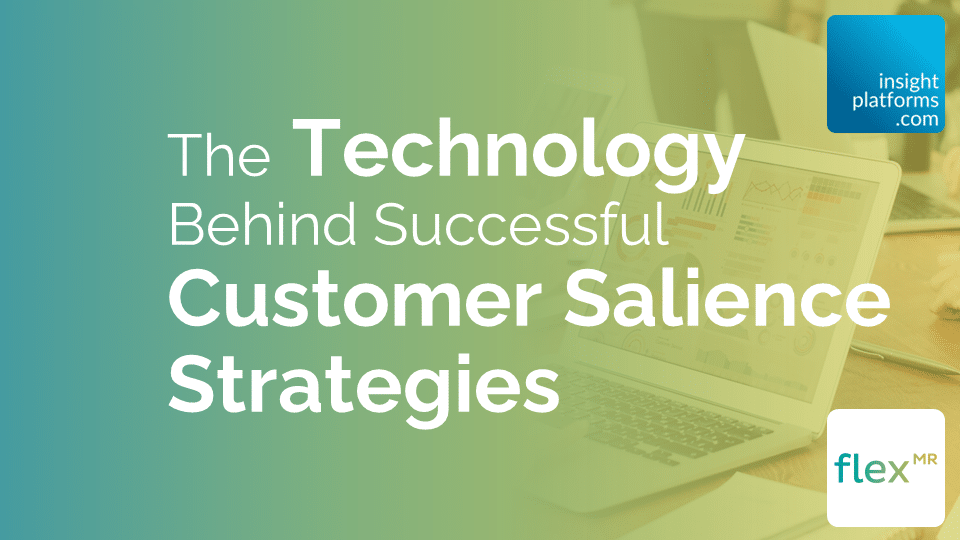 The Technology Behind Successful Customer Salience Strategies
By FlexMR
Customer Experience (CX) Feedback
Enterprise CX Management
CX Analytics
Customer Satisfaction (CSAT) Surveys
Customer Journey Mapping
Customer Journey Analytics
Since the turn of the century, there's undoubtedly been a technological frenzy of innovation and evolution. Building on the work of pioneers who invented the dial-up internet, mobile telephones, and PC computers in the 1900s, we are now living in a world where smartphones are an extension of our brains and ingrained into our basic functionality, and where Wi-Fi is considered a basic human need rather than a luxury. This technological evolution has changed the way we interact with one another, how we live our lives, and how we work to propel businesses in all industries to the top of the game.
In market research, we have similarly adapted, and learnt that we can gather more detailed intel on consumers by communicating through these smartphones and online on portable computers – something that would have been laughed at about forty or fifty years ago. We have transferred centuries of knowledge and methodologies into online formats and managed to revolutionise the way businesses understand their customers, yet we're still facing some of the harshest budget cuts from all businesses in all industries that most insight experts have ever faced.
According to data shared exclusively with Marketing Week, net spend on market research has been negative for the best part of a decade with some businesses turning to data and cheaper research sources. And Forrester data also shows that decision-makers report that they made 48% of business decisions based on quantitative information and analysis in 2022, which inches backward from 50% in 2021 and 49% in 2020. Additionally, the number of firms reaching advanced insights-driven maturity has stalled between 2019 and 2021.
So, with all our great technological capabilities and innovative skillsets, what can insight experts, teams and advocates do to recover from this and start building back the ground insights have lost in stakeholder organisations?
Implementing Customer Salience
Customer salience is a new strategy based on a culmination of decades of innovative thinking. With the industry's efforts seeming almost fruitless when it comes to engaging the majority of stakeholders in research and insights, let alone empowering them to use those insights effectively, Customer Salience offers a new angle, a new strategy and a new chance at insights empowerment.
FlexMR defines Customer Salience as "the propensity for stakeholder teams and departments to think about customers when making business decisions." While there are similar premises talked about throughout the industry, the plurality of 'stakeholders' in that sentence doesn't refer to the stakeholders at the top of the business, which those other similar premises tend to focus on. Instead of fighting for a seat at The Table, as is the reason behind the longest battle insight experts have been fighting for all this time, but rather it refers to a larger group of stakeholders, all of the employees across a business should be a 'stakeholder' and should factor in customer insights in all of their decision-making processes.
We need to fight for a seat at all the tables, be present in all of the decisions across the organisation in all teams. And then that organisation has a chance at becoming Customer Salient. The best way to help boost your chances of becoming Customer Salient, is to lay down the right infrastructures to help all stakeholders better access and understand the power of insights – starting with technological infrastructure.
Constructing the Right Technological Infrastructure
While all businesses strive to become Customer Salient, only those that lay the proper groundwork will actually achieve that coveted status. This groundwork covers building up a new Customer Salient company culture, implementing new policies and processes that keep customer insights at the forefront of operations, and setting up the technological infrastructure needed across the organisation to gather, access, and communicate impactful insights.
Of the three, laying the technological infrastructure is the most practical and achievable thing you could do, and so it's the best way to start. So, what technological infrastructure is needed to best permeate insights throughout an organisation:
1. A dedicated online market research platform
We can't communicate insights without insights. Seems logical, but having a dedicated research platform with a good sample is the basis for all good market research. While some teams can manage by outsourcing research projects to agency teams, and that works for them, there's nothing like having your own research platform that you can access to do in-house research – whether that's simple polls for quick decisions, or larger projects to determine the direction of business or team strategies.
Having an in-house team of research experts along with a research platform for them to use enables stakeholders to gain quicker access to insights. Agencies are a great source of expertise and have the right tools and methods on hand to help whenever, but unless you have them on retainer, they're also dealing with other clients that could take precedent over your last-minute request. Having an in-house team, with an agency on the side to act as an extension of that team if your in-house team is small, will enable you to gain insights at the speed of business as soon as you ask. They will have on hand historical insights that could be useful to that situation, they know the business intimately, and can use a dedicated online research platform to perform any research needed as soon as stakeholders understand and communicate that need.
2. Dedicated communication channels
Once the online research platform is in place and there are insights generated and ready to be distributed all across the business, you'll need dedicated communication channels in place to do this well. Communication channels where stakeholders know that's where quality, relevant and recent insights will be ready for them to use in decision-making.
To understand which communication channels are the best for your organisation, you'll need to know what channels your stakeholders use on a daily basis, which are the best modes of communication for your insights, and how you can best communicate them to make stakeholders act on them. Both online and offline communication channels are needed to communicate in the right way at the right time on the right platforms, to spread customer insights as far around the business as possible.
3. Easily accessible online data warehouse
As well as creating ways for insight experts and advocates to communicate insights across the organisation, the best way of helping the business become Customer Salient is to make data and insights as easily accessible as possible for stakeholders too – so that stakeholders can reach out and find the insights they need themselves rather than relying only on researchers to give them the insights that are currently being generated.
Data warehouses are great sources of historical customer insights from the insights team and data generated from across the business. Creating one of these data warehouses and allowing it to be easily accessible to view and comment on by all stakeholders across the business not only allows stakeholders to connect with customer insights, but also with each other as they see exactly what other stakeholders in the business have use those insights for and what impact that has had on the company.
Establishing Customer Salience
There are more considerations to technological infrastructure than the three mentioned above, and these will be more specific to the business in question to help them cement the right pathways for customer insight generation, distribution and activation. But more than that, there's more to establishing Customer Salience than laying down the right technological infrastructure. For stakeholders to take advantage of this, they need to understand the power of customer insights, and want to take the customer into consideration a lot more than they do now in all manner of decisions.
It's about building the right culture and customer-closeness, so ensuring that stakeholders are close to insight experts and advocates in most conversations and decisions. To understand exactly what areas of your organisation are in data deficits, and what you can do to fix it. There are now resources available such as FlexMR's Customer Salience Toolkit to help insight experts and advocates to start their business' journey to true Customer Salience.
Author
Emily is as a Copywriter for the in-house marketing team at
FlexMR
, where she helps create marketing content for the
FlexMR
brand.