The Power of Online Marketplaces
Research marketplace models have seen good growth recently.
Much of the wider internet's growth has been driven by these two-sided models with their simple and inexorable network effects: the more things you have on one side (supply or demand), the more things you attract on the other.
Some of today's biggest global brands owe their success to this 'flywheel' effect:
The more buyers eBay attracts, the more sellers want to list there – attracting more buyers who will be confident of finding what they want
The more users search with Google, the more data is generated to help Adwords customers be more relevant – increasing the utility for searchers
Uber's surge pricing might seem brutal when you're out late on a rainy Saturday night – or fleeing a terrorist attack – but it is central to the marketplace model: higher fares bring out more drivers, so riders are confident they'll get home (even if it stings a bit once they sober up).
Lots of marketing technology – especially the programmatic ad ecosystem – has followed Google. There are – literally – thousands of tech players in the extended marketplace that ultimately connects brands to your eyeballs, hearts and wallets.
This article highlights six different types of research marketplace:
Report Marketplaces
Participant Marketplaces
Personal Data Marketplaces
Talent Marketplaces
Crowdsourcing Marketplaces
Technology Marketplaces.
One final thing before you red on: this is a collection of leading marketplaces, NOT a rank order. Hope that clears up any confusion.
Report Marketplaces
1. MarketResearch.com
MarketResearch.com is a published research marketplace that hosts more than 800,000 reports on nearly 700 industry sectors.
You can buy reports individually; take out an all-access subscription through the Knowledge Centre; or use Profound, which allows you to buy individual sections, tables, charts or graphs from a report – without needing to buy the whole thing.
Participant Marketplaces
These types of research marketplace essentially connect answer-givers to people with questions.
It's a well established model, with survey panels coming online in the late 1990s. I could have included dozens of examples in this category.
2. Dynata
I've included Dynata here not because I love the name – come on guys, nobody does – but because it illustrates one of the big tendencies in online marketplaces: to create winner-takes-most outcomes.
Bigger panels satisfy more buyers – generating funds to acquire more panelists and market to more buyers. And so the apparently virtuous circle spins ever faster.
Winner-takes-most markets usually see prices trending down as the biggest player consolidates its position (hello, Amazon). But they usually creep back up once the winner has exhausted all other routes to growth.
Sample costs have tumbled in recent years. Just saying.
3. Netquest
Note that winner-takes-most rarely means winner-takes-all in marketplace models.
So far, most online marketplaces have left room for niche providers or those with a distinctive value proposition – DuckDuckGo, for example, provides a meaningful alternative to Google search – for people who care about privacy.
Similarly, there will always be specialist research panels. Netquest is one of the bigger alternatives to the Dynata hegemon, with a deeper focus on specific geographies (LatAm / Southern Europe) and data types (behavioural measurement).
4. Cint
Nowadays though, survey respondents are more likely to be funnelled through 'a marketplace of marketplaces' like Cint, Lucid or PureSpectrum.
Cint connects to dozens of survey panels with more than 50 million respondents in 80 countries.Cint Access is the self-service interface that can be used by anyone who has an online survey that needs people to answer it.
Access Pro is the project-managed version of this.
And many survey platforms now make use of the Cint API – which integrates the sample marketplace directly into an online survey tool to provide one-stop solutions for users.
5. Lucid
Lucid's research marketplace operates in a similar way to Cint, and includes more than 250 suppliers.
It also has three usage models: Interface, which is the online dashboard for self-service access with feasibility forecasting, pre-defined target groups and quota management; Services to do all that for you; and Integrations for API connections to put the Lucid network directly into your survey or panel management platform.
Monetization is the other side of the marketplace – services and technology for sample providers to get them into the lucid ecosystem and available to researchers.
6. Respondent.io
Respondent.io tackles a different type of recruitment challenge.
Its focus is on qualitative recruitment, mainly for UX research. Its marketplace has thousands of publishers on the supply side – rather than survey panels.
If you're looking for participants, you can either publish a project on their self-service tool or get help with project management.
Pricing is transparent – a straight 35% mark-up on incentive costs to cover all service fees. You can work out your own costs with their pricing calculator:
Personal Data Marketplaces
Expect to see more of these as privacy-consciousness grows. There is a growing movement encouraging users to 'take back control'.
And we all know how beguiling that idea can be.
These solutions ask users to share some of their personal data – sometimes for the greater good, but mostly for financial reward. This data can include apps used, websites visited, search terms entered – or dozens of other types of data that get captured by the smartphone spy-in-your-pocket.
If you want to read more about personal data exchanges, check out this article from Sifted.
You can also read more here about how these platforms can help you do passive tracking much better.
Well, better than Facebook.
7. Citizen Me
Citizen Me is a self-service research platform that combines surveys with passively-captured data from its panel of over a million users.
Members can choose to exchange (for each individual data point and each individual project) their behavioural and profiling data along with their answers to surveys.
The user is entirely in control, and is transparently rewarded for each exchange they make.
Pricing is also completely transparent: 50% of the total project cost goes to the users who share their data. Simple.
8. Powr of You
Powr of You provides passive metering technology and services on both its own proprietary panel and – via API – on third party survey panels.
The proprietary panel operates on a 'fair data exchange' basis, with users able to choose whether or not to share for each data source.
9. Measure Protocol
Measure Protocol recently launched the beta of its consumer-facing app, through which users provide some basic demographic data and can choose to answer deeper profiling questions on key categories (automotive, media consumption, tech etc). They will then receive targeted surveys matched to their profile.
Nothing new about that.
The interesting stuff will come as they add options to connect different apps and share passive data. On the roadmap are Spotify, Amazon, Location and Health data.
10. Datawallet
Datawallet is building the 'personal data layer for the internet': a platform that empowers users with the promise of unifying their data from platforms like Facebook, Amazon, Uber, and Spotify.
This centralised control will enable users to decide who gets access to their data – and get paid when they share it.
For organisations, there are two elements to the offer: the Datawallet API, which will give developers access to personal data from the Datawallet exchange; and DX Insights, a self-service UI to access data for analysis.
11. Quantextual
Quantextual is a healthcare research platform that combines many different types of data feed for patient and consumer research: surveys, nutrition diaries, wearables data, health records and proximity / GPS sensor data.
The solution is available on a white label basis for healthcare providers and research partners. Users download a smartphone app and agree to share specific items of data by connecting through the HumanAPI and complete surveys or provide other forms of self-reported data.
Expertise Marketplaces
In essence these are gig marketplaces like Upwork and Freelancer.com (only with actual researchers).
Three big changes will see more work will flowing through these types of platform over the next few years:
client teams working in more agile ways and dealing creatively with headcount pressure (see more here)
agency models reinventing and getting leaner (AKA lower fixed overheads)
more experienced talent going independent (see networks like the ICG, whose membership is growing strongly).
Here are some of the early platforms providing a marketplace for research talent.
12. Collaborata
Collaborata is a 'crowdfunding marketplace' for research with a unique model: multiple clients with similar requirements pool their needs in order to share the costs of research projects.
These are in turn pitched for and run by research providers in the marketplace.
13. Savio
As research-tech platforms grow, there's an increased need for people who know how to use them. Sounds obvious, but software firms don't usually want to carry an army of service providers on their payroll – even if clients need them.
So step forward Savio – a marketplace to connect research buyers with independent research experts who can run projects using self-service online research tools.
14. Wonder
Wonder is a network of over 6,000 analysts and consultants who can be help with desk research questions on-demand.
You submit your brief (like 'how many US gyms have boxing equipment?' ), then clever specialists go off and find the answers.
Use it for complicated, niche questions that bamboozle Google.
15. Zursh
Zursh is an online marketplace for both primary, secondary and syndicated research.
Users post briefs for new projects with a maximum budget, and researchers then bid against these. Private marketplaces are also available for more confidential topics.
16. Corus
Corus is aiming to cover a lot of bases.
It includes a network of freelance researchers (like Savio or Collaborata); an online shop for research publications (think marketresearch.com) and an online survey platform so clients and freelancers can work together on projects.
It's ambitious, and one to watch.
17. Insight Exchange
Insight Exchange is a research marketplace for connecting buyers with specialists.
Buyers post their project requirements and the most relevant matches are identified by the Insight Exchange team.
Rates and project fees are negotiated directly between the specialist and the buyer; project fees are deposited in escrow and stage payments are made against specific milestones; platform fees are 10%.
The marketplace is currently in beta launch in Australia and New Zealand.
Crowdsourcing Marketplaces
Crowdsourcing covers a number of different marketplace models. If survey panels connect you with people willing to answer questions, these platforms connect you to people who are willing to do stuff.
That might be going to a supermarket and taking a picture of a toothpaste promotion. Or mystery shopping a takeaway restaurant. Or checking if a range of cosmetics are actually available in store.
It might be a really simple question that a handful of photos will help with ('where do people keep their tea in a typical Nigerian home?'); or it could be a national audit of your retail distribution.
18. Field Agent
Field Agent is a crowdsourcing platform for mobile audits, mystery shopping and market research.
A panel of smartphone users supplies answers to business questions using photo, video and survey questions about products, stores, and customers.
Over a million 'Agents' are in the network in the US, Canada, UK, Australia, South Africa and Mexico.
19. Streetbees
Streetbees is a managed service, tech platform and crowd panel of 'bees' who can be engaged at short notice to gather real-time insights in markets around the world.
Projects gather consumer data, photos and videos directly from the Streetbees community in 87 countries with applications including real-time opinion polling and live retail intelligence.
20. GigWalk
Gigwalk is another tool for real-time crowdsourced research.
An on-demand mobile workforce is available for tasks and projects such as comparing actual versus planned execution with products and services in stores, restaurants and dealerships.
The platform includes dashboard and analytics, GPS and time-&-date-verified work and photo analysis tools.
21. Testbirds
Crowdtesting is one of the fastest growing areas of consumer feedback. Users are recruited to test software, find bugs and suggest improvements to developers and product managers.
Testbirds is one of the leading players, with solutions for optimising digital products including websites, shops, portals, mobile apps, games and internet-of-things applications.
A panel of 300,000 crowdtesters worldwide can be selected using more than 60 demographic criteria.
22. PlaytestCloud
Similar to crowdtesting, playtesting focuses specifically on games.
Many games developers run their own closed testing communities, but PlaytestCloud makes their panel (in the UK, US and Canada) available to anyone.
Similar to remote usability testing, gameplay is video recorded; hotspots identfy where players touch the screen; and 'think aloud' audio is also captured.
Technology Marketplaces
23. Zappi
Zappi is an automated research platform with tools for advertising and product development.
Alongside proprietary Zappi survey tools – for testing ads, concepts and products – specialist third parties like MMR, Buzzback and System1 offer solutions for testing packaging, claims and the emotional impact of advertising.
24. Fuel Cycle
Fuel Cycle's 'market research cloud' combines tools for online communities, mobile research, panels and specialist applications through its 'FCX marketplace'.
Third party tools (including SurveyGizmo, Voxpopme, Protobrand, Remesh, Userzoom and Salesforce) connect to the core Fuel Cycle platform.
Community members get a more joined-up experience when they give feedback across these different apps; and researchers get to work with data in a single platform, rather than manually connecting different siloes.
25. Methodify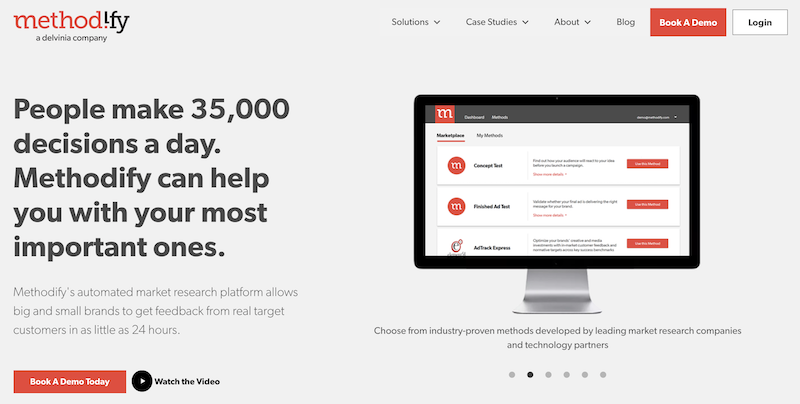 Methodify is an automated research platform with solutions for testing creative and product designs; measuring pricing; and exploring the user experience.
Most tool are proprietary Methodify solutions, but there are third party research products from TNS and element54 for testing ads, concepts and in store POS executions.
26. Qualtrics Marketplace
Qualtrics doesn't need much introduction, but you should keep an eye on how it invests some of the SAP money back into its platform.
One quietly-launched feature is the Qualtrics Marketplace.
Right now, this is largely a mechanism for up-selling additional Qualtrics tools; but there is also a nascent portfolio of third party solutions from Bain, JD Power and Kantar.
This may seem puny now; but one of the factors behind Salesforce.com's success is its AppExchange network of integrations (which include Qualtrics, Fuel Cycle and many other apps in the Insight Platforms directory). By some estimates, AppExchange revenue is 3x – 4x that of Salesforce's own revenue.
If it wants to, Qualtrics now has the firepower and ambition to build such an ecosystem for research, analytics and CX.
27. Zapier
OK, this one is a bit of a curve ball, but I'm squeezing it in. And not just because it's one of my all time favourite internet businesses.
It's not a research-specific platform; it's MUCH more useful than that.
For those who don't know, Zapier is a vast marketplace for APIs (ie software that gets different apps to speak to one another).
There are more than 1,000 apps in the directory – including survey tools (like SurveyGizmo, Typeform and QuickTap), text analytics (like MeaningCloud and MonkeyLearn) and dashboards (like Databox and Clicdata).
What this all means is that you can join data and services together in creative new ways. It's no-code – so if you can point and click you can use it. And if you're a startup or a cheapskate you can do a LOT of things for free.
For example – capture feedback in a Typeform survey on your site; send it to Google Sheets; connect that up to MeaningCloud to analyse open-end answers for topics and sentiment; chart the results in a live updating dashboard on Dasheroo; and pay almost nothing for the privilege until you hit high volumes.
Try it. It's fun.
---
Which other research marketplaces should be on this list? Leave a comment if you think there's a big omission.