On-Demand Webinar: Maru/Blue
Can We Count on You? Assessing Reliability and Validity of Panels Around the World
Results from Maru/Blue's structured assessment of 30 survey panels in 14 countries
Your opinion can be valid, and your friends may be reliable. But in the world of sample, reliability and validity are the difference between research that informs and surveys that mislead.
Maru/Blue measured the test-retest reliability and criterion validity of 30 panels in 14 countries. The result is a 14-nation whirlwind tour of how research can go terribly wrong and how it can be refreshingly right.
The lessons learned along the way reveal a great deal about the nature of sample in a wide range of markets around the world.
Learn: Learn about the reliability and validity of (unnamed) sample sources
Anticipate: Find out the kinds of problems encountered and learn how you can avoid them
Understand: Understand how the source of a sample can determine if your results will be misleading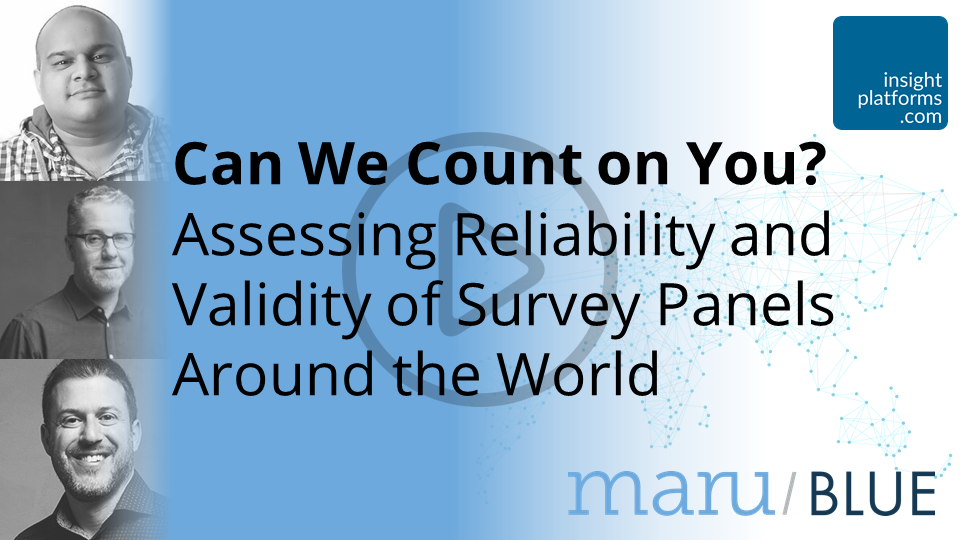 You need an Insight Platforms account to watch this video. Please login or sign up for a free account.
Rob Berger - Managing Director, Maru/Blue
Rob spearheads the development of high quality online panels for Maru Group.
He is also a Board Member of CRIC and the Chair of the board of SampleCon, a consortium of online sample/data firms, and he regularly leads research-on-research into online sampling techniques. He previously held leadership roles with Vision Critical and Ipsos.
Andrew Grenville - Chief Research Officer, Maru/Matchbox