How to Thrive as Budgets Tighten: Five Lessons from a High Growth Research Agency On-Demand Webinar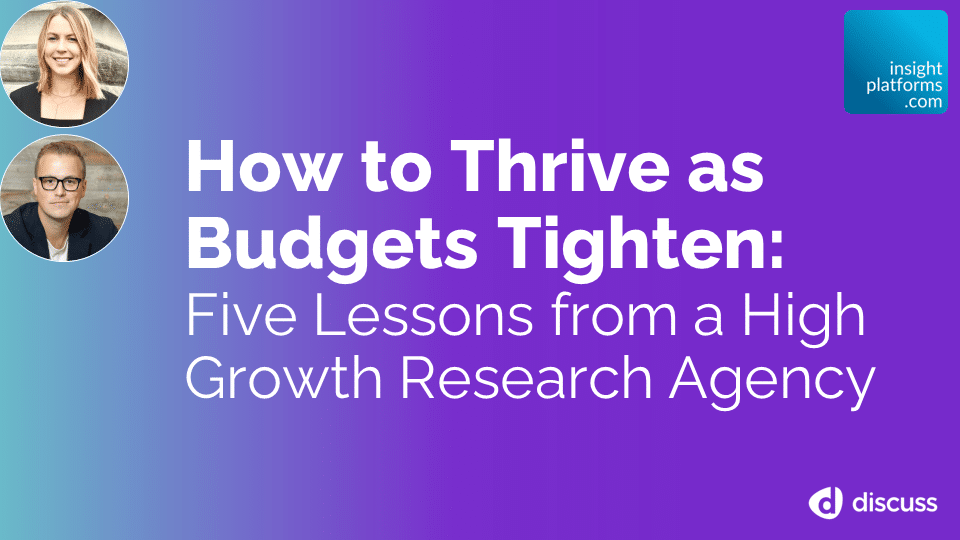 Keeping up revenue in a tight economy
When the economy slows down, research buyers cut costs, and supplier revenues can take a hit.
But it doesn't have to be like that.
For some agencies, economic downturns are a spur to innovation, efficiency and rapid expansion.
Quadrant Strategies is a high growth research agency headquartered in Washington, DC with offices across the US and Europe.
With revenue growth of 70% in 2022, Quadrant is scaling its business profitably by investing in smart research technology, consolidating disparate tools and driving operational efficiencies.
In this webinar, Quadrant's VP of Research Operations, Robin Lindberg, will share his success tips along with Jill Postoak of Discuss, Quadrant's strategic partner for online qualitative research.
Watch this video to learn:
Please login below or register for a free Insight Platforms account to watch videos.
Speakers
Jill is a Product Marketing Manager at
Discuss
with more than seven years of experience in online research experience. A 'quali' at heart, she works closely with brands, agencies, and researchers to bring the voice of the customer to life.
Robin is a Vice President, Research Operations and handles all internal operations related to research fieldwork.
Company Profile
Discuss.io
is an end-to-end real-time qualitative video research platform used by the top global brands and their agencies.