This post is a follow up to The Bluffer's Guide to Text Analytics for Research.
You might like to read that first if you haven't already.
Text Analytics has a wide range of applications. Some providers focus their propositions on specific use cases; others have relative strengths in different areas.
Here are some different buckets into which platforms can be grouped.
By the way, it's a crap segmentation: the buckets are not mutually exclusive or commonly exhaustive. Most of the tools below fall in several different categories.
But this could help focus your choices if you want a tool with a specific purpose in mind.
Customer Experience Feedback Analytics
These tools are built for analysing NPS or CSAT open-ends, online reviews, support tickets and other sources of customer experience feedback.
Chattermill has integrations with CRM tools, survey platforms and marketing automation systems with machine learning algorithms that process feedback data in real time. Results are available instantly in online dashboards.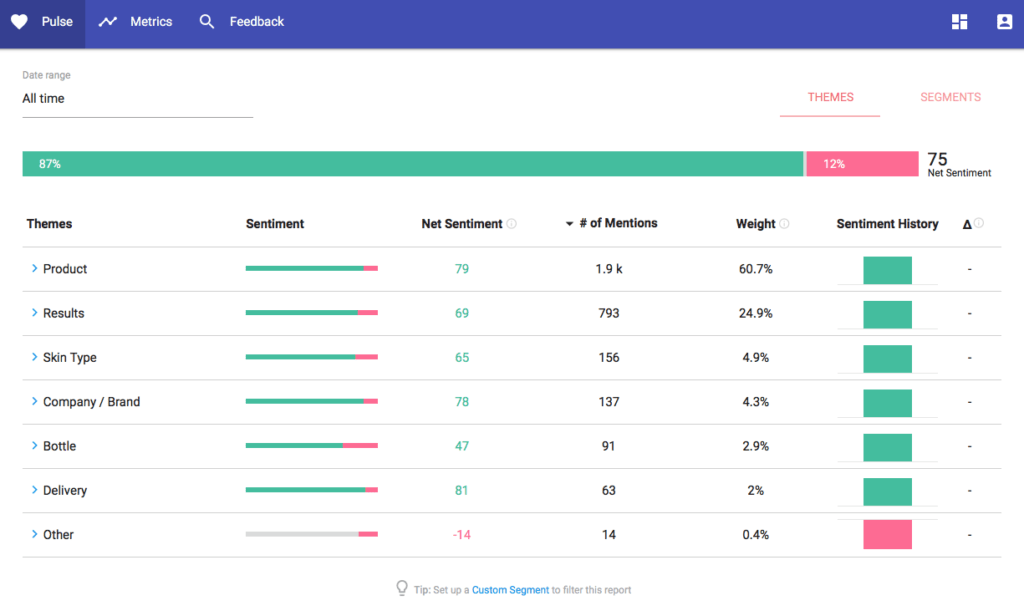 Sentisum is another platform that aggregates data from different channels (reviews, NPS surveys, emails, messaging) into one central repository; comments are then transformed into structured data, analysed and mapped against the customer journey in real time.
Results are also available in online dashboards.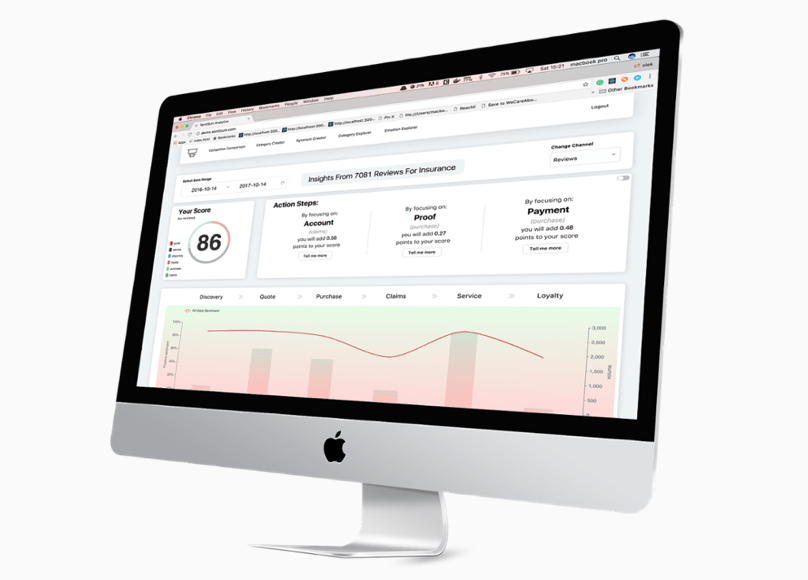 Other tools with a particular focus on CX Analytics include Wonderflow, Decooda, Revuze, ipiphany, CX Moments, Thematic and Monkeylearn.
Emotion Analytics
Understanding emotions is big business – witness the growth in specialist neuromarketing tools and agencies.
Some text analytics platforms also specialise in extracting emotion from spoken or written content.
Heartbeat AI transforms text input from any source (surveys, call centre transcripts, employee comments) into ten primary and a hundred secondary emotion categories – which in turn are derived from thousands of individual words and phrases.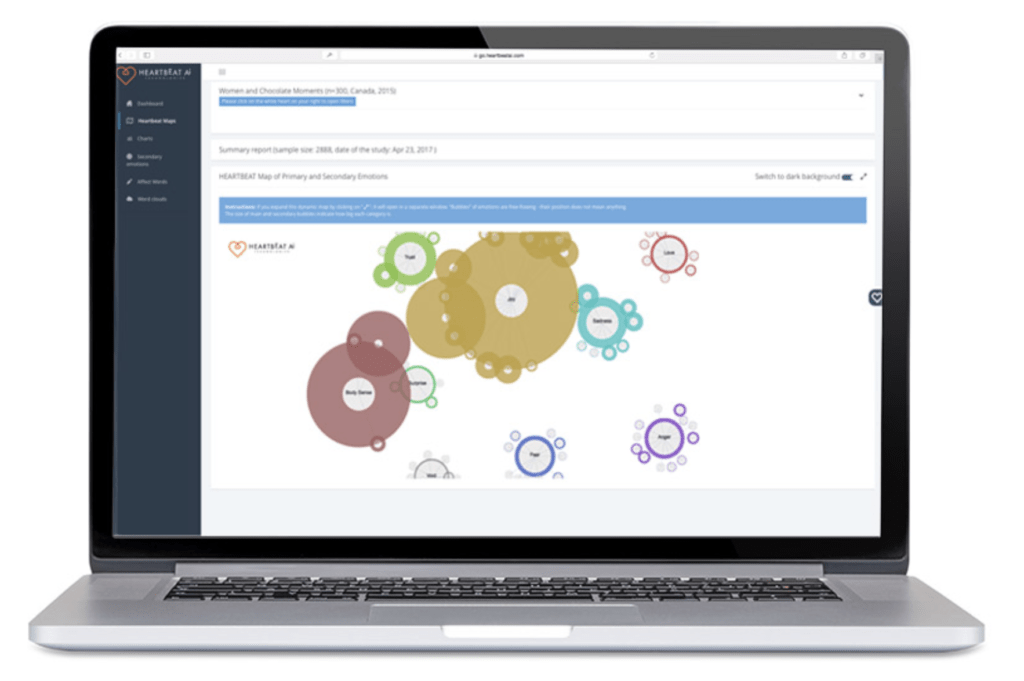 Adoreboard provides both a consulting service and technology platform for emotion analytics.
The 'Emotics' software enables analysis of proprietary or competitor data and comparison with industry benchmarks using 88 emotion indexes, topic analysis and explanations. Data sources include social media, NPS verbatim, surveys, news and other data.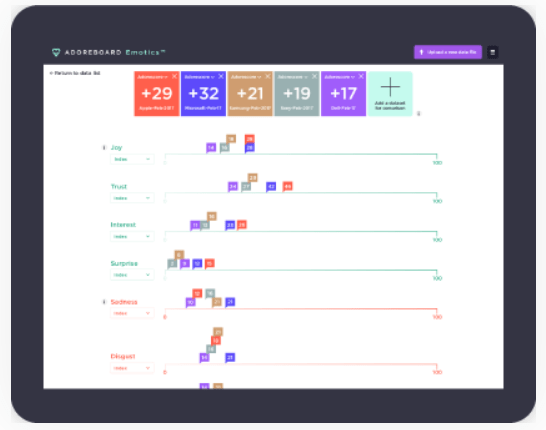 Canvs and TheySay are also focused on applying EmotionAI to unstructured text data.
Social Media Analytics
This is such a big area that it has its own separate category in the directory with more than 40 different tools.
You'll find all the usual suspects including Brandwatch, Crimson Hexagon, Social Bakers, Linkfluence and Meltwater.
Here are some others without quite the same profile.
Pulsar is a social analytics platform with three core modules and managed services for customised research projects.
Pulsar Trac is the social listening module that combines social, search, media and web analytics data. It supports topic analysis in 22 languages and sentiment analysis in 26, including Japanese and Arabic, and uses deep learning approaches to analyse content and context of images.
It also has category-specific visual and textual algorithms to analyse data in specific industries like fashion or food.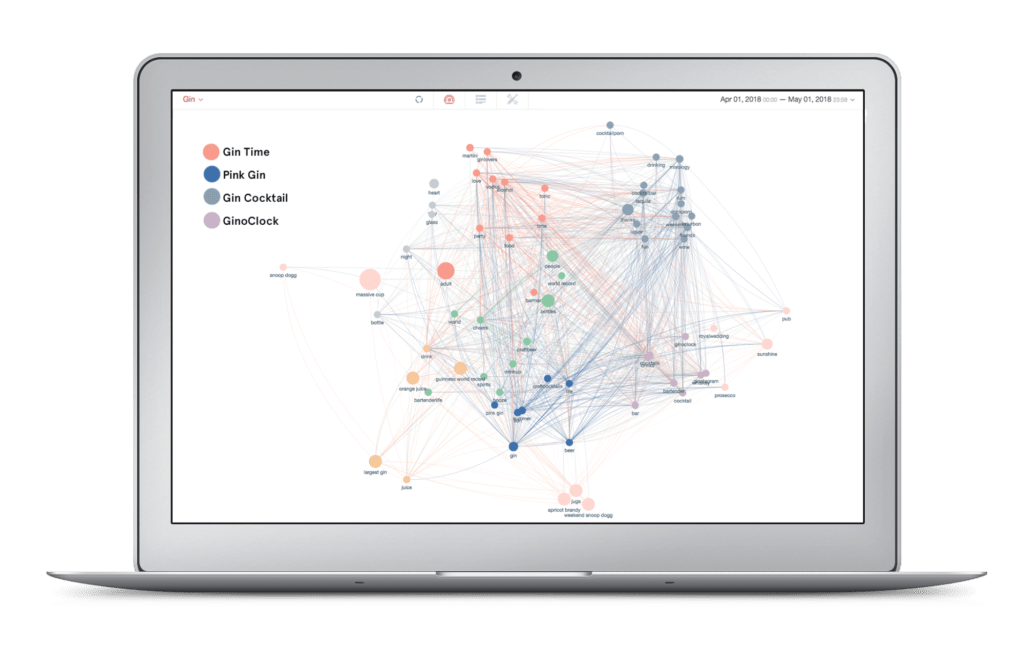 Listening247 takes a slightly different approach.
It is a social listening platform with managed services for automated analytics in any language, has a proprietary emotions model with 14 basic emotions and also offers visual analytics with theme detection for extracting insight from images in social media posts.
The Listening247 service team manage project setup, train bespoke models and provide customised dashboards. The tool claims to achieve high levels of sentiment and topic accuracy (over 80%, with third party verification) as a result of its approach to customised model training.
For the budget-conscious
AKA free trials or free tiers for cheapskates.
Codit.co is online text analysis software with a simple interface for coding open-end survey responses and other sources of feedback. Its intelligent assistant continually learns how to predict codes for responses based on previous examples, and improves its effectiveness over time.
The free tier includes up to 500 items of text per month (one item = one open ended survey response, one tweet etc).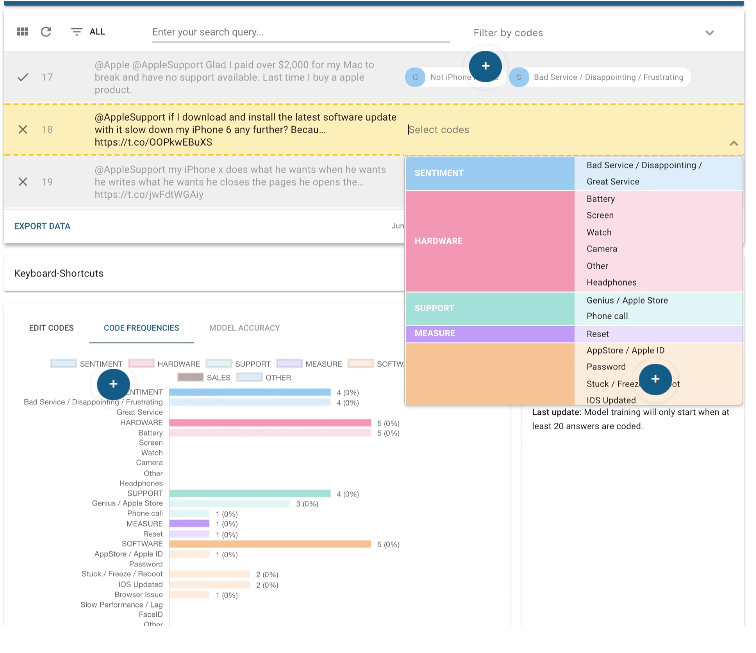 Meaningcloud has one of the most generous free tiers of any SaaS provider: you can process up to 20,000 items of text per month without spending a penny.
It's a cloud-based text analytics platform with an Excel add-in and API for embedding in other applications.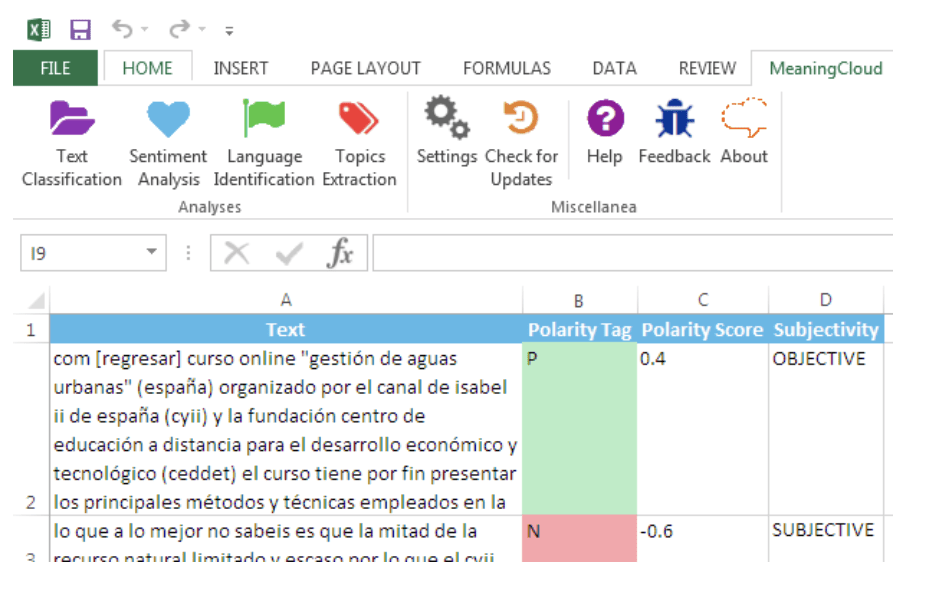 And if you have really high volumes to process and no budget at all, you can try Textable. It's free, open source software (desktop, not SaaS) developed in academia for analysing and processing text visually.
It has basic recoding and filtering as well as advanced text analytics with data mining algorithms for clustering, classification and factor analysis.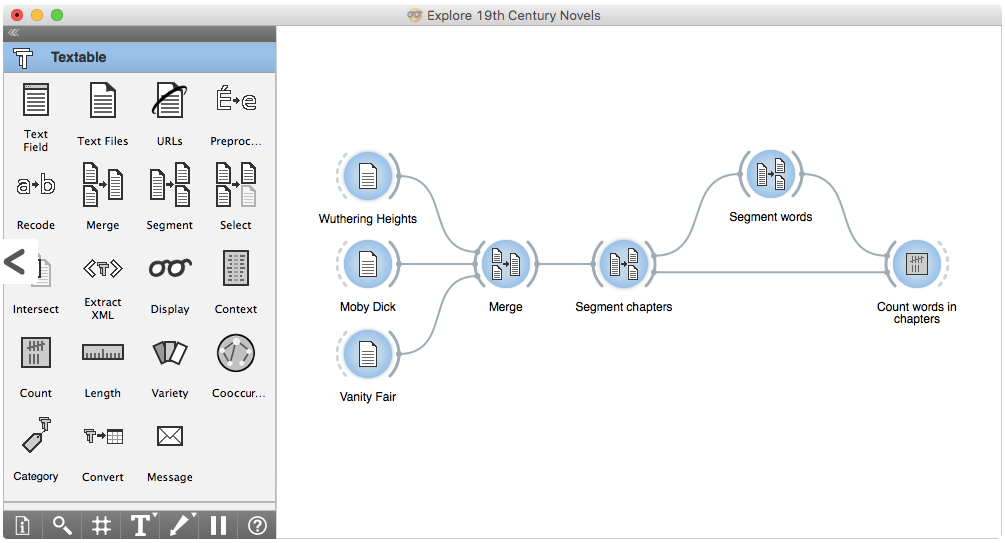 For integrating with other tools
Most serious cloud-based platforms have integrations of some form. These may be …
Standard integrations – eg with Surveymonkey, Zendesk, Salesforce etc
An open API that developers can work with to build custom connections to other software
Zapier integrations, for direct connections to other SaaS apps.
Lexalytics has one of the most advanced and comprehensive suite of cloud NLP tools with machine learning algorithms for sentiment analysis, extracting named entities, understanding themes, and classifying topics.
It is commonly integrated with other tools through its Semantria API and several large research agencies use it with their data capture and analysis tools.
If you want to give it a whirl, there is also an Excel plugin you can try.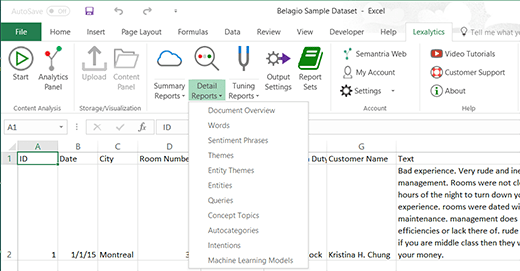 Monkeylearn and Meaningcloud have Zapier integrations, which means you can connect directly to any of the other 1,000 or so apps in the ecosystem: NPS tools like Retently or Wootric; survey tools like SurveyGizmo or QuickTap; or pretty much any structured data source via a Google Sheets connection.
Here's a step-by-step guide from Monkeylearn if you want to see how it works with their tool.
For coding survey responses
You could technically use any text analytics tools for survey coding; these ones focus more clearly on the market research use case.
Smartcoder (they also have a free tier) provides automatic analysis of answers to open-ended survey questions. The tool performs topic analytics and automatically generates a list of categories (codes) and assigns appropriate codes to answers.
There are 4 steps in the self-service platform: upload survey responses; let it do its automatic analysis; manually refine; then download results and re-integrate with your survey data.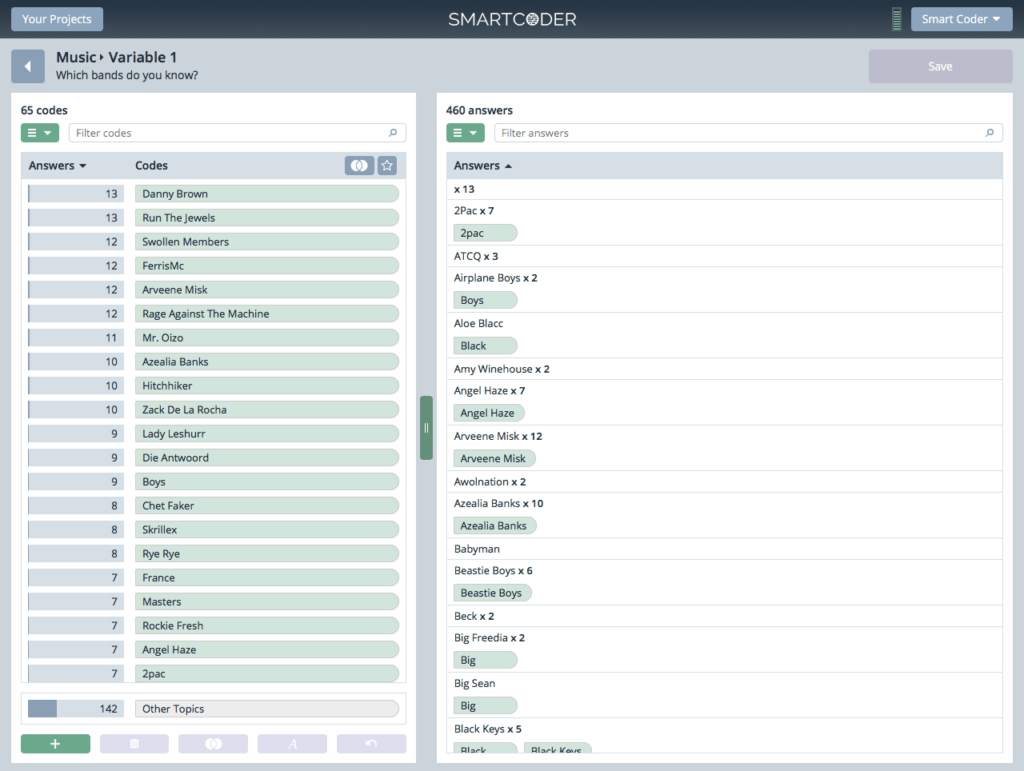 Thematic is also easy to use for survey coding. It has direct integrations to SurveyMonkey and SurveyGizmo, and its AI-based software finds themes automagically.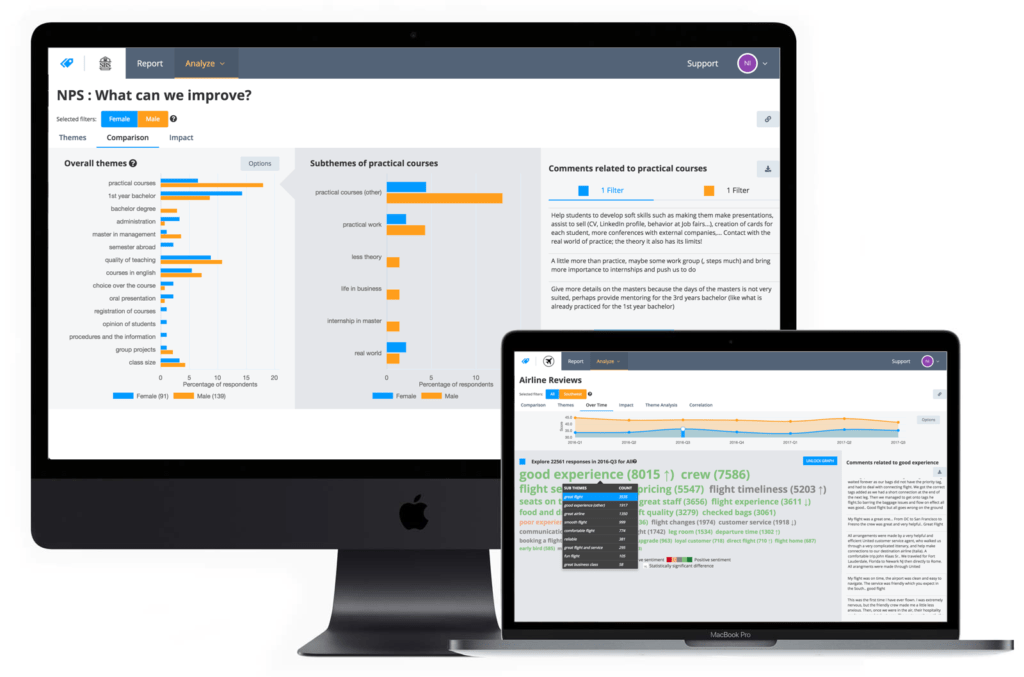 You can also try Ascribe, which was historically a survey coding bureau but now offers software tools as well.
Final thought
Watch out if you need multi language capabilities.
Many of these tools support 'any' language – but in some cases that means auto-translating into English and then running the analytics.
This might be fine for functional content like brand mentions and simple topic classification; but it's unlikely to work for more nuanced use cases like CX feedback or social sentiment.
Always check whether a tool's model has native support for the languages you need.
Pulsar Trac, for example, has native language support for more than 20; and Gavagai might be worth a look if you need something more unusual – it supports more than 40 languages natively.