In these fast paced, changing times it has never been more important to generate insight that is relevant and contextualised. As researchers, we know that insights only hold relevance if we have awareness of consumer contexts, global contexts and internal context. We also know that our stakeholders are caught between goalposts that often move with little warning.
So, we must be clear, concise and impactful with our communication – transforming our relationships with decision makers into one that is less transactional and instead based on shared understanding. To do this, we must empower this vital group and change the way they access insight. Here are three key areas to think through to enact this transformation:
1. Ownership
As passionate research and insight professionals we tend to take ownership of what the insight means and how to apply it as a means of driving return on investment. However, if we are bold and brave enough to let go of this ownership then amazing things can happen.
At a recent conference I attended, researchers from Samsung and SkyLabs both described their roles as tour guides of insight. They discussed how they led teams through insights and inspired next steps without dictating what those might be. This strategy is effective with stakeholders because it avoids psychological reactance (that very human desire to have autonomy and agency in what we do rather than to have to follow instructions).
But what we do enjoy is getting involved and adding our perspective – actively involving stakeholders in insight development and activation, whilst also demonstrating leadership and expertise. Multiple sessions at the MRS annual conference also touched on the value of shared understanding at the board level through broader ownership of key responsibilities. It's important to ensure that finance departments value the contribution of research activity, and that insight professionals are clear on the economic impact of their work. This closes the divide and brings previously opposing teams together – sharing ownership of key responsibilities – is most certainly a priority for the future.
2. Collaboration
At the annual MRS conference Unilever, Tesco, Barclays and Telefonica, all weighed in on the importance of research as a function which advocates for customers in the boardroom – and the importance of developing a culture in which profitable growth & consumer interests are not opposing forces.
Facilitating more co-operative and collaborative conversations around what the insights are and where across the business they have impact empowers your teams to use the customer understanding as an asset that improves the value of the products and services that they deliver.
Collaboration happens when meetings are clear on their goals and outcomes. You, as a leader of the group, must have a good understanding of the communication styles that foster positive interactions. And the content of the meeting should be accessible for all.
3. Accessibility
Whilst, as a discipline, research tends to be known for being thorough and meticulous, one area we can often struggle with is making the insights accessible. The art and science of insight generation can be complex and overwhelming and can lead to reports and summaries that are time consuming to digest and apply. There are many strategies a researcher can deploy to break down these barriers to engagement, from involving stakeholders earlier to creating a range of output reports that are tailored to key audiences. Technology, storytelling skills and knowledge of stakeholder audiences all have an important part to play in making insight more accessible for all.
So, what does this look like when we put these considerations together? Here's a recent example from our team at FlexMR…
Our creative team have been experimenting with the way we deliver insights in order to deliver results less as a fait accompli and more as a conversation opener – so that stakeholders collaborate with us in terms of what the research means and who the insight belongs to. We have been delivering qualitative insights through our Insight as Art project – distilling down the views, thoughts and feelings of consumers expressed in online question boards, and translating them into unique pieces of artwork. This creates an intriguing, abstract visualisation of the consumer's views that provokes discussion, stimulates further investigation and leaves a lasting impression on audiences.
The project also demonstrates the power of art as a medium for communicating research results in a more accessible way. Because the answers are displayed less rigidly in the creative output, the medium conveys the richly layered, complex and nuanced relationship consumers have with brands and their environment. We have found these unique artworks wow decision makers and leave them with something greater than words – a feeling.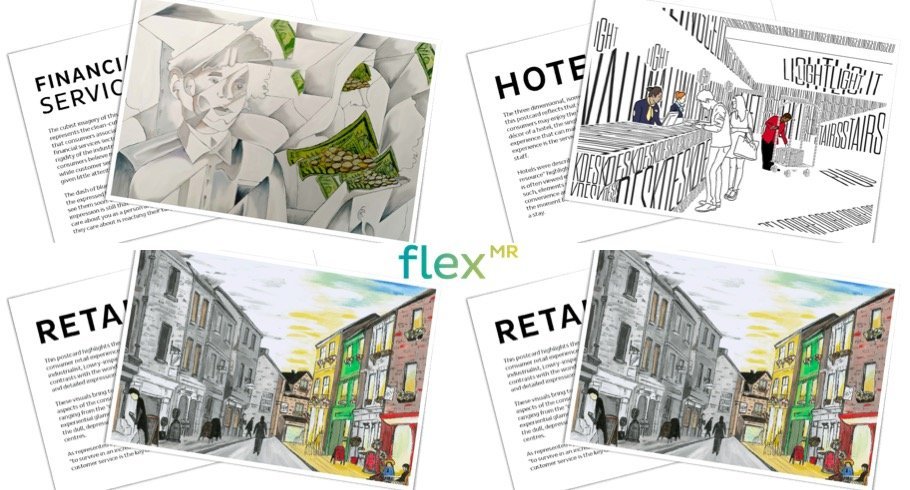 Recently, we applied this reporting method to the city of London, asking residents what London really means to them. We found that there really is no other place like London, and that the freedom, opportunity & mix of cultures are at the core of the city's identity. Our team then created a visual representation drawing on key data points to blend styles and subjects into something new & uplifting.
Using art in this way has generated interest and engagement. It empowers stakeholders to discuss and internalise the insight through active engagement with it. And by doing so, art moves the ownership of insight away from just the research team alone into a shared domain that more decision makers can benefit from.
Managing stakeholder engagement is always going to be a significant part of a research and insight function's role. As we face more and more pressure to ensure that insight is valued and applied across an organisation, finding creative ways to support your teams in releasing that value has never been more important.
---
Watch a demo of the FlexMR InsightHub platform.