How to improve customer experience using social intelligence? According to Zendesk, a CRM platform, 61% of customers will switch to a competitor after encountering just one negative incident. By monitoring social media data, brands can reveal their consumers' expectations and provide them with the best possible customer experience in their field.
On average, users spend around 7 hours online every day. On social media, they share feedback, ask questions, look for advice, leave complaints and more.
Collecting and analysing this data help brands solve several problems:
identify weaknesses and points of growth;
track and improve brand reputation;
increase customer loyalty.
Several steps will help you to transform your customer experience using social media data.
Make a deep dive into customer feedback.
What makes clients choose your brand over a competitor and what reasons provoke their dissatisfaction? To answer this question, you can use a social media monitoring platform such as YouScan. It collects data according to your search query, analyzes the information's sentiment and identifies themes and topics that are most frequently discussed. For instance, Lenovo's main advantages are price and performance.
However, users often face issues with the functionality of Lenovo's products.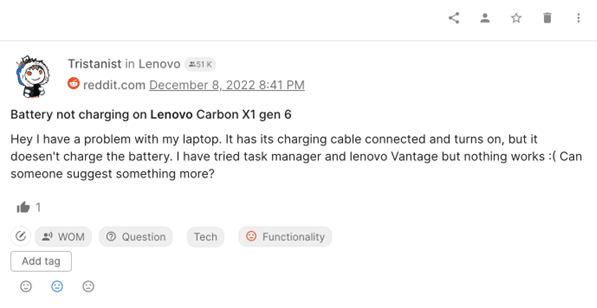 Monitor consumption situations
Customers often use your products in very unexpected ways. For instance, if you set up a new pizza brand, most likely, you will imagine clients eating pizza in your restaurants or at home. However, social media images show that lots of diners prefer to eat it in their car.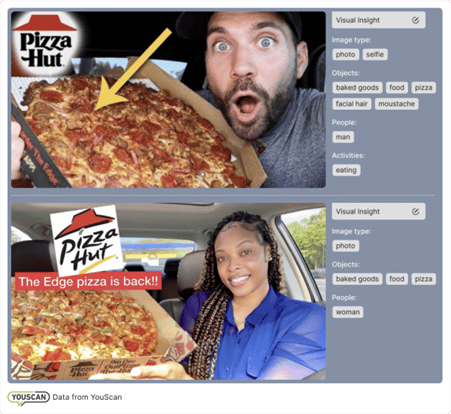 This situation requires better packaging and hygiene products like napkins or sanitizers brands can offer to show they care about clients.
Another example of the use of this type of data is in collecting new ideas to promote your product. For example, you represent a company selling sports equipment, and you are out of ideas on how to engage your clients. By analyzing images on social media, you can see that during a home workout people usually watch TV shows or take part in sports classes online.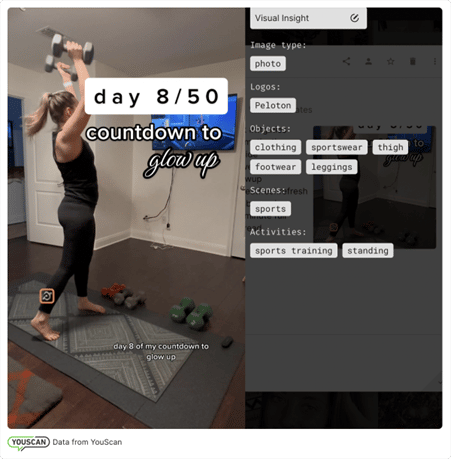 You can use this insight for your brand for instance by creating videos for home workouts. With this step, you will be able to explain to your customers how to use your equipment, achieve better results and promote any new product lines.
Analyze your audience
One of the most important things for any brand is to understand its audience. Social media listening is an excellent way to uncover audience insights to be able to improve customer experience. For instance, the core Coca-Cola audience is a man who likes to play video games, has a family, and has a creative occupation.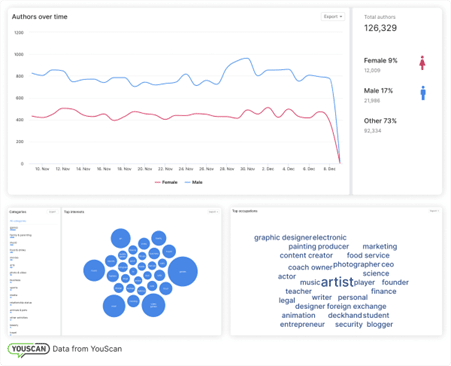 With this data, you can make assumptions about how to sell your product to meet the customers' expectations. For example, if your core audience is a family man, he might not have the time to go to the store all that often. So, you can give him the idea to buy instead a box of Coca-Cola bottles that will last the whole week rather than just a few that won't
Summary
Customers are used to leaving negative reviews rather than positive ones. However, for brands, this can mean not only reputation damage but also good opportunities for growth. By analyzing social media data, they can improve their products and services and, therefore, strengthen their online reputation. Analyzing visual content can help generate new ideas while understanding the audiences' lifestyles can help to better meet their expectations.
Social media listening tools like YouScan will help you:
analyze deeply customer feedback and learn more about the strengths and weaknesses of your brand
monitor real consumption situations and adjust your product to fit
understand your audience and propose products and services to meet their needs
Using this data, you can adjust your strategy and turn your brand into a customer's lovemark.
About YouScan