Overview
Indeemo (shorthand for 'in de moment') is a smartphone app for mobile ethnography and qualitative research. It is a hybrid managed service and DIY solution, and is used for getting quick, contextual insights and feedback.
Pricing
Indeemo has no published pricing. Ad hoc projects are individually costed based on size (number of respondents) and duration. Annual subscriptions are also available, and include a fully self-service option if needed.
Features
You can use the platform for most types of mobile ethnography applications as well as consumer diaries, understanding journeys and path to purchase, getting in store feedback, conducting user experience tests and setting pre-tasks for face-to-face qualitative research.
It's a simple interface and easy for participants to get to grips with. There are four types of input: photo, video, open text and mobile screen recording. This last feature creates a video showing clicks and scrolls on a mobile website, and also captures voiceover recording if needed.
Tasks can be set to open (let people capture whatever they want), all-at-once, scheduled (individual tasks are set at specific times) or sequential (respondents need to finish one before they can do the next one).
The hybrid model for ad hoc projects works like this:
You are responsible for designing your study, deciding what questions / tasks you want people to do, recruiting / paying participants and running your analysis
Indeemo project managers give advice on best practice, set up the project in the system and are on call for any issues throughout (they are generally very responsive).
So here's how a typical project would run:
You speak to indeemo to finalise a budget
They send you a template task list in a document, which you fill out and send back
Your indeemo project manager sets up the project and sends you a link to your project dashboard
You log in on a desktop browser and add the emails of the people you've recruited for your project
When you're ready to launch, invites are sent to the participant emails with a link to download the indeemo smartphone app
They complete the tasks you've set, and results start showing up in your dashboard in real time
Analysis can be done directly in the dashboard using a few different tools:
Manual tagging and favoriting of content to support thematic analysis
Automated keyword counting that highlights the most commonly recurring terms
Automatic transcription of videos with the option to search for specific content and clip / create showreels for download.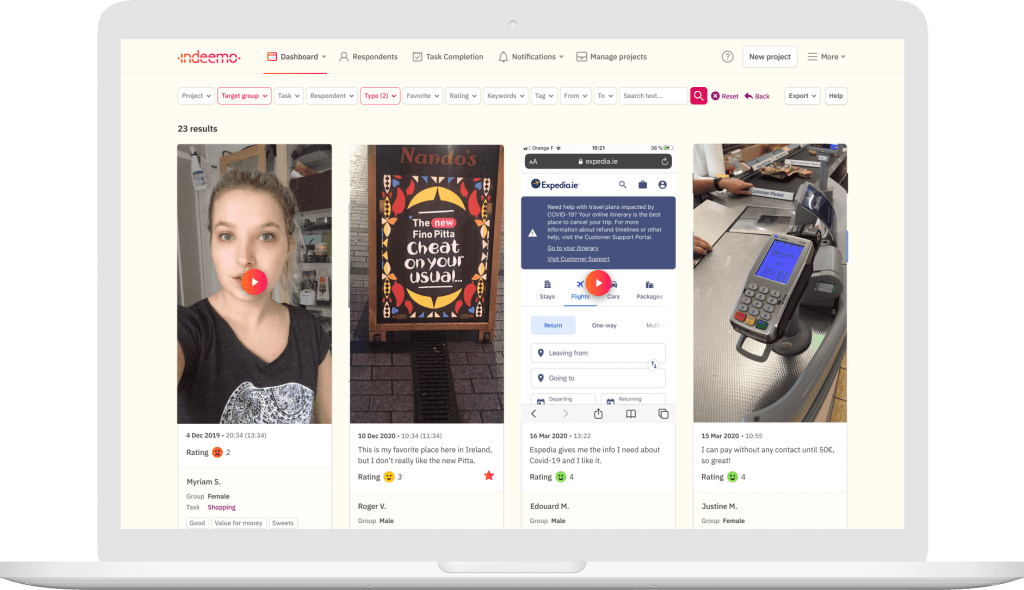 What we like
Indeemo's charm is its simplicity – it's a mobile ethnography tool that's very quick to get to grips with for researchers and respondents.
The tool has some neat features. Mobile screen recording is handy for both UX research and for understanding how consumers research and buy in different categories. The ability for a moderator to probe individual responses and strike up a dialogue with participants is useful; push notifications help to get follow-up questions answered close to the moment of experience. The keyword tools and auto-transcription of videos are a big help for content analysis, especially when you're under time pressure.
And the support team is very responsive and provides good guidance on project design. Indeemo aims to provide an all-round solution rather than standalone software.
What can improve
The 'project managed' model is great for first time users, but a full self-service option would be good for researchers who know what they are doing.
There is no location triggering of tasks in the app. The use case for this feature can be over-stated – people talk about it far more than they do it in small scale projects – but it's still handy for some briefs.
But these are fairly minor quibbles.
Bottom Line
Indeemo is a simple tool, easy to use, with strong project support. Great for mobile ethnography projects and for getting quick qualitative feedback from individuals and small groups of participants.