Overview
KnowledgeHound is a search-based SaaS platform for analysing and visualising survey data.
It aims to deliver on four big benefits:
To democratise research data by giving more people access (and reduce the time research teams spend on basic reporting and analysis)
To make searching for insights as easy and effective as using Google
To collate research data in one place (and minimise the risk of duplicating research that has already been done)
To make it easier and faster to share insights with colleagues.
The platform stores respondent-level data and other outputs from multiple studies. Users search or browse for the answers they need; create charts and tables; and share individual visualisations or publish 'stories' with multiple charts.
You might think that generic Business Intelligence platforms like Looker, Domo or Sisense could do the same job. Usually they can't. They're not built specifically for market research data – which can be a bit weird, with multiple response structures, skip patterns and randomisations.
How it works
The tool is cloud-based, and KnowledgeHound has a managed services team to help with setup and on-going support.
1. Initial Setup and Data Upload
The KnowledgeHound team takes the first batch of studies – CSV or SPSS – and gets them into the system. They have researchers who actually know what they're talking about – so you can have a sensible conversation about survey content, file structure, labelling etc.
They will also create additional custom variables or run re-codes if needed.
Direct integrations with SurveyMonkey and Qualtrics are also available, so survey data from these tools can be pulled in automatically.
Other study documents are also uploaded: PowerPoint or PDF reports, survey documents, stimulus etc. Further integrations with Big Sofa and VoxPopMe also allow video research content to be searchable from within the KnowledgeHound tool.
Most corporate networks will also need Single Sign On to manage user permissions securely.
Once things are up and running, the team runs online training sessions with users to get people familiar with their specific setup.
2. Analysing and Visualising Results
You have two options for starting your analysis: search and browse.
The search option will look across all studies in the system to find your search term. It's all natural language to make things intuitive, and the Search API can also be integrated into other platforms (corporate intranets, knowledge management tools).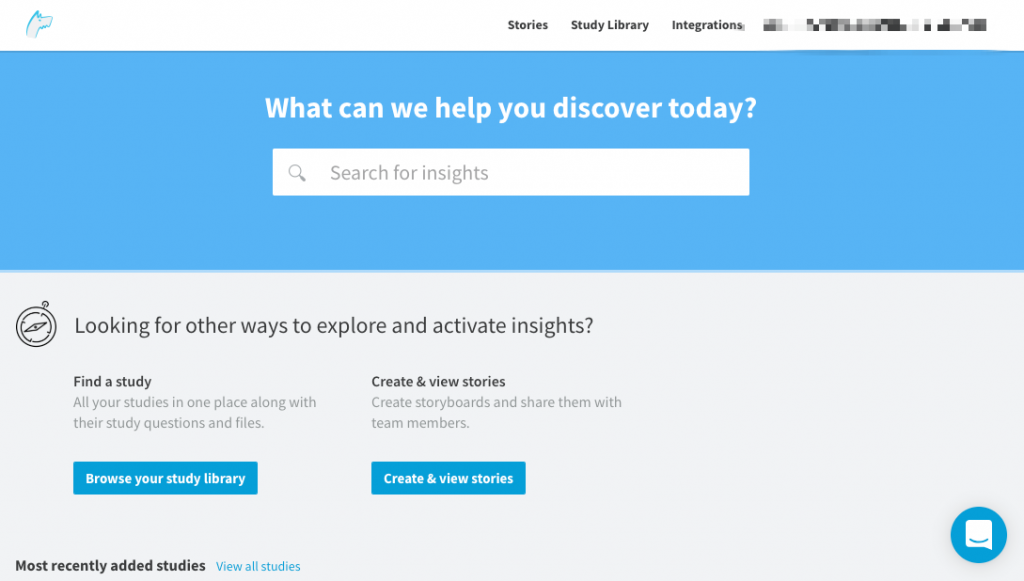 Browsing is more targeted – for when you know what you want.
You can select the study and the specific questions within it: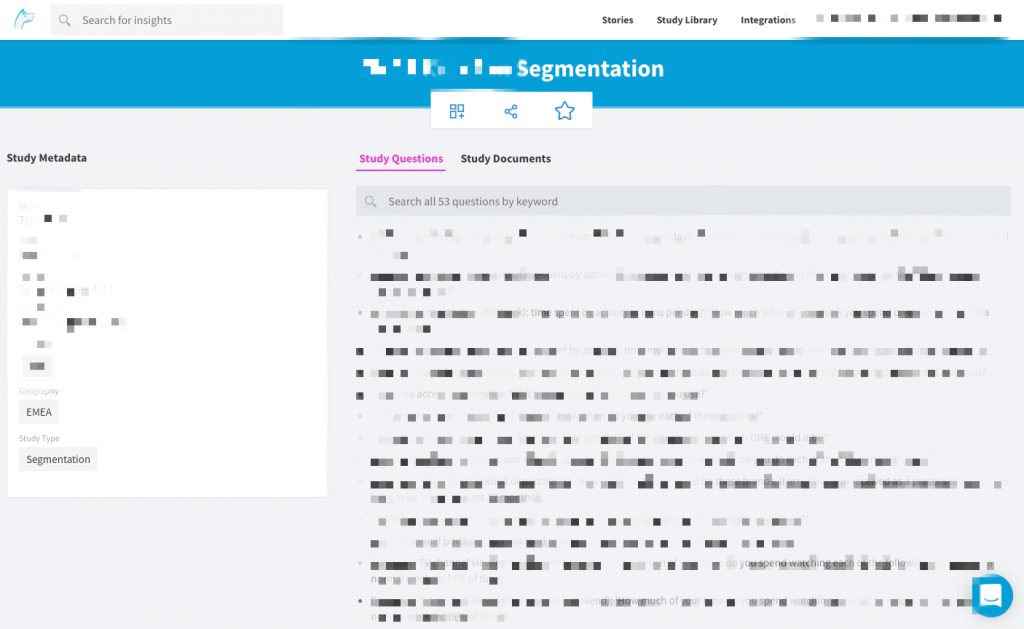 Sorry about the excessive pixelation … my data is top secret.
The main area on the right is the list of all study questions; clicking one of these will take you straight to a visualisation: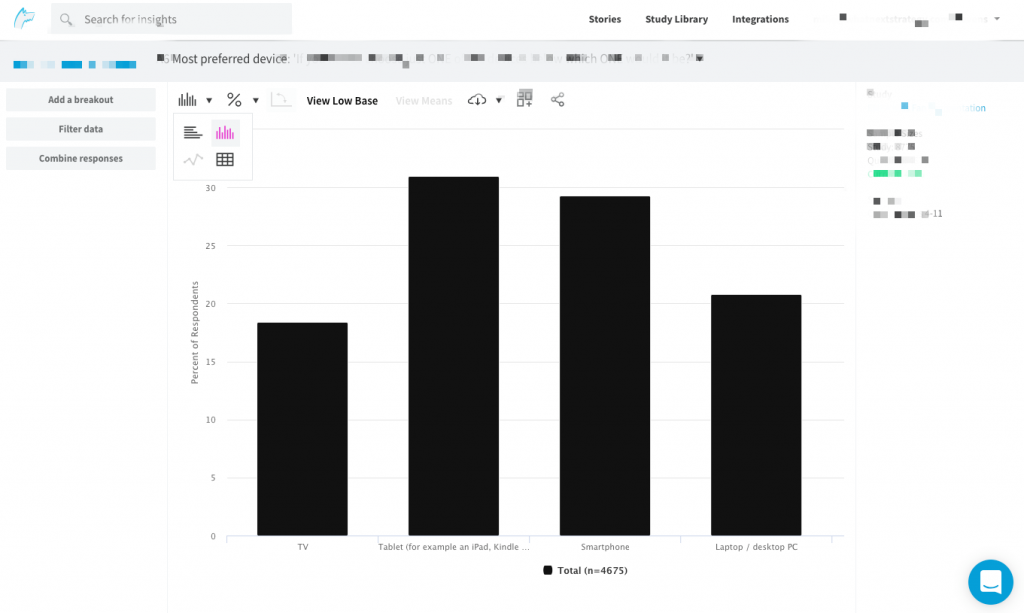 Output formats are cross-tabulations, bar / column charts, and trend lines for time series data; you can toggle % or N for the axes; and show or suppress low base sizes.
Then you can analyse data on the fly with 3 different tools:
Add a breakout: see how respondents' answers differ based on a specific variable (e.g. "I want to see this chart broken out by country".)
Filter data: only see respondents that meet specific set criteria (e.g. "I only want to see people with children in the household")
Combine responses: group response options together into custom nets (e.g. "I want to see respondents who are fairly or very likely to buy in one group called 'likely to buy'")
This is the same data with all three of these tools applied: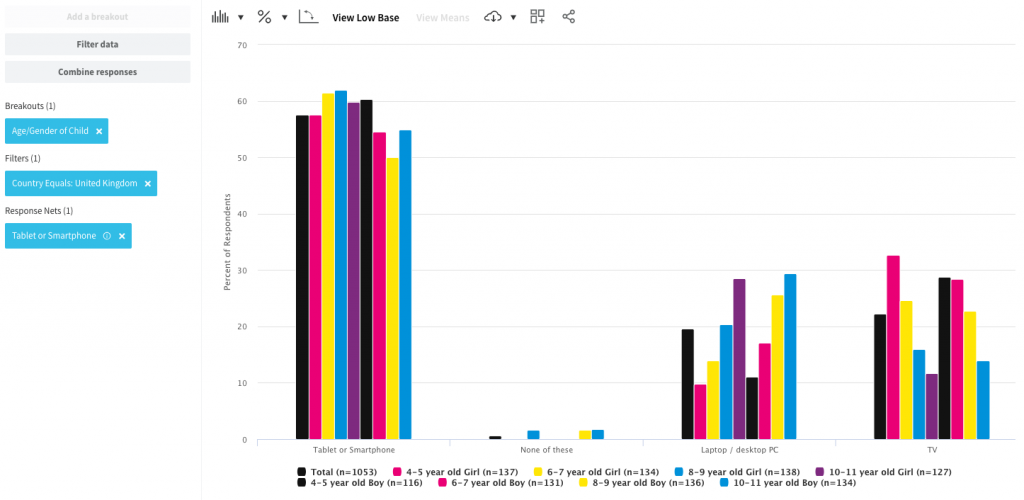 You can also toggle specific breakouts on and off to display or hide their data.
All this is straightforward point-and-click stuff. If it looks simple, that's deliberate: it's designed to be used by non-specialists as well as researchers.
3. Sharing Insights
There are several options for sharing results.
You can export charts individually as PDFs or JPEGs (which can then be pasted into PowerPoint or Keynote); and you can download the data for an individual chart in CSV, as a cross-tabulation with sig testing.
Next, you can use the one-click sharing feature to send links to individual charts by email: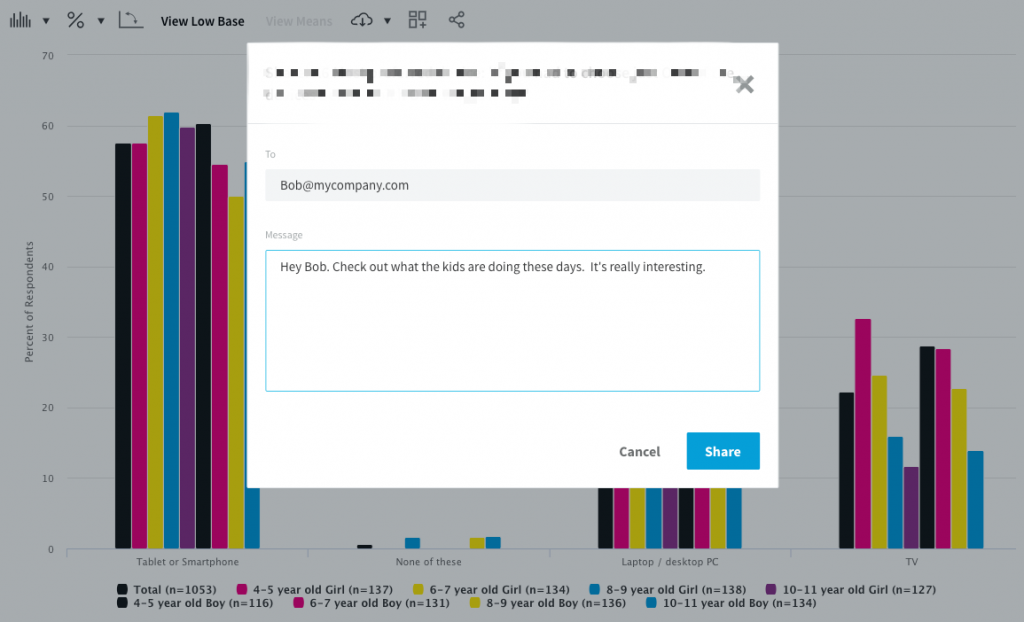 Finally, you can build 'stories'. This is a handy feature for stitching together short online reports with data from several different places – within the same study or across multiple studies.
You can choose to add each visualisation to a story – essentially an online presentation with a full screen for each chart – and then annotate with headlines to build a narrative.
Pricing
KnowledgeHound doesn't publish standard pricing: it's an enterprise platform and each setup is different.
Yes, that is tech vendor code for 'you need a sensible budget'.
It's not really meant to be used for one-off projects, even if they are quite large: it's built for long term use with multiple projects (20+).
What we like
The search-centricity is great. This is particularly good for non-specialist users like brand or product managers who don't know what research has been done and whose starting point will often be 'what do we know about how target audience X uses product Z?'
It's intuitive, quick to learn and has a good clean UI. It's not over-stuffed with features or detail (a trap that a LOT of research-specific software falls into); the visualisations have everything you need on one screen, and you can see exactly what you have selected / grouped / filtered by; even the training materials are just a few slides. It doesn't need a complex manual.
The sharing features are good, and it's quite cool to be able to build an annotated story from different charts / data from different projects (with one big caveat, below).
For me, the killer feature is the ability to run multi-project analysis. It's like a cross between 2 other types of tool, knowledge management and survey analysis packages:
knowledge management platforms are usually broad (search across lots of projects), but basic-to-useless at on-the-fly charting or tabulation, and only really surface static documents
survey analysis tools are either attached to a specific survey platform (think SurveyGizmo, Qualtrics) or can be too analytically hefty for non specialists (SPSS, Q); and they're also built to work with data from a single project.
KnowledgeHound has a good stab at combining these two strands in a single platform.
What can improve
If you're looking to run sophisticated analysis or build visualisations with your own look-and-feel, KnowledgeHound probably isn't for you.
Like anything, you can't please everyone – and some expert research users will find the focus on simplicity too restrictive.
There is almost no flexibility in formatting and design of charts; and some frustrations are more than just aesthetic (e.g. there's no way to customise the sort order of charts to ascending / descending values).
Although the 'combine response' feature is great, you can't do your own re-coding on the fly. For example, if you have categorical data (e.g. income brackets) and you want mean scores (by picking a mid point value in the codes), you'll need to ask the KnowledgeHound team to do it for you. No biggie if you're not in a rush, but power users will want more features like this.
And the stories capability, for me, falls just short of being great. PowerPoint – inelegant, old-school, death-by etc – is still the boss for communicating in most corporates. As well as building and sharing a KnowledgeHound story in the online app, I want to be able to export it to PowerPoint (with native charts and text, not just as pictures); and then have the fonts and colours render nicely in my own template.
UPDATE: This functionality is actually on the KnowledgeHound roadmap, and will be released later in Q4 2018.
Final word
KnowledgeHound is good at what it aims to do, and it occupies a unique spot in the market. It is trying to make survey data accessible to a much bigger audience of non-experts whilst still being useful for specialist researchers.
Balancing the needs of those two groups is a delicate trade-off – and KnowledgeHound tends to favour simplicity with its focus on search, ease of use and a core feature-set. Detail-hungry quant researchers may find it lacks some of the tools they want; but first time users in other teams will be up and running with it very quickly.
Customers include P&G, Spotify, Lyft, Danone and Whirlpool.