Over the last few years, there has been an explosion in automated, self-service research tools.
I refuse to call these things DIY platforms … but I won't rant about that again here.
As a quick re-cap, here are three components that qualify a platform as an automated survey research tool:
A survey builder or tools to configure pre-existing templates.
Fully integrated access to survey respondents where you can choose your own targeting criteria. The sources are usually access panels (single panels or aggregators like CINT or Lucid); private communities built through smartphone apps or loyalty programmes like Attest; or by tapping into the programmatic ad ecosystem to survey people randomly in-app like Pollfish.
Reporting tools, which may be simple visualisations and charts or more complex tabulations and stats.
So here's a market map of platforms that breaks them into 3 overlapping categories based on what you can do with them.
---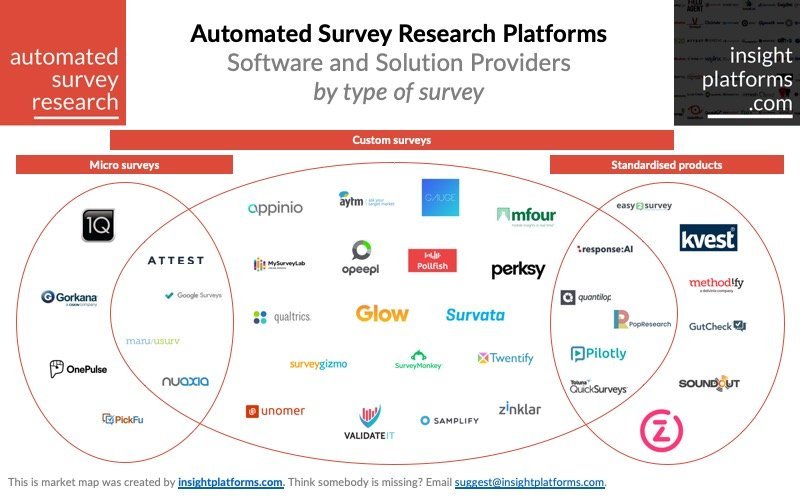 You can download a fully linked PDF version of this graphic here Automated Survey Research Platforms Market Map Pt1
---
Here's what each cluster means:
Micro surveys: very short surveys. Wow. Bet you didn't guess that. These are smartphone-centric tools that either encourage or max out at a small number of questions. For Google Surveys it's 10, for OnePulse it's 3.
Custom surveys: these tools let you start from a blank sheet, a previously saved survey or one of a few dozen 'best practice' templates. Essentially do what you want: long surveys, ugly surveys, hundreds of soul-sucking grids. It's up to you. Some of these platforms started out as standalone survey tools, but now integrate with access panels (Qualtrics, SurveyGizmo); some are access panels who have added survey builders (Toluna QuickSurveys, Samplify); others were built as fully integrated survey-sample-results tools (Appinio, Survata).
Standardised products: these are more structured, with research tools for different applications (concept test, ad pre-test, pack test). As a user, you can configure some of the survey (add stimulus, insert brand attributes, ask one or two diagnostic questions), but you can't change the fundamentals. It means you can't really break it, you get the benefit of expert survey design and in most cases you get benchmarks.
Most of these platforms are sufficiently generic that they can be used for any target audience – but a handful are focused on specific verticals or geographies. Nuaxia is for healthcare research; SoundOut is for testing audio content; Pilotly is for testing video; and Kvest only works in German speaking markets.
There is another way you can group these platforms – and that's by the sources they use for respondents. I'll show this in a follow-up post.