So you work in a consumer insight or user research team. You do a lot of projects, and you need more than just a filing system to tame them. You need to share learning across your team. And you want other teams to help themselves sometimes – rather than asking you every time they need data about users or consumers.
Enter research and knowledge management platforms: software for storing, analysing and sharing project inputs and outputs.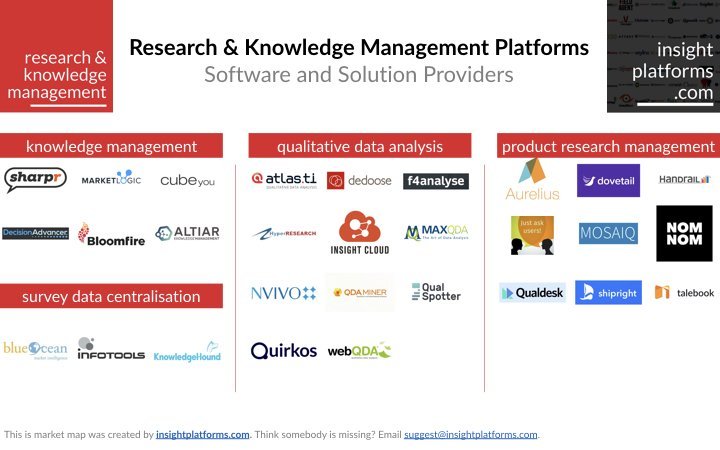 What's in each of these different buckets?
Survey Data Consolidation
These tools are repositories for multiple surveys (they don't just run on a single study or long term tracker), and have search, analyse and visualise capabilities. They aim to do what Business Intelligence tools like Tableau, Looker or Microsoft Power BI do – democratise access to data – only with a much tighter focus (mainly surveys, sometimes complementary datasets).
In fact, many BI and IT teams will tell you that survey data should go through their enterprise BI platform rather than use a specialist tool.
They're almost always wrong.
Survey data comes in comparatively small chunks, is different every time and has weird nuances like multiple choice questions that generalist tools struggle with. Hence the need for specialist platforms.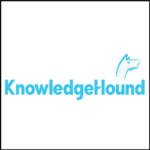 KnowledgeHound is one example. It's a search-driven analytics platform for customer survey data. Survey data and insights can be uploaded from any research tool or provider; natural language searches can be for analysis or discovery; studies can be tagged and organised for exploration; and the 'stories' feature enables insight nuggets from multiple studies to be collated in a Pinterest-like wall.
Product Research Management
These are tools that help with User Research, including UX and usability, for (mostly) digital product development. It's a fast growing discipline, and is done by both specialist researchers and product managers who wear many different hats.
These platforms share some common features: project planning, documenting user interviews, tagging, analysing and sharing findings or insight nuggets. There are several new players in this space, and some of the platforms listed are still in closed beta at the time of writing. Expect to see more launching over the next couple of years.
Most of them have a big advantage over many tools in the other categories: as digital native players with a strong SaaS focus, they major on the user experience: easy to learn, beautiful interfaces, uncluttered features. It all helps encourage adoption by researchers and non-specialists.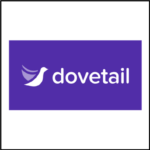 Dovetail is an example, and only launched fully in the last 12 months. It's a tool for capturing customer feedback and user research in one place. It acts as a research repository for centralising interview notes and storing video and images, with tagging and annotations for analysis. It even goes beyond the purely qualitative focus of most product research management tools, and can import emails, survey results, support tickets, tweets, Facebook posts, and app reviews (through Zapier integrations) for sentiment analysis and trend reporting.
Qualitative Data Analysis
Although many of these tools get used for one-off studies, most have the capacity to store and cross-reference content from multiple projects. Several have their origins in academic and social research – and it shows. If user research tools go big on look-and-feel, this lot definitely prioritise function over form.
(If you've used some of them, you'll appreciate that's quite the euphemism.)
Those functions can be quite extensive: storing content in different formats, creating taxonomies, developing coding schemes, visualising and mind-mapping, annotating published works, even conducting text analytics.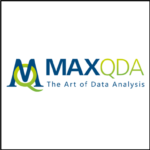 MAXQDA is an example. It's desktop software for qualitative, quantitative and mixed methods data analysis. It has tools for analysing interviews, reports, online surveys, focus groups, videos, audio files, literature, images and other inputs. Other features help with organising and categorising unstructured data; searching for content; testing theories; and creating visualisations and reports.
Knowledge Management
These are almost like mini intranets for research teams. Most include Content Management Systems for storing documents (briefs, reports, key project communications); search features; analysis tools for text and numeric data; and, increasingly, AI capabilities for identifying links between different pieces of content.
Market Logic Software has built a big presence in this space, with enterprise clients such as Unilever using it create its People World platform.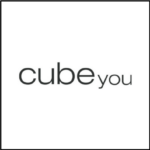 CubeYou is another example, and it takes slightly different spin on knowledge management for research.
It's a tool for integrating consumer data sources in one place: social media statistics, syndicated studies, government surveys and ad hoc research studies. Data from published sources can be searched by demographics, consumption habits, personalities or interest groups; AI tools help to consolidate insights from multiple places; and data visualisations can be created in the platform and exported to PDF or PPT.