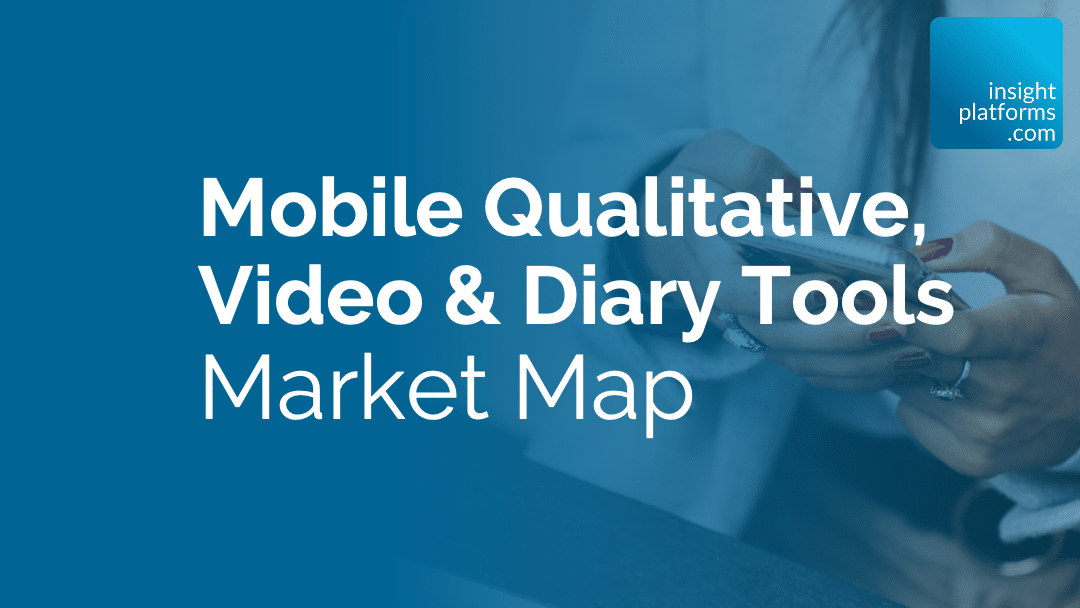 Mobile Qualitative Research, Video & Diary Tools – Market Map
By Insight Platforms
Mobile Qualitative
Ethnography
Mobile Ethnography
Remote Qualitative Research
Qualitative Research
Qualitative Pre-Tasking
Qualitative Data Analysis
Agile Qualitative Research
Online Qualitative
Video Diary Studies
Video Research
Diary Studies
User Journey Mapping
Journey Mapping
Customer Journey Mapping
A Landscape of Solutions for Mobile Qualitative Research
This is a collection of software tools for mobile qualitative, video and diary research. Click the logo to view the full company profile page, or search for more options in the directory.
These solutions all have different features and benefits, but most of them can be used for:
remote qualitative research: participants use their mobile devices to take part qualitative research, including chat-based discussions, sequences of tasks, surveys, polls and interviews;
user journey mapping: collecting feedback from different stages of a user's experience with a product or service, highlighting pain points and areas for improvement; feedback can involve answers to specific questions, text notes, images, videos or screen capture of interactions with websites or apps;
diary studies: participants record their interactions, experiences, thoughts, purchases or media consumption in a mobile journal, providing insight into their attitudes and behaviours over time;
mobile ethnography: participants provide feedback from their natural environments using mobile devices – for example by capturing video or images when preparing a meal, going on a trip or making a purchase;
mobile video-based feedback: using asynchronous video to record thoughts or activities; taking part in live video interviews, focus groups or virtual shop-a-long activities.
Author
Mike is the founder of Insight Platforms. He is a consultant, advisor and thought leader on the intersection of technology and research.
More Resources on Mobile Qualitative Research
July 2021. Masterclasses, panel discussions & case studies about online and mobile qualitative market /…
On-demand video collection. Introductions, walkthroughs & Q&A discussion with leading research and analytics technology platforms.
Learning resources, supplier directory and virtual events for mobile ethnography for market / user research…