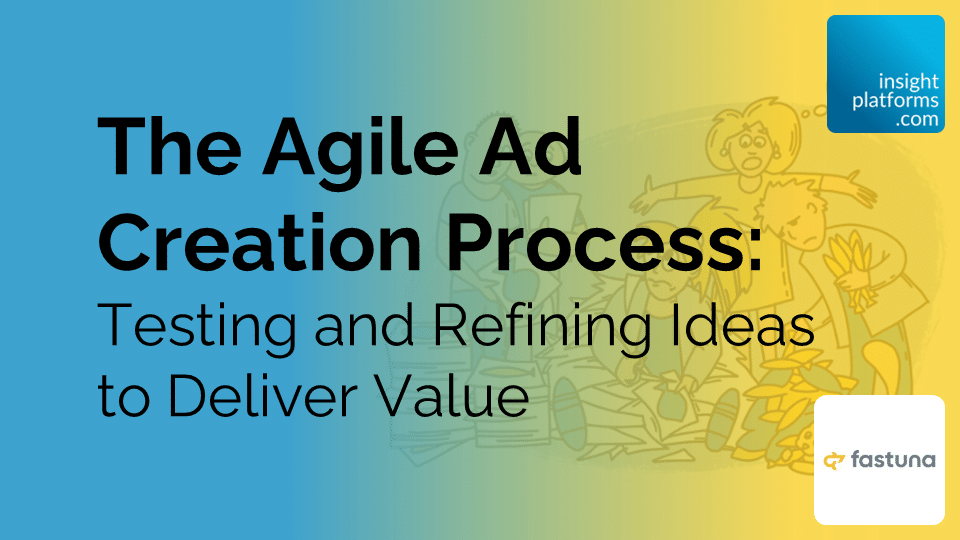 The Agile Ad Creation Process: Testing and Refining Ideas to Deliver Value
With Fastuna
Agile Quantitative Research
Automated Survey Research
Insight Transformation
Survey Software
Concept Screening
Concept Testing
Advertising Testing
How much revenue does your business lose each year by not utilising the full power of your research department? Take advertising, for example. Very rarely do marketing and creative teams include research at all stages in making an advert. As many examples show, the result is an ad the audience does not get. This is a budget blown out of the window.
What if research, applied at all stages, starting from the first idea, would drive better results? This article will share how agile research may empower your team from the first idea and help you drive success.
Test early when creating your ad: animatics & storyboards
Dare to fail fast and adapt quickly. This is a powerful success formula. For example, when your agency presents you with several creative ideas, you can rely on your taste or use a research platform to immediately check with your audience which ideas are most appealing to them and why! This way, you not only have arguments for a specific idea, but you can also immediately start to improve the idea.
Would you not agree that it is much safer to test a creative idea before you invest a big chunk of your budget in production? So many adverts hit the market because it is too late to change. The money has been spent, so everyone bites the bullet. Testing the idea in the form of a storyboard (a series of slides with the scenario) or an animatic (a draft animation), will give you the right direction from the start.
And as time is no longer your enemy, an agile research platform can deliver results within a couple of hours; testing can be fitted nicely into the creation process.
By supporting the teams' confidence and decreasing spending, you will be an integral part of the success of everyone. Who doesn't love win-win situations?
In the example below, you can see what the ad looked like at the animatic stage and what it looked like when it became a real video post audience feedback.
Compare your work against benchmarks based on hundreds of similar research projects
How can you ensure that your ad is cutting through the noise? Your competitors aren't sleeping and fighting for attention alongside you. One way to ensure you stand out is to involve your target audience. They will tell you. Research platforms also help you to understand how your ad compares to others and what needs to be changed. How do we know? We have benchmarked hundreds of similar projects to help you make a sound decision.
At Fastuna, we have a knowledge base containing benchmarks from hundreds of similar research projects.
And yes, we know, that designing questionnaires takes time. So we have taken the time and designed them for you. Using ready-to-run solutions with set KPIs not only lets you compare results over time but also helps you to make swift decisions based on easy-to-understand output. Check out the report example below, where we compared ads by UK retailers Asda, M&S and Co-op using our Fastuna platform.
It takes one glance to see the top ad on this one is Asda. You also get actionable insights on areas to improve straight away. M&S could improve its sharability while Co-op could think about how to present the ad more relevantly and enjoy better campaign results overall.
Of course, when you run a quick test, the numbers help you see the big picture and make the right decisions fast. However, to ensure you understand the reasons behind all the numbers, you can read the quotes.
M&S: "Bit boring and not very relevant" – Female, 19
Co-op: "A dreary acoustic version of a terrible song. The usual over-representation of that 5% of our population. Could be for a number of brands and any of the supermarkets" – Male, 54
Asda: "Easy to relate to and understand, nice and bright" – Female, 35
Fastuna helps insights managers to empower their research function and increase their teams' confidence. Book a free 30-minute session. Choose a time slot →
Don't forget the final test before launching your ad
All the work is done, great but don't get impatient just yet. Do one final test before launching the ad. Your team may find some minor errors or areas for improvement which could make a real difference to the effectiveness of your ad. For example, you could find things like branding needs to be more prominent, a packshot needing to be changed, the order of the scenes revised, or the voiceover improved. If we had a penny for every time our audience commented on the voiceover.
Testing at the final stage may help your team find some minor areas for improvement
Last but not least being agile also means that you can make last-minute changes based on external factors. Sometimes they significantly impact whether or not your narratives still fit. Just think of how the beer brand Corona had to adapt during recent years.
Conclusion
Dare to fail fast and adapt quickly by using online market research from the first idea. Market research has excellent value throughout the creative process and should be used at each stage, sometimes more than once. The cost of working in an agile way and running a new iteration based on consumer feedback does not have to break the bank! One research project can be as little as 300 euros.
Moreover, it can save a lot of money by ensuring the ad hits the targets and doesn't offend anyone. So test your bordomatlics, animatics and finished ads as often as you need. On our Fastuna platform, you can get the results within less than 24 hours and continue working on your ideas with your creative team on the same day!
Author
Marketing Director at
Fastuna
.com, Marat is a B2B marketer | Editor | Market Researcher | Master of Sociology.
More from Fastuna
Masterclass with Fastuna and Haleon: learn how to identify advertising elements that resonate with consumers…