These tools are a bit of a mixed bag, with 'free' being the main things that unites them.
#1 to #4 are 'bigger data' tools for analytics, business intelligence and dashboards: Tableau, Power BI, Databox, GoodData.
They connect to data from lots of different sources and bring it all together for analysis and visualisation.
#5 – Kumu – is a little unique. It is used for representing complex relationships in network maps.
#6 – #10 – Vizzlo, Visme, Infogram, Piktochart and Canva – are more design-led tools for publishing visually engaging data content – infographics, charts, posters.
Technically, a couple of them support live data connections and will update on-the-fly; but think of them as more useful for point-in-time snapshots.
1. Microsoft Power BI

Microsoft Power BI is a web and cloud-based analytics and data visualisation platform.
It is available as a desktop or mobile application, with interactive reports, real-time dashboards and datasets that can connect to dozens of data sources. Power BI also features embedded visuals, trend identification, custom reports and SQL Server Analysis Services.
One of Power BI's unique features is its Q&A interface. Using the natural language you would use when asking a question out loud, you can input any question to scout your data for specifics, and the Power BI technology will use suggestions, re-phrasings and autofill to present the answer.
Microsoft Power BI connects to dozens of third-party data sources. The free version is limited to 1GB of analysis per user, and you can go pro for $9.99 a month to get data encryption and exports to Excel.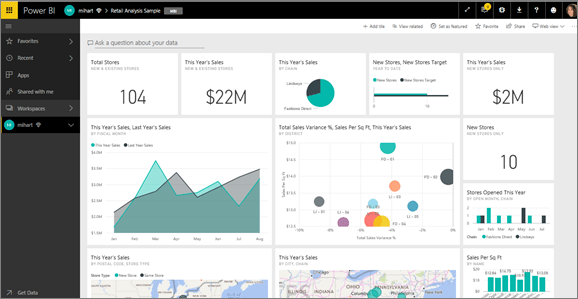 2. Tableau Public

Tableau Public is part of the Tableau software portfolio that offers three different software choices: Tableau Public, Tableau Reader and Tableau Desktop. Tableau Public is the free package that offers data visualisation, analysis and business intelligence for companies of all sizes.
Tableau Public gets you access to most of Tableau's paid range of features – in-depth insights, data storytelling and analytics on demand. You can uncover data patterns, like sales trends or consumer behaviour, and create visualisations that connect to Excel, CSV or other data sources
Tableau Public publishes your visualisations – maps, graphs, charts and other outputs – on the web through a simple user interface and live dashboard. So you don't want to use this for anything commercially sensitive, confidential or embarrassing.
Tableau Public is pretty feature-rich – if you're OK with the trade-off of showing your data to everyone. To keep your data private, Tableau Online pricing is $70 per month with various other bolt-ons for view-only licences.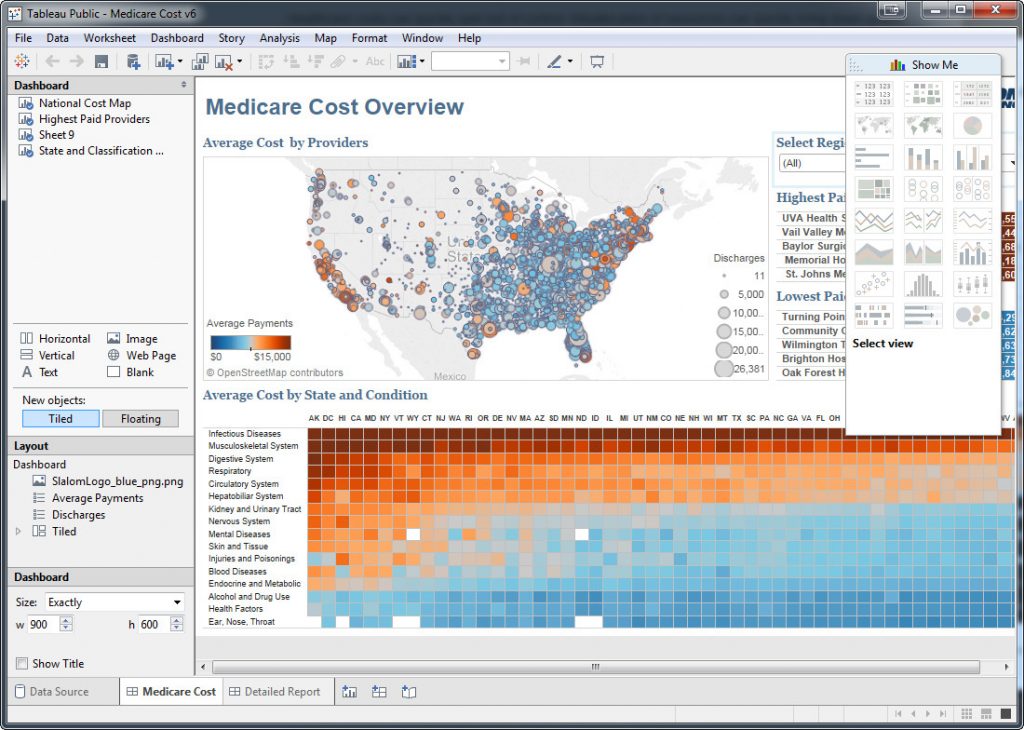 3. GoodData

Gooddata provides cloud-based business intelligence and analytics and has over 80,000 business customers of all sizes globally.
GoodData dashboards can be embedded into existing applications for real-time analytics. It has user-friendly interfaces and dashboards, and is used widely for tracking consumer behaviour, marketing and sales metrics.
The free package gets you 100MB of workspace; going pro starts from $20 a month and brings additional features like analytics distribution to multiple end-points, automation of user access and more data visualisation tools.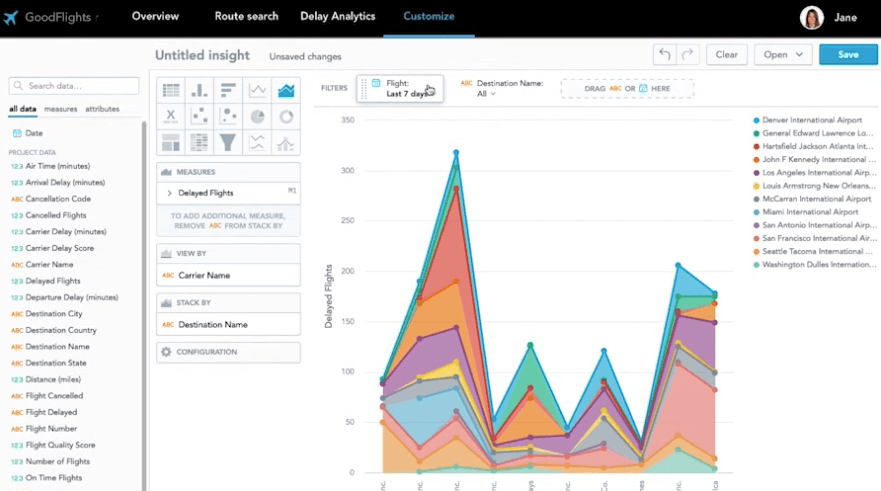 4. Databox

Databox is a cloud-based business analytics platform that is available on desktop and mobile, including iOS and Android. It is used by businesses of all sizes to generate data-driven reports and track KPIs.
You can use more than 70 one-click integrations to connect data directly – from Salesforce, Google Analytics, Hubspot, Facebook Ads and others – or link to hunderds of other apps indirectly through Zapier. You can also use the Databox REST API and SDKs to import data from your own databases.
Databox has clean interface with a drag-and-drop editor for building custom dashboards. There are also dashboard templates to avoid starting from scratch. Databox focuses heavily on its mobile UI and generates updates and alerts through email, Slack and mobile app notifications.
The free plan is pretty generous. It gives you access to a lot of Databox features – including over 200 pre-built dashboard templates – but limits you to 3 data sources, 3 dashboards and daily data refresh.
Going pro gets you 10 data sources, 10 users and 10 dashboards; it also adds the ability to push data via API and up the data refresh interval to hourly. Paid plans start at $49 a month.
5. Kumu

Kumu is an analytics and visualisation platform that creates interactive relationship maps. It can be used to summarise complex datasets with dozens of variables in a visually simple map.
You can use it to create relationship-focused data visualisations, causal loop diagrams, strategy maps, concept maps and other outputs. It works best with datasets that have a relationship focus at their core to generate maps on networks, concepts or people. These can be distributed using the built-in presentation builder and publishing programme.
The individual plan is free to use for unlimited public projects – but visualisations are publicly viewable.
You can pay $9 to make a project private project on the individual (free) plan; or you can pay a monthly subscription of $10 for unlimited public projects (+ $20 per private project) and get access to the full range of Kumu features.
6. Vizzlo
Vizzlo is a simple charting and infographics platform with tools and applications for building a variety of visual reports. It offers a range of charting options including classic bar and pie charts, Gantt charts and waterfall charts.
The free version has limited customisation of format and colour, with more options on paid plans. Data can be imported from Excel or Google Sheets, and visualisations created online can be embedded straight into in Microsoft PowerPoint or Google Slides, as well as exported to a range of image formats.
The free plan gives you over 100 chart types; paid plans start at $11 a month and give you full document history and more customizable presentations.
7. Visme

Visme is a content creation platform for building and sharing visual data through reports, presentations, web content, wireframes and infographics.

At its core, Visme is a visualisation tool that transforms data and spreadsheets into visual content. It is web-based but can also run offline, and has many customisation options including templates, fonts, images, icons and backgrounds.
Data can be imported from various third-party sources and outputs can be published online, shared across social media, downloaded for offline viewing or embedded on websites. Visme also includes analytics features.
The free package offers 5 projects and 100MB of storage; or go pro for $14 a month (individual) or $25 a month (business) with access to premium templates, PDF downloads files and HTML5 publishing.
8. Piktochart

Piktochart is used by students, teachers, bloggers and marketers for telling stories with data, creating flyers or posters and publishing infographics and presentations.
It has a drag and drop interface with useful design features including interactive maps, embeddable videos, hyperlinks, ready-to-use graphics, templates and high-res downloads. Publishing options include sharing across social media, embedding on websites and exporting to PDF, JPEG or PNG files.
Piktochart is available for free with access to templates, icons and images. More features, including custom font uploads and HD image exports, are on the pro package which starts at $25 a month.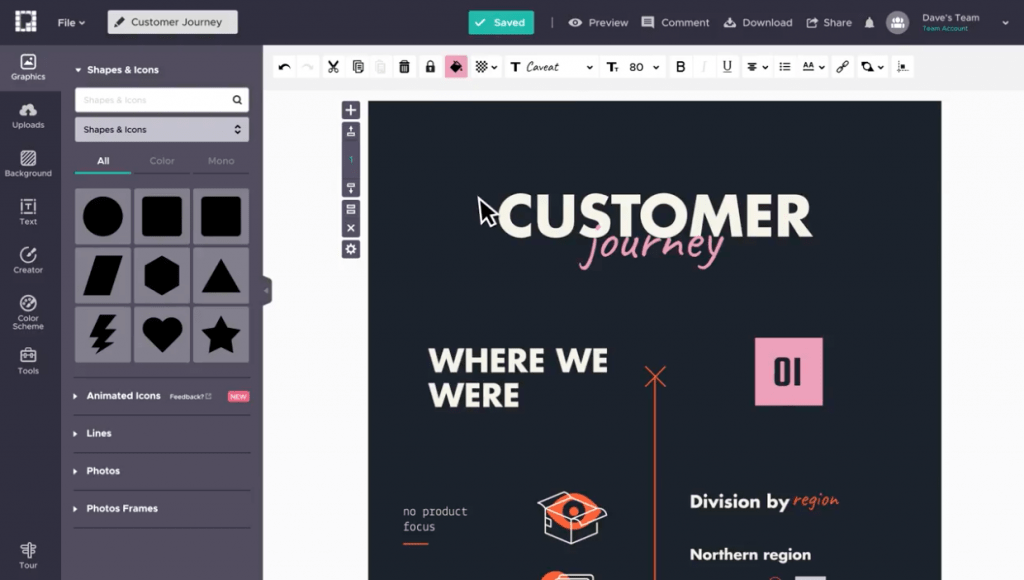 ---
9. Infogram

Infogram is a data-driven visualisation platform that offere a range of infographic templates for media, business and education.
It includes 35 interactive chart formats and over 500 maps, interactive dashboards and reports. it also has a large library of icons and images. The drag and drop editor lets you customise fonts, colours and styles, and data can be pasted in as a table.
All infographics are mobile responsive, and can be published online or exported to a variety of file formats including PDF and JPG.
The free plan lets you can access all chart types, 13 map types and build up to 10 projects. It also has limited data connections. The pro packages start at $19 a month and offer over 100 premium templates, privacy control, more data connectors and up to 100 projects.
10. Canva

Canva is a broader graphic design platform than the other tools listed here, but is widely used for data visualisation and infographic creation – as well as presentations, flyers and posters.
It includes access to a large library of graphics, fonts and photos, as well as professional-grade design templates. Multiple users can be invited to edit and comment on designs, and it is widely used for creating social media content.
The free package includes over 100 design types, including posters and letters, and hundreds of thousands of graphics and photos. The pro package is $8.99 a month and has over 60,000 templates and the ability to import your own fonts and logos.
Author
Mike is the founder of Insight Platforms. He is a consultant, advisor and thought leader on the intersection of technology and research.