Introduction
Like many tribal divisions, qualitative user research and market research have far more in common than separates them.
More on that here, if you're interested in a short digression.
But there's one key aspect of user research that is far more developed than it is in market research: it's the spirit of democratisation.
Maybe it's a virtue born of necessity.
Product-centric companies – tech firms in particular – have really guzzled the Kool-Aid of getting close to users. A handful of expert researchers can't do everything themselves; so the work of interviewing, observing and analysing users needs to be done by others – product managers, designers and even developers.
This is great. I love this philosophy.
But it brings challenges. How do you build the right research skills and maintain standards? How do you execute efficiently? And how do you capture and analyse all that information – without reinventing the wheel on every project?
As the volume of qualitative user research has increased, that last challenge has grown in importance. If you have dozens of teams running their own projects, how do stop them pointlessly duplicating effort? How do you share the answers you already have? How do you build a knowledge asset that grows – and avoid fragmented learning?
Research and Knowledge Management software can help with this.
That's the good news.
The bad news is that it's an exploding category. There are dozens – maybe even hundreds – of options, and it's not easy to navigate.
Here's a (certainly flawed) effort to create some structure.
Further down, this article introduces 15 tools for qualitative user research management and analysis – but that's only one of at least 5 categories for dealing with research content.
Here are the different types of software you can use.
1. Mainstream Free / Freemium Tools for Organising Notes
Great for: startups, solo researchers, individual projects, those with no / tiny budgets
Examples include Notion, Airtable, Google Docs, Evernote, Trello, OneNote and a bunch of others. None of these are perfect, but you can start all of them for free. Many of them have incredibly generous free tiers.
I use Notion for freeform note-taking and Airtable for structured data. I stopped using Evernote and Trello because Notion does what they do better.
For qualitative user research interviews, the dictation features in Google Docs and OneNote use the Google and Microsoft Speech-to-Text APIs from their AI toolboxes – and they're pretty accurate for transcribing recordings from interviews.
---
2. QDA (Qualitative Data Analysis) Tools
Great for: academic researchers, qualitative market researchers, user researchers
Most of these tools started as academic research tools and extended into the commercial space. MaxQDA, NVIVO, Quirkos, HyperRESEARCH, QDA Miner.
Not gonna lie, I've never used any of these in anger.
Most of them prioritise functionality way over aesthetics. So be prepared for lots of grey screen estate, hundreds of menu options and a bit of a learning curve.
---
3. Product Management Platforms
Great for: UX teams, product management teams
These tools are mostly for capturing user feedback through support channels, direct feature requests or other connected sources such as review sites.
They use tagging and machine learning to identify topics and sentiment in users' comments; they often have prioritisation tools so that the most important features bubble to the top; and most have some sort of publishable roadmap to share back with users.
Check out tools like Uservoice, Kampsite, Pendo and Canny.
But hang on … these aren't really qualitative user research repositories, are they? Not really … yet.
But if Productboard ($65m in funding so far) is anything to go by, you can expect to see a lot more automated research analysis and sharing features built into these tools.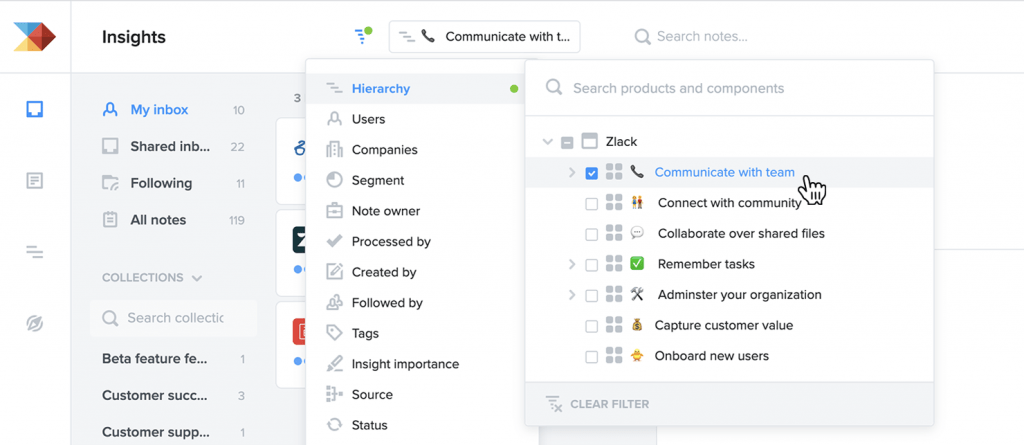 ---
4. Enterprise Knowledge Management Solutions for Research
Great for: in-house CMI / research & analytics teams; media / research agencies with large, on-going research programmes
A bit of a mouthful … these tools act as data repositories, intelligent assistants and workflow tools for consumer insight teams: platforms like Market Logic Software, Bloomfire, Stravito, Sharpr and Lucy.
They ingest project outputs (reports, interview notes, presentations, documents), consumer videos, industry news, syndicated data, social listening and data from specialist research platforms; and they have features for managing projects, partners and agencies.
Now beefed up with machine learning, these solutions find connections between data sources, let users query them with natural language search terms and can even synthesise relevant results from disparate inputs.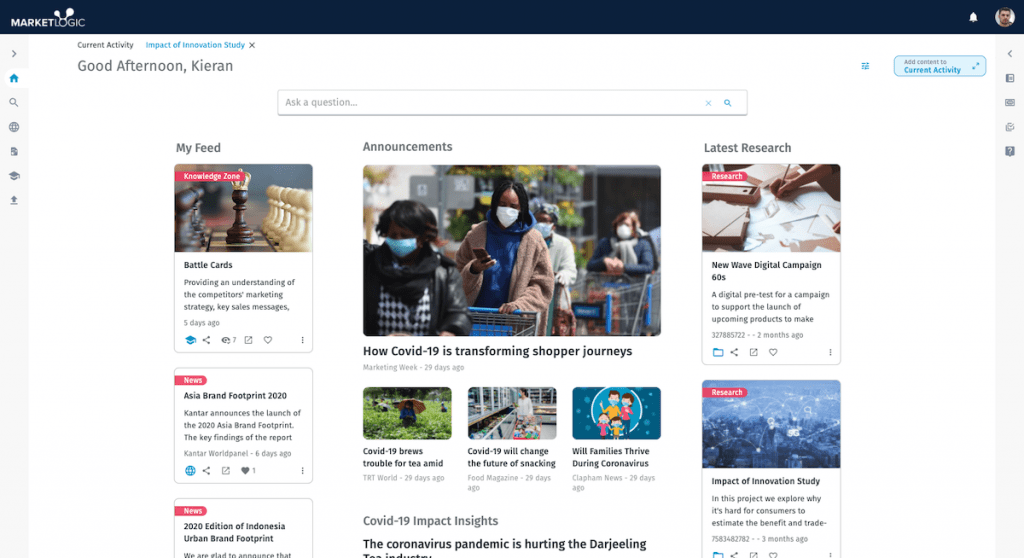 They are not yet widely adopted as qualitative user research platforms – but again, watch this space. As market research and user research teams come closer together, the toolboxes will adapt.
Check out this (slightly outdated) market map to see more options.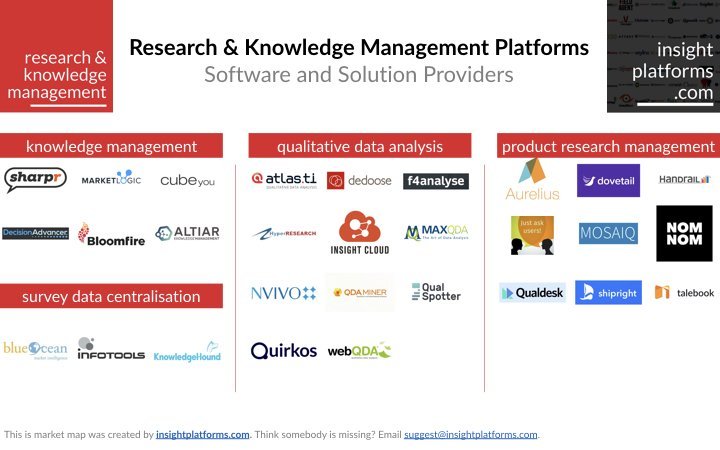 ---
5. Qualitative User Research Management and Analysis Tools
Great for: in-house user research teams, product teams, independent user researchers, qualitative market researchers
At the last count, I found 15 of these and several more in beta.
So what are they and what do they do?
Broadly, there are four buckets of features that these tools have. Not all of them have everything; and some have extras not described here.
Research Repository: transcriptions or notes from interviews; images; audio recordings; and videos of user tests or other behavioural tasks; and a decent search feature.
Analysis and reporting: manual and auto-tagging of concepts, phrases, actions, pain points etc; auto-transcription of audio and video recordings; and maybe some machine learning / text analytics to measure sentiment or identify topics.
Communication / sharing: report and summary publishing, hierarchical access for different teams.
Research management: documenting project processes, consent forms, participant communications, incentive payments etc.
---
Marvin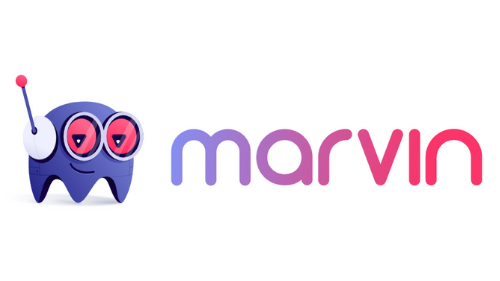 Marvin is a qualitative data platform for conducting, organising and analysing user interviews.
Used by product teams, consultants, startups and researchers, Marvin has features for tagging and live notes, qualitative data analysis and sharing of insights.
Dovetail

Dovetail is a tool for capturing customer feedback and user research in one place.
It acts as user research repository for centralising interview notes and storing video and images, with tagging and annotations to help with analysis.
It goes beyond the purely qualitative focus of most user research management tools, and can import emails, survey results, support tickets, tweets, Facebook posts, and app reviews (through Zapier integrations) for sentiment analysis and trend reporting.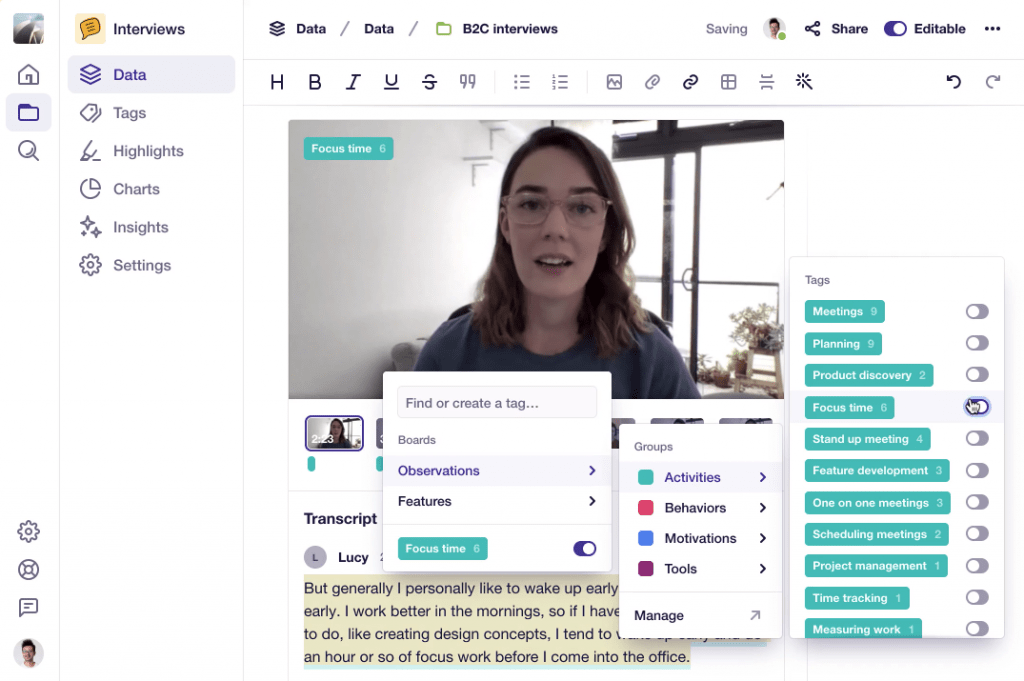 ---
Qualdesk

Qualdesk is platform for managing and reporting product research, including modules for planning, interview note-taking and recording, synthesising and communicating insights and managing participant consent, waiver forms and incentive payments.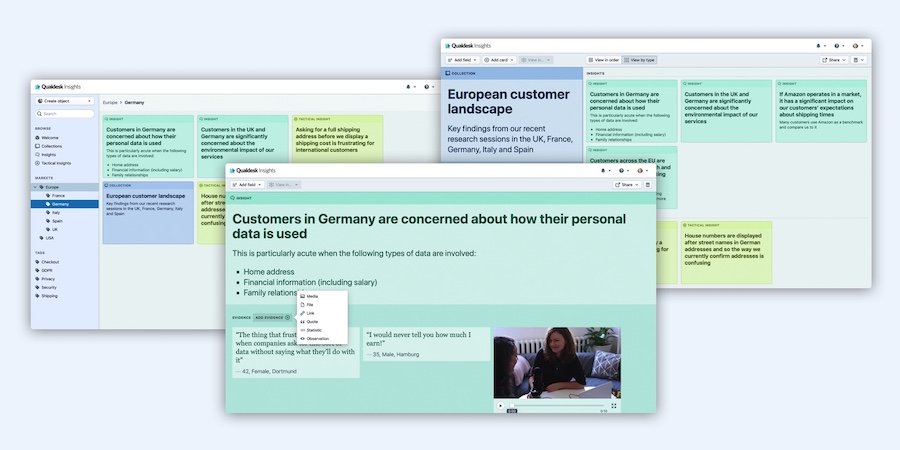 ---
---
Sticktail

Sticktail is a user research management platform for collecting, searching, organising and sharing insights.
It allows any user to contribute insights – researchers, product owners, customer support employees or external agencies – and teams or individuals can subscribe to insight channels that deliver content relevant to a specific topic.
Insights are structured and searchable by text, titles, tags, studies or journeys.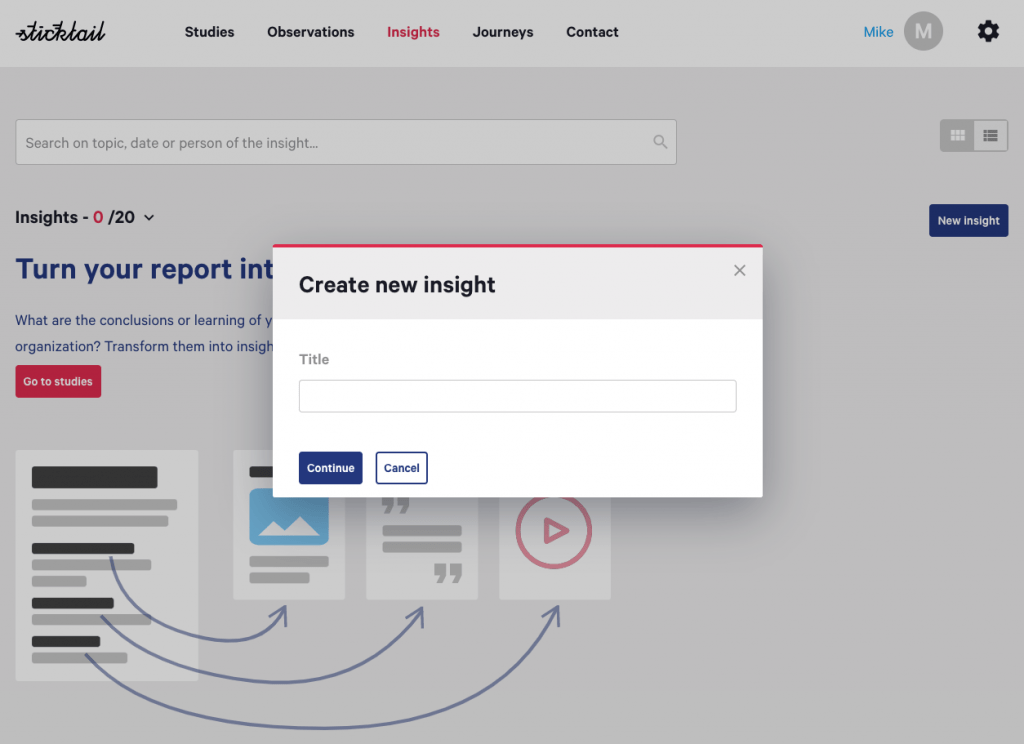 ---
---
EnjoyHQ

EnjoyHQ (previously known as NomNom) is a product research management tool that integrates customer feedback, research and data from support systems, survey tools, app reviews, NPS services and other sources.
Content can be tagged and highlighted, and reports can be published to slack or shared by email.
EnjoyHQ is now part of UserZoom.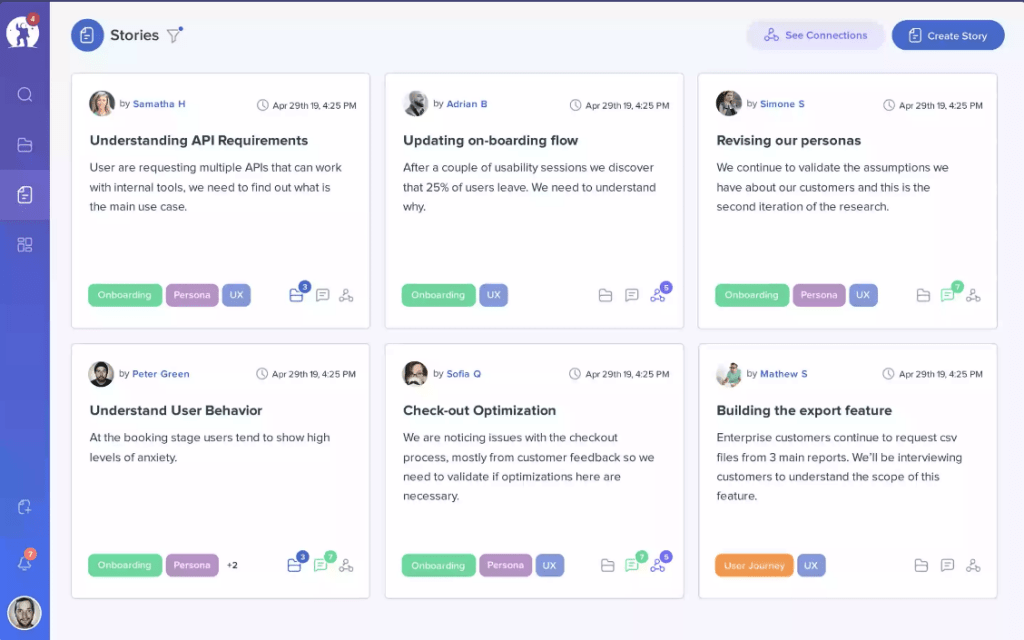 ---
Condens

Condens is a centralised platform for storing, structuring, analysing and sharing user research data.
Features include AI-enhanced tagging of research notes; drag-and-drop clustering of insights to find patterns between users; and summary publishing tools to share results with stakeholders.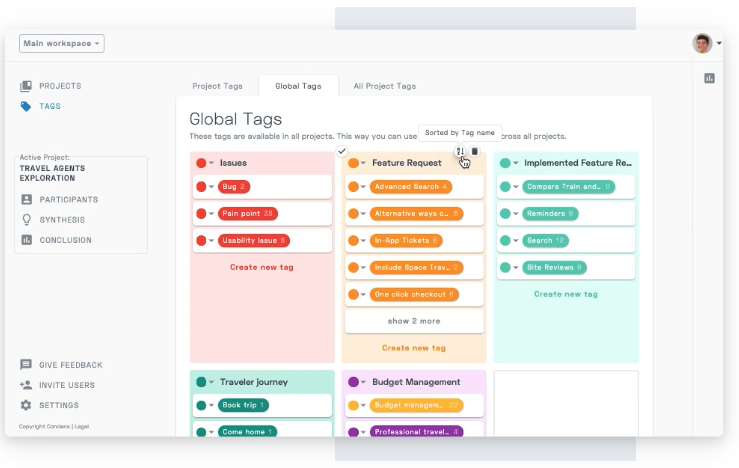 ---
Delve

Delve is a software platform for storing, coding and analysing transcripts from qualitative market research and user experience interviews.
Tags and codes can be applied to sentences or snippets of text. These can then be used to structure hierarchical summaries of quotations and speed up time to final report.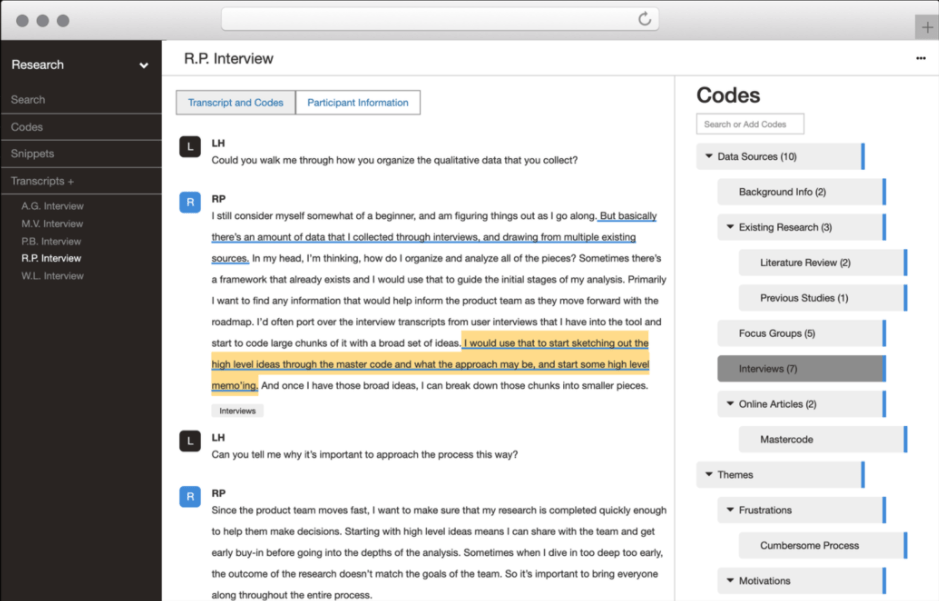 ---
---
Talebook

Talebook is a tool for planning, managing and analysing research projects.
It includes features for creating and documenting stakeholder discussions, user interviews and competitor reviews; conducting analysis with problem / solution valuation tools, persona creation and flow mapping; and documenting paper-based or digital prototypes, including an integration with InDesign.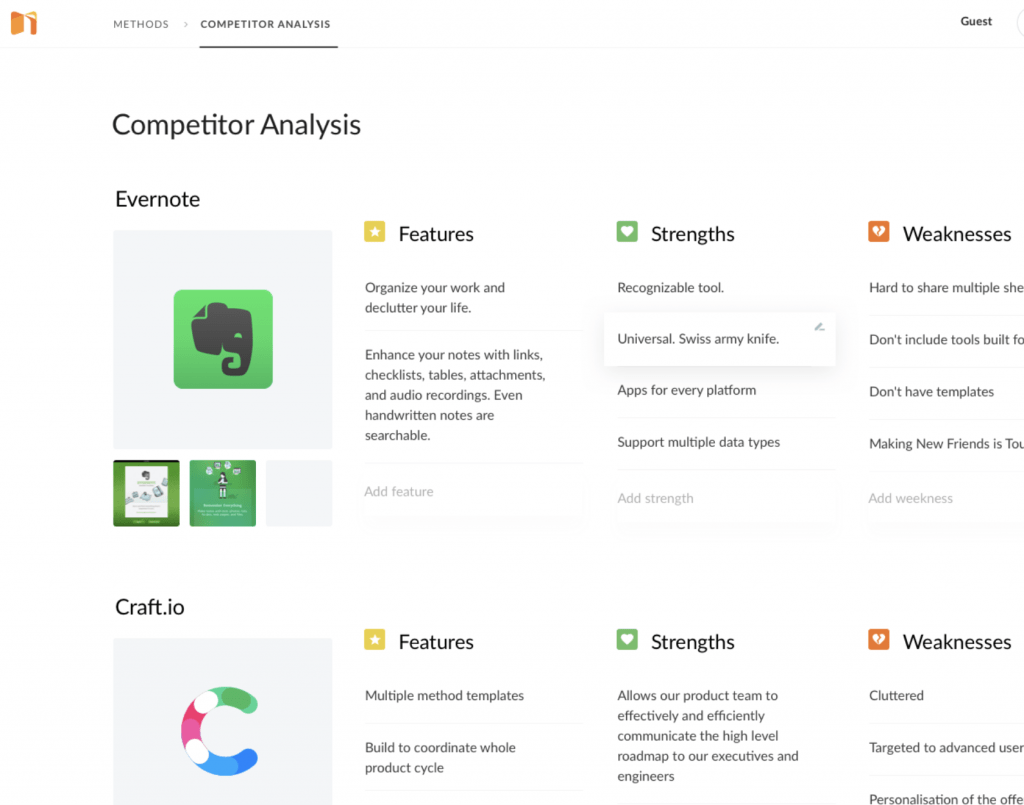 ---
Handrail UX

Handrail is an integrated platform for planning, collecting, analysing and sharing user research.
Both qualitative interviews and quantitative user surveys can be conducted, stored and analysed in the platform.
Handrail is now part of UserTesting.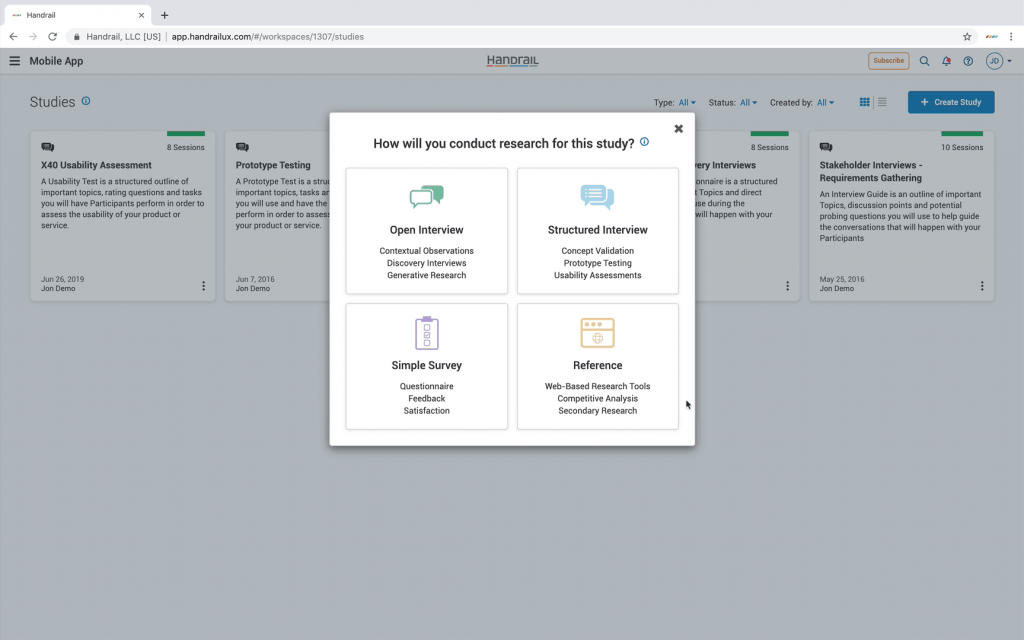 ---
Aurelius

Aurelius is a user research and insights platform for design and product teams. Features include tagging, grouping, synthesising and searching user research documents.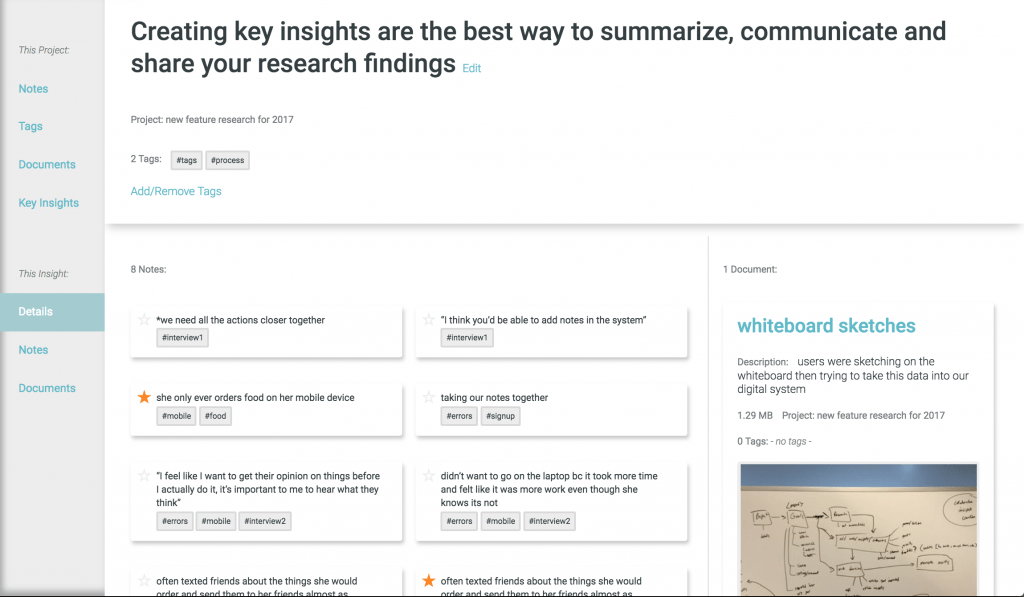 ---
Shipright

Shipright is a user research management platform for capturing user insights (from customer service support chat tools, interview notes, CRM tools, social media or online reviews); centralising user research data; synthesising and analysing content; and searching or browsing for insight nuggets.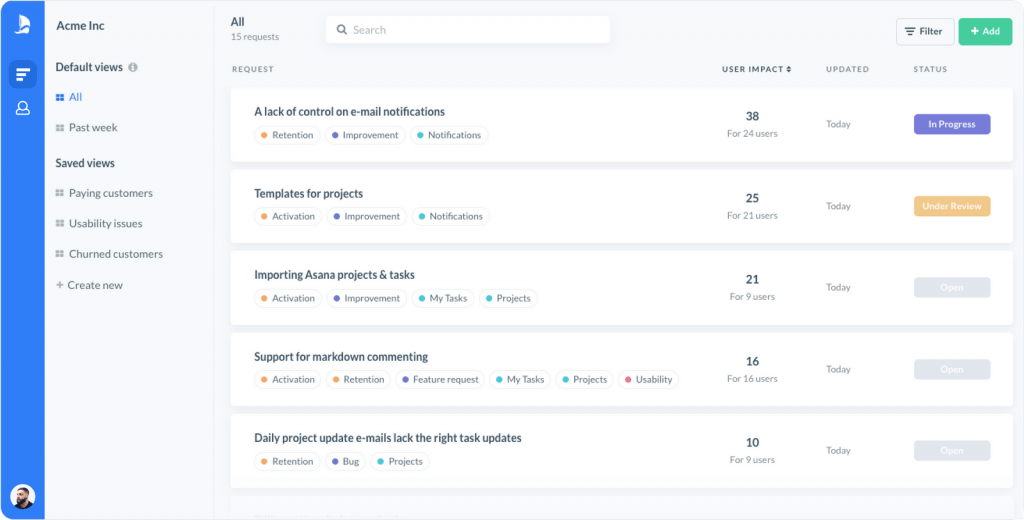 ---
Caravel

Caravel is a UX project management tool for storing, sharing and presenting all UX work in one place: user research, designs and prototypes.
User researchers can store project findings in context alongside designs; manage research projects using template designs if needed; use persona templates; and publish research stories using presentation templates.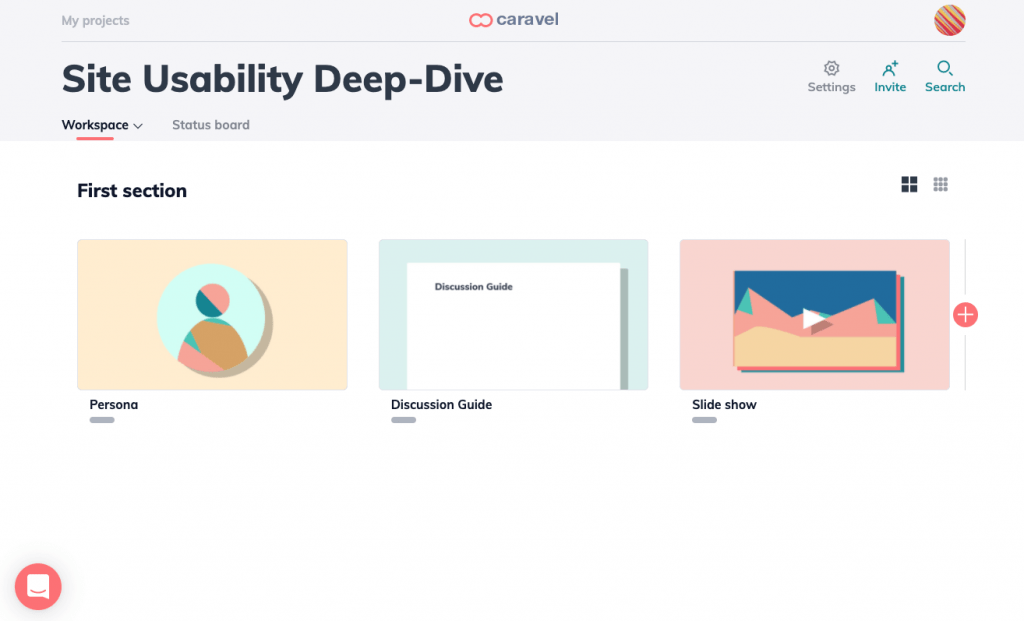 ---
Evolve

Evolve Research is a UX research platform for collaborative note taking, drag and drop affinity mapping and 'automatic insight reports'.
The platform stores data from any research method – face-to-face interviews, usability tests, diary studies or surveys.
The interface mimics Post-It note walls with observations, statistics or quotes organised on Kanban-style boards; these can then be compiled into synthesis reports for sharing with colleagues.
---
Glidr

GLIDR is a user research and product management platform. It enables researchers, product managers and designers to share ideas, plan research and test hypotheses.
Key features include:
tools for planning, managing and analysing research projects, from early-stage qualitative exploration to user feedback on new features
areas to document and tag evidence from customer interviews and other research and experiment sources
'insight boards' for organising insights, tracking themes and connecting evidence.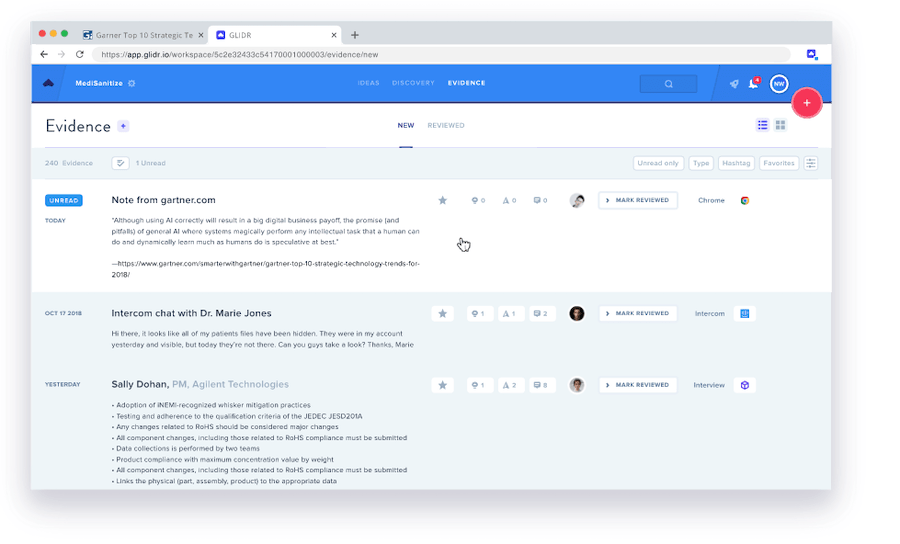 ---
ConfirmKit

ConfirmKit is a user research management platform.
Features include the ability to log observations (snippets from any source); create interview questionnaires and discussion guides; capture answers to interviews; and conduct analysis by tagging and summarising insights.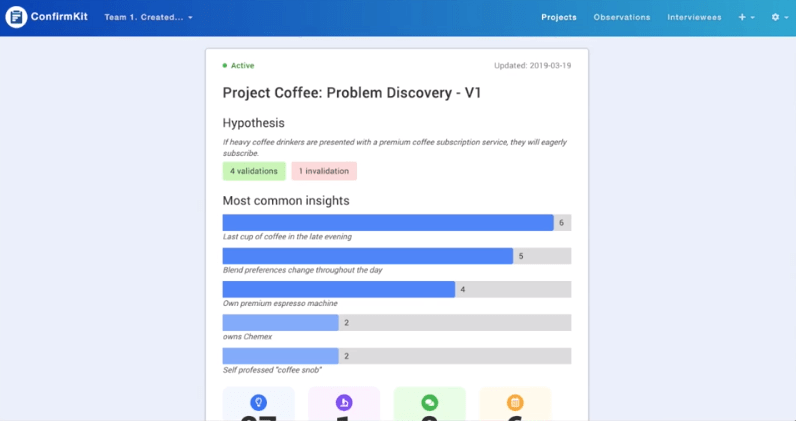 ---
Consider.ly

Consider.ly is a platform for organising, analysing and discovering insights from user research.
Interview notes, transcripts, videos, images and other files can be stored, annotated and auto-tagged.
Artificial intelligence helps to structure data, create linkages and identify patterns; applies sentiment analysis to user quotes; and powers intelligent content search.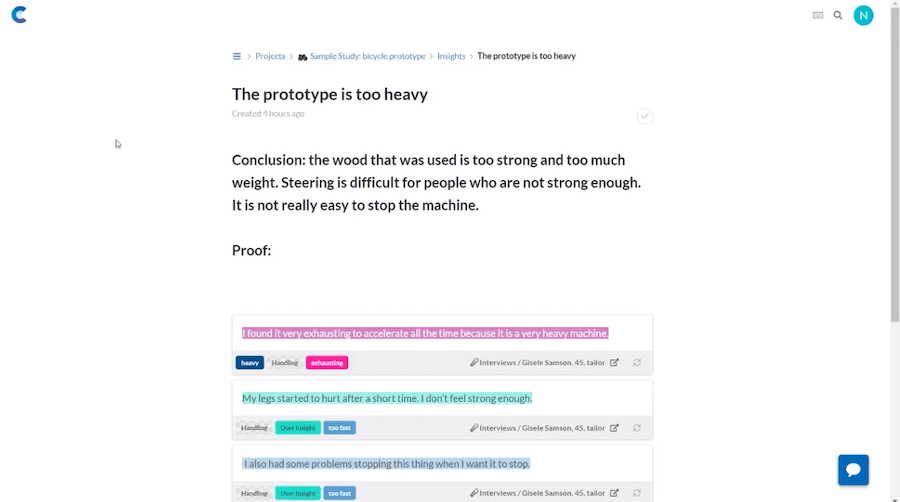 ---
And finally, for those who like to try very new / not yet in the wild stuff …
Glean.ly

Glean.ly is currently in beta, and built on the principles of Atomic UX Research.
It aims to be a single-source repository for all types of user research and insights: remote tests, eye tracking, click tracking, user interviews, customer surveys, A/B test results, card sorts, focus groups, interviews and other types of qualitative data.
It will also include a patent-pending confidence score for judging the quantity and quality of evidence for an insight by combining factors such as the type, age, and amount of data.
---
So there you go. Lots of options to help manage and analyse those growing volumes of research data as more people talk to users.
15 specialised tools (at least) for qualitative user research.
And several dozen others for Qualitative Data Analysis, Product Feedback Management and Market Research Knowledge Management.
The only problem now is finding the time to pick the right tool. Good luck with that.
Author
Mike is the founder of Insight Platforms. He is a consultant, advisor and thought leader on the intersection of technology and research.