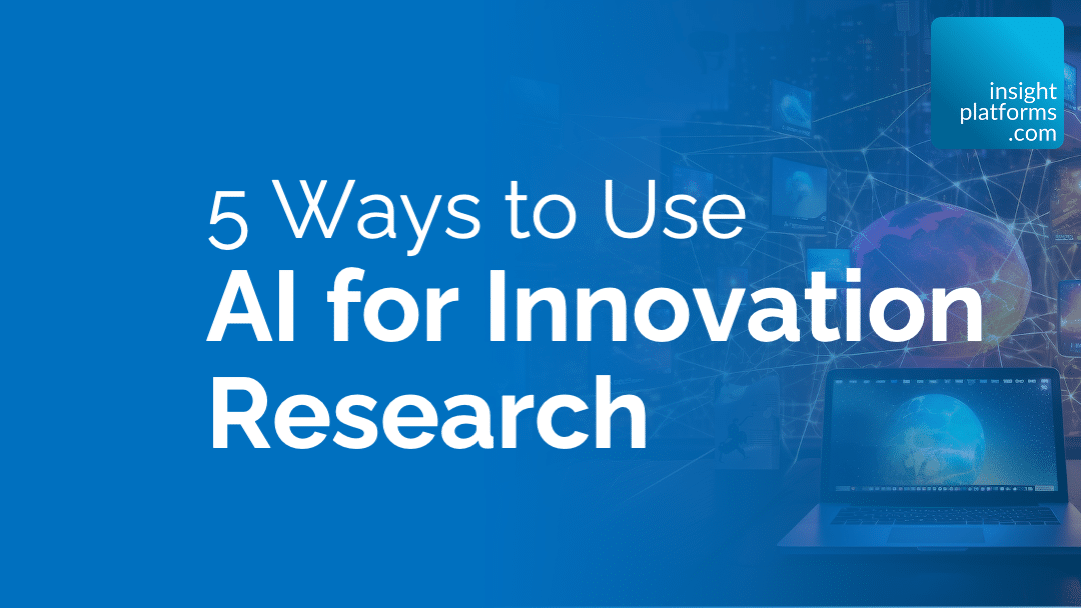 5 Ways to Use AI for Innovation Research
By Insight Platforms
Innovation Research
Eye Tracking
Predictive Analytics
Concept Testing
Packaging Research
Mobile Ethnography
NPD (New Product Development)
Artificial Intelligence
Video Research
Generative AI
AI for innovation research encompasses a wide range of tools and capabilities to help companies develop and launch successful new products. You can use AI to predict and anticipate market shifts; understand trends and patterns of usage; develop draft concepts; test ideas; and predict the likely uptake of new products.
In this article, we'll explore five key ways you can use AI for innovation research. This is not an exhaustive list, and AI is developing very quickly – but it's a useful starting point.
Find more ground-breaking uses of AI for Innovation Research in these masterclasses and demos at the Innovation Insights Summit.

Predicting Consumer Trends
Social media platforms have become gold mines of valuable consumer insights. AI-powered social listening tools can extract and analyse large amounts of social data to identify patterns and trends. These tools can track keywords, hashtags, and mentions across social media platforms and provide valuable insights into what people are talking about and how their opinions and preferences are changing over time.
Predictive analytics algorithms that use machine learning techniques can also spot correlations and relationships between different variables, such as user demographics, engagement metrics, and content types. Combining this with sales data, website analytics, and customer surveys, you get an even more comprehensive view of trends to inspire and influence product development, marketing strategies, and customer engagement initiatives.
Here's an example from Black Swan Data: PepsiCo wanted to identify new opportunities in the sparkling water category. Working with Black Swan, they analysed over 150 million consumer conversations from online data sources using AI to understand the key trends shaping the beverage category. Black Swan Data then identified several thousand trends which were ranked on maturity and future growth potential to help PepsiCo define their next generation of product innovations. Three macro trend insights emerged that led to the Bubly product concept. Read more here.
Here are some useful AI tools for predicting consumer trends:
Audiense is an audience intelligence platform that uncovers segments and insights based on social listening, digital…
YouScan is a listening and intelligence platform that analyses the text and image content of…
Black Swan Data is a SaaS company that uses social data to accurately predict consumer…
Tastewise provides a software platform and research services to analyse food and beverage trends. Data…
Audiense, together with its Affinio product, uses social intelligence to identify consumer segments and behaviours; these insights help to identify trends, white space opportunities, and new category needs.
YouScan is an AI-powered social media listening platform that helps businesses analyse consumer opinions, discover actionable insights, and manage brand reputation. It is particularly good at visual analytics – like finding brand logos or objects in Instagram posts.
Black Swan predicts trends by analysing social media conversations, tweets, posts, reviews, and blogs using AI.
Tastewise predicts trends in the food and beverage industry by using AI technology to analyse billions of food-related data points from sources like social media, menus, and recipes.
Using Mobile Video to Understand Consumers
Qualitative research through smartphones – often called mobile ethnography – is a powerful way to capture insights from people in their natural environments or day-to-day lives. Read this explainer to learn more.
Mobile video has become firmly established in people's lives: both consumption and creation have skyrocketed in recent years with the emergence of TikTok, Instagram Reels, and other native video platforms. Consumers regularly share their experiences with each other in real time at the touch of a button.
In research, respondents are also becoming more comfortable capturing and submitting video footage, and this type of mobile ethnography provides a deep understanding of experiences, preferences, and motivations.
Integrating AI with mobile video helps generate immersive insights that go beyond traditional interviews. AI is used to transcribe video and make the content searchable; decode the content of images in video to find brands, logos, places, or other content; and it can help researchers speed up their analysis significantly.
This type of AI for innovation research can be especially helpful for understanding user, customer, or patient journeys.
In this case study from Ethos, mobile ethnography was used to help map patient journeys – which are notoriously unique, complex, and sensitive. The Ethos mobile app was used to capture real-time in-context experiences, and AI-powered analysis then sifted through data to pinpoint unmet patient needs, service gaps, and differentiators for new service innovation. Read more from Ethos here.
Here are some useful tools that use AI for innovation research by capturing qualitative mobile video:
Field Notes is a platform for capturing and managing high quality, self-shot video from people…
EthOS is a mobile research platform for CX, UX and Market Research teams to conduct…
Indeemo is the market leader in mobile ethnography, a form of online qualitative research that…
Discuss is an end-to-end real-time qualitative video research platform used by the top global brands…
dscout is a smartphone diary research tool. Users take part in "missions" in which they…
Field Notes is an ethnographic research platform that captures and analyses real-time behaviours captured in video, audio, photo, and text feedback.
EthOS is a mobile research platform that collects in-context insights by conducting user experience testing, capturing video feedback, and analysing participant responses.
Indeemo is an in-the-moment video research platform that uses AI to provide an unfiltered and contextual understanding of consumer behavior.
Creating Draft Concepts
Generative AI is transforming the jobs of copywriters, bloggers, and digital marketers by helping them create draft content for articles, ads, emails, and more.
It is also increasingly being used to create new product concepts for innovation and research teams.
Prompting Large Language Models with inputs such as product features, ingredients or target audiences can generate a large number of concept ideas very quickly. AI can also be used to re-write or optimise existing draft concepts.
Innovation platform Upsiide conducted a series of tests in which both ChatGPT and the Upsiide team came up with new ideas for milkshake flavors, dipping sauces, and credit card rewards. The ideas that were generated were then tested using the Upsiide platform with an audience of North American consumers. The results showed that AI is very effective at generating creative concepts with strong appeal to niche consumer groups. Find out more and see a video of the results here.
Here are some useful tools that use Generative AI for innovation research by creating draft concepts:
Upsiide allows researchers and marketers to test ideas, concepts, and communications in a fast, cost-effective…
Ai Palette enables FMCG food companies to create consumer winning products using AI and Machine…
Upsiide is an agile SaaS solution that offers predictive insights on in-market potential, and data modeling, and provides concept/comms testing and package design testing services.
AI Palette is a platform that uses AI user prompts to generate and research concept ideas and virtually screen products.
Using Predictive AI Models to Test Designs
Visual appeal plays a crucial role in capturing consumers' attention. For many years, eye-tracking research – whether in labs, in stores, or online with webcams – has been used in innovation to test designs, packaging, and communications materials.
Now, it is possible to train 'predictive' eye-tracking models that use historical data to estimate how different designs will attract consumers' attention.
This application of AI for innovation research creates heatmaps and gaze plots – the typical outputs of 'real' eye tracking – to determine attention patterns, areas of interest, potential distractions, and design flaws.
This data-driven approach allows for iterative improvements and helps designers and innovators create products with a visual impact to capture consumer attention.
Liberty London used this approach to help increase conversion rate and revenue through its e-commerce site. Users of the Liberty website were struggling to find the search bar, which is a serious problem for a retail website. A prototype of a new site design was tested using the EyeQuant platform to predict where users would look on the webpage. The final design helped Liberty achieve an uplift in conversion and a 15% increase in average revenue per user. Read the full case study here.
Here are some of the tools that incorporate predictive eye tracking in their use of AI for innovation research:
Dragonfly AI is an AI-powered platform that predicts attention for any form of visual asset…
Eyequant software simulates thousands of users and uses AI to predict which elements will attract…
Attention Insight is a software platform that predicts where users will look while engaging with…
Dragonfly AI is a predictive analytics platform that simulates attention on creative assets in any format, channel, or market.
EyeQuant combines advanced eye-tracking research with artificial intelligence and neural network modelling to predict how users will perceive a design within the first few seconds of viewing.
Attention Insight generates attention heat maps for design and image analysis and uses deep learning algorithms trained on data from eye-tracking studies to predict where people will look when engaged with stimuli.
Predictive Concept Testing
Predictive concept testing is conceptually similar to predictive eye tracking.
It uses machine learning trained on historical results of concept tests and other data in order to predict the success of new concepts with greater accuracy.
This approach has been used by Kantar and Zappi for the predictive testing of ads:
Expect to see this approach applied to concept testing from both companies in the future.
Another company that uses AI to predict concept performance is AI Palette. Hershey's Kit Kat team wanted to launch a new product concept quickly, so they used AI Palette's platform to screen 20 new chocolate flavour concepts in just one afternoon – helping them to reduce their new product development process by weeks and launch a new Blueberry Muffin chocolate product in record time. Read more on this case study here.
Some other useful solutions that predict new product success using AI for innovation research include:
Cambri is the product development platform for innovators. Advanced consumer insight & iterative testing…
Gastrograph AI delivers an Artificial intelligence platform for predictive food and beverage product development.
Simporter is AI-driven software that automates new product research by analysing search, sales, social, and…
Strategir is a full service market research agency based in France with proprietary tools and…
Cambri's LaunchAI uses artificial intelligence to analyse, advise and predict the success of new products, helping to achieve NPD success rates of up to 73%.
Gastrograph helps to optimise food and beverage products by using artificial intelligence trained on the world's largest sensory database.
Simporter uses AI to help predict sales for upcoming consumer product launches, with sales forecasts that combine different product attributes.
Strategir's Market Shaker solution generates volume sales forecasts for new products by using AI to transform around a hundred respondents into a "virtual panel" of up to 2 million consumers.
This is just a selection of the different ways you can now use AI for innovation research: predicting trends from social data, understanding consumers through mobile video, generating concept ideas, testing designs with simulated attention models, and predictive concept testing.
Find more ground-breaking uses of AI for Innovation Research in these masterclasses and demos at the Innovation Insights Summit.

Author
Based in Sao Paulo, Brazil, Cynthia helps to create the Insight Platforms content, training courses and virtual events.