This is a collection of the top eye tracking platforms, using either webcams or wearables.
There's no ranking implied by the order.
For a complete list of all eye tracking platforms, browse the directory here.
Eye tracking is a way of measuring attention, by recording what people look at and how long they look at it for.
It's a great way of understanding what stands out to people, and how that influences their behaviour. It can be a valuable tool for a range of different research needs, such as shopper, packaging, advertising, and UX.
If you'd like to know more about eye tracking and how to use it, check out our Introduction to Eye Tracking.
If you're now ready to find a platform for your own eye tracking studies, then you've come to the right place.
Here are our top 15 platforms.
Lumen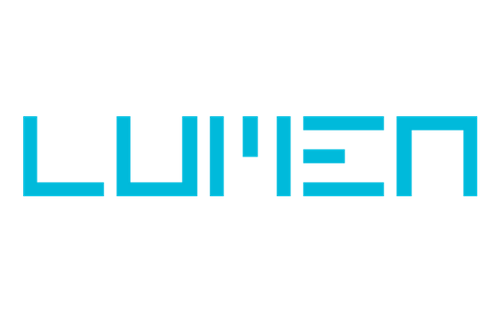 Lumen are attention technologists who use eye tracking and other behavioural research techniques to understand what really drives attention to advertising, point of sale and packaging.
Their proprietary software turns your computer or mobile's webcam into an accurate and stable eye tracking camera. This means they can conduct insightful attention studies at scale and speed anywhere in the world, and amongst any audience.
Lumen combine eye tracking technology with facial coding and implicit response time techniques to produce rich and robust recommendations that lead to confident decision-making and increased sales.
They have pioneered the use of 'in context' testing for everything from print, TV and digital media, and innovative solutions in testing OOH and POS using Hollywood-style video special effects technology.
Lumen offer a range of tools including digital / social media ad optimisation, TV ad pre-testing and tracking, OOH ad testing, POS material testing, packaging shelf tests and design pre-tests, and UX and user design.
They work directly with client insight teams for advertisers, publishers and retailers, but also work in partnership with research agencies, licencing technology or working in deeper collaborative partnerships.
Get expert tips from Lumen in this webinar: What Can Behavioural Economics Teach Attention Economics?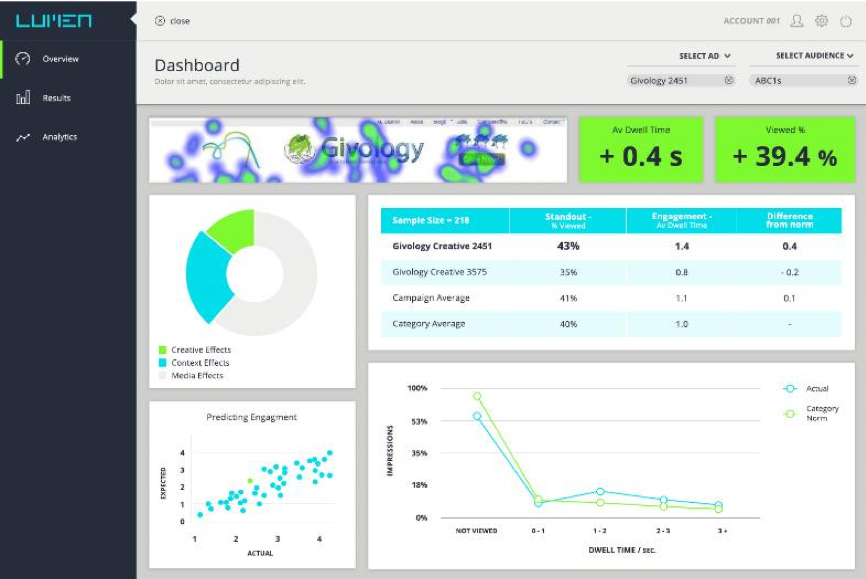 Element Human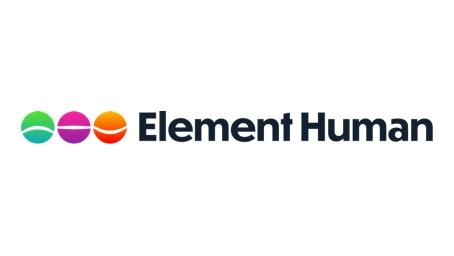 Element Human is an easy-to-use customer understanding platform that uses a range of different tools, including eye tracking.
To measure how people engage with certain environments, Element Human uses a number of traditional and proprietary tools like surveys, eye-tracking, and emotion recognition to understand attention, emotion, perception and intent to behave. This provides you with fast, reliable, and emotional market knowledge.
The consent-based platform enables everyday devices to safely capture and respond to the ​emotional, memory and thought​ drivers of ​human​ ​behaviour​ as people interact with ​digital experiences​.
You can watch a demo from Element Human here. You can also read their ebook "Facial and Emotion Recognition: What's the difference?"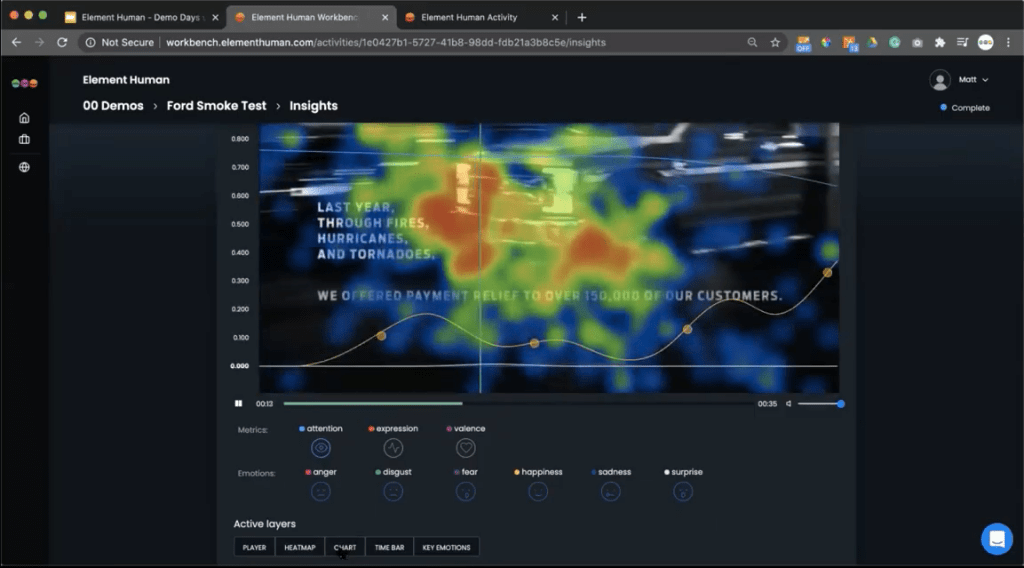 Tobii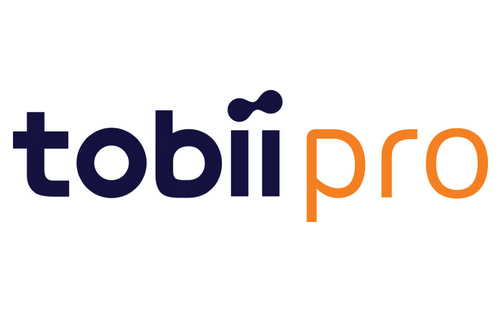 Tobii Pro is a supplier of eye tracking solutions for understanding human behaviour.
They provide both hardware and software for eye tracking, including wearable eye tracking glasses. This technology can be used in home, making ethnographic research much easier, cost-effective and less obtrusive. Alternatively the glasses can be worn out of home for shopper, packaging and advertising tracking.
Service options are available from self-serve, to end-to-end project delivery.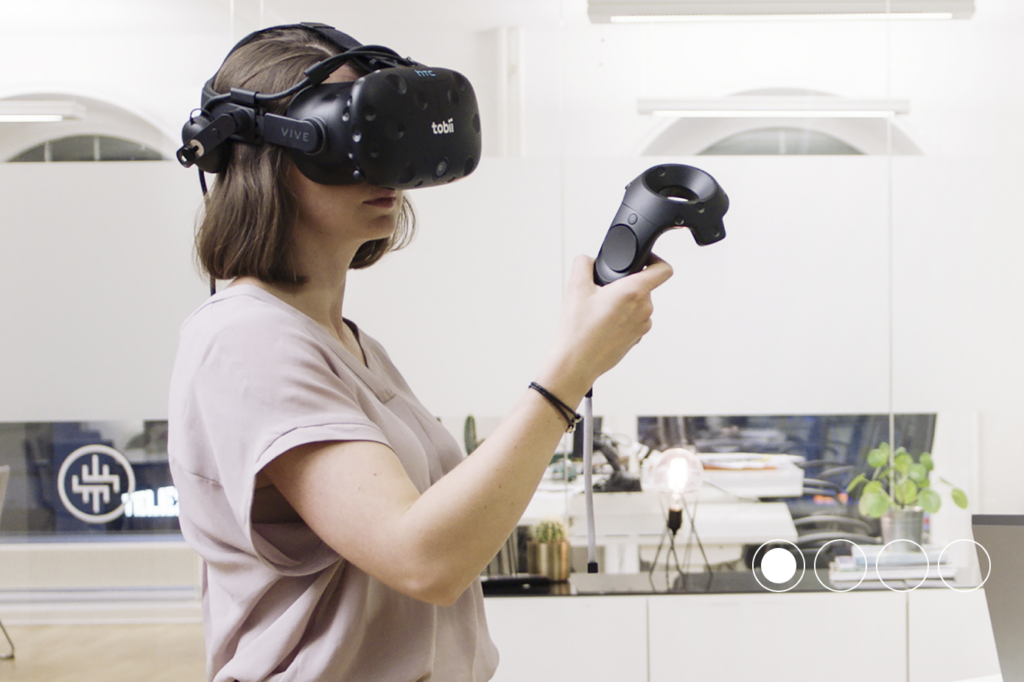 EyeSee Research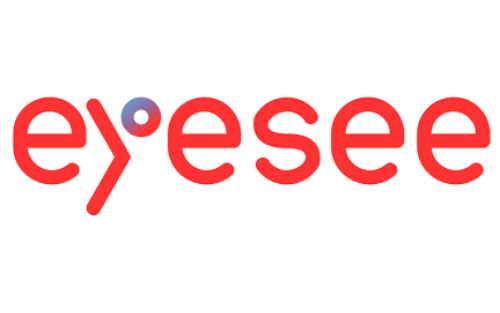 EyeSee Research provides services and technology for behavioural research – including eye tracking, facial coding, virtual shopping and reaction time measurement.
They use webcams to conduct their tracking tests remotely, saving money and time, and enabling studies in over 40 countries. Following the study, clients receive reports which include insights, recommendations, and research data.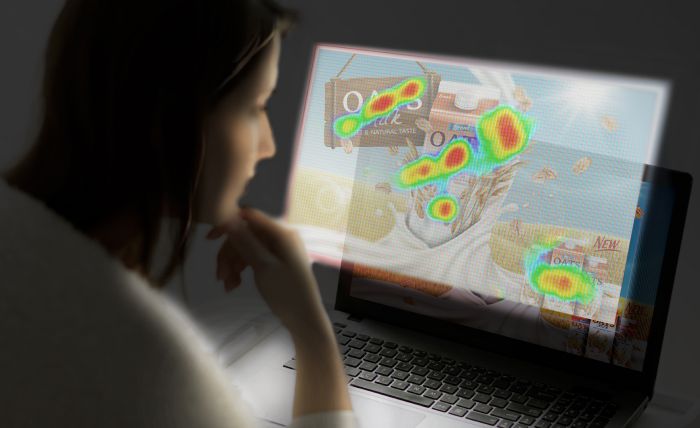 Cool Tool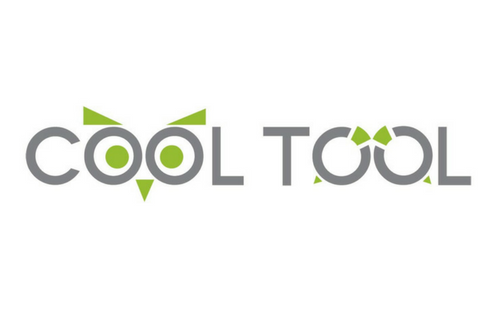 Cool Tool is an automated cloud-based NeuroLab. It includes eye tracking alongside emotion measurement, brain activity (EEG), mouse tracking, and surveys, which can be used separately or together. The platform uses webcam technology for eye tracking.
The platform integrates eye-tracking technology (as well as other neuromarketing technologies) with an online surveys engine. It allows you to cross-analyse consumers' declared answers with their nonconscious reactions and get the most reliable insights. It is all fully automated.
Projects can easily be set up through a portal which allows you to add questions and material to test with eye-tracking. The portal also allows you to select an audience (yours or through the built-in online panels). After a few hours, data visualisations are available.
Emotion Research Lab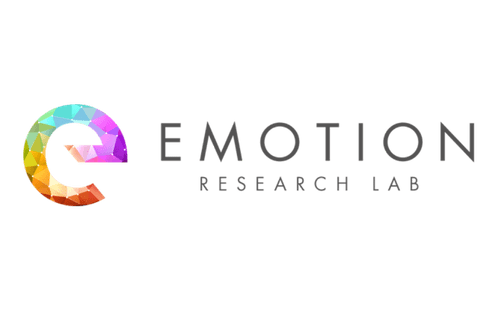 Emotion Research Lab offers facial coding and eye tracking, with proprietary models to capture universal emotions and secondary moods.
Their technology enables eye tracking without the need for specialised external hardware, only a webcam.
It uses facial emotion recognition and eye tracking to understand how people feel in real life, in real time. They also have 9 types of customisable questions that can be added to your studies.
Analysis is available via an easy to use dashboard, providing instant access to emotional charts and text summaries. Reports can be downloaded to share with stakeholders.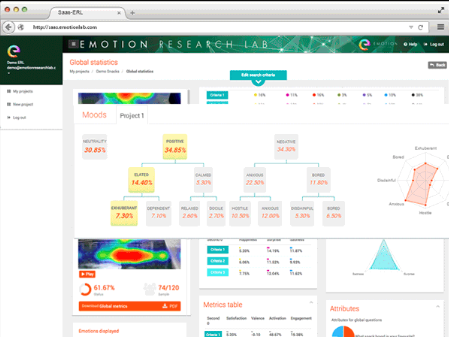 Eye Square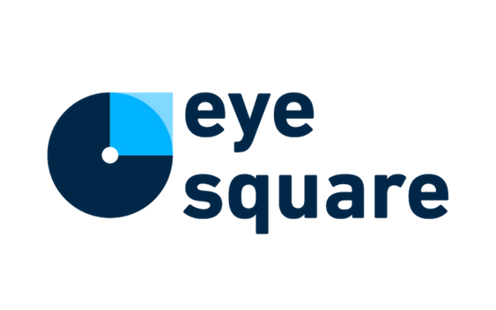 Eye Square is a specialist provider of neuromarketing research using eye tracking, facial coding and emotion analytics.
The platform combines psychology, science and state-of-the-art technology to capture and analyse real (neuro-biological), explicit and implicit reactions of your customers in numerous settings. This shows you what happens and why.
They offer a range of eye tracking options, such as smartphone, head mounted, webcam, desktop and virtual reality. This supports research needs across user experience, brand & media, and shopper experience.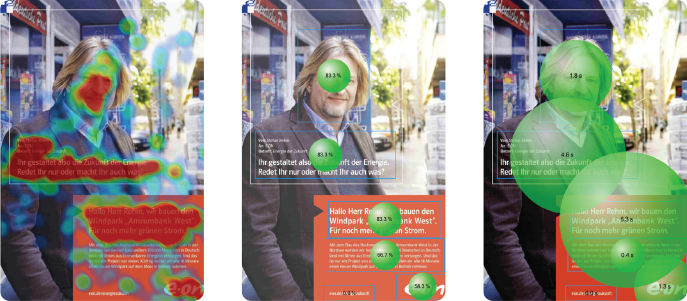 Eyes Decide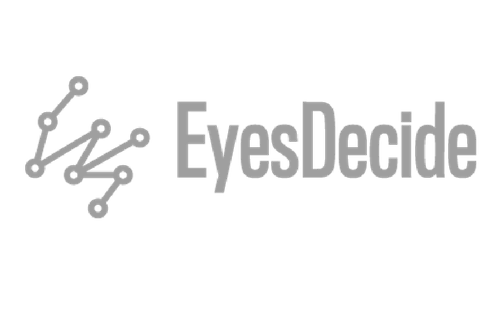 EyesDecide provides online eye tracking solutions for market research and product design.
The integrated platform supports building, running and analysing studies and simple projects can be completed in under an hour.
A viewer replay feature provides real-time eye gaze and mouse movement replays for every participant. Heatmaps can be created by segmenting, filtering, or selecting individual research participants. Tasks and surveys can also be integrated into projects.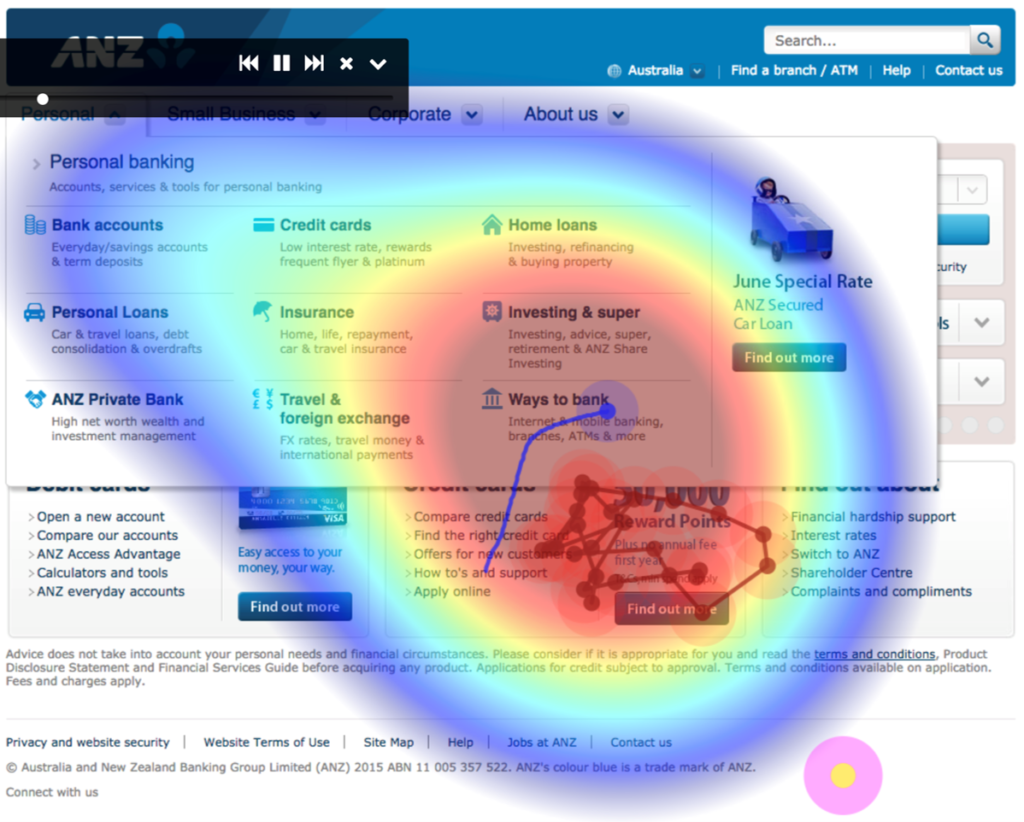 Eyetracker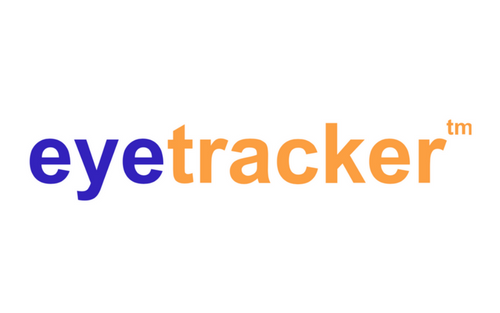 Eyetracker is an agency solely focused on eye tracking technology.
The platform offers range of eye tracking services using in-store, lab-based and online technology.
As well as offering a fieldwork service, they are also a distributor of the very latest in eye tracking glasses. Their glasses help ensure accuracy in measuring eye movement, and are useful for psychology, market research and sports science studies.
The platform is well suited to sectors such as advertising, retail, digital, direct mail, and way finding.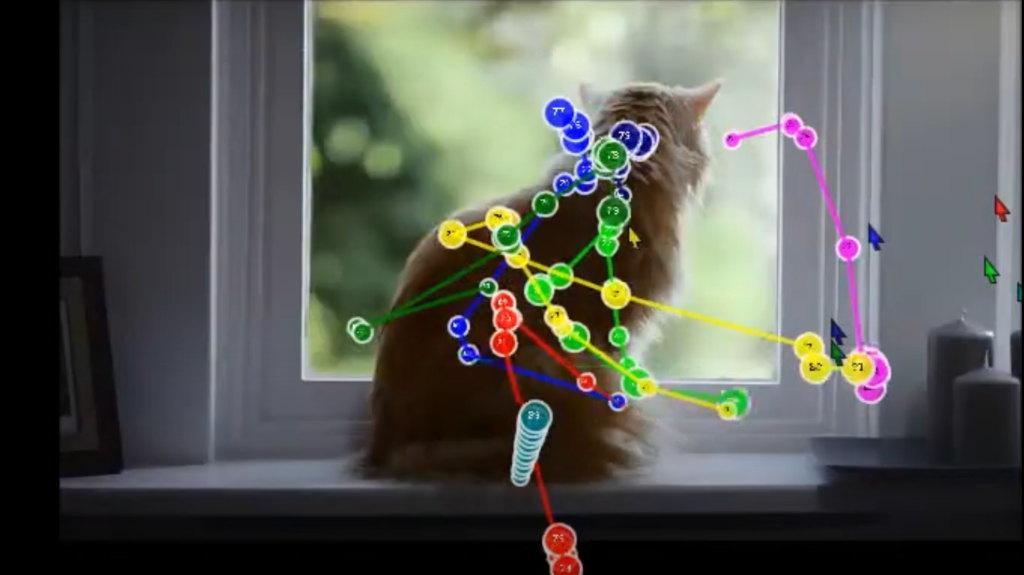 eyezag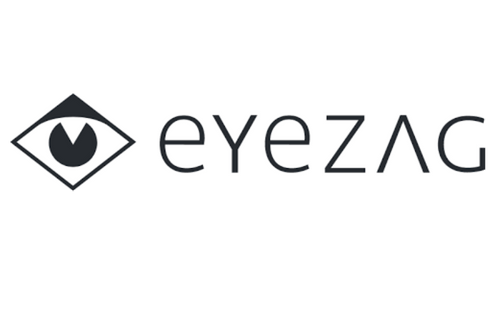 Eyezag provides desktop and mobile eye tracking solutions using standard webcams, with tests running in-browser.
Self-service and managed service solutions are available.
The self-service platform supports the creation of surveys, uploading of eye-tracking stimuli, analysis tools (visualisations, heatmaps, animations, statistical data). It also offers participant booking (via shareable link or by uploading participant lists).
Managed services include full custom project delivery as well as a simple omnibus test.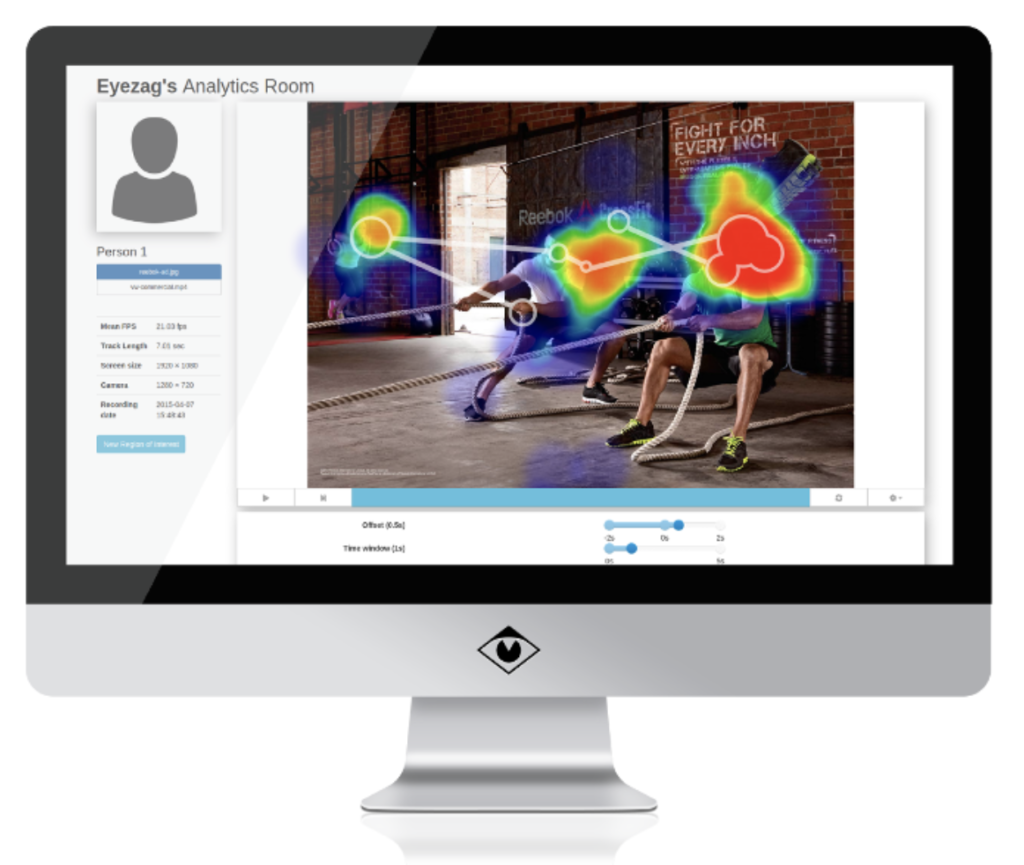 Gazepoint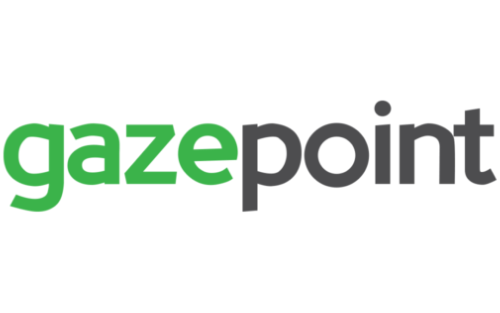 Gazepoint is an agency that offer eye tracking, neuromarketing and biometric research.
They provide infra-red hardware and support for eye tracking, neuromarketing and biometric research.
Key applications are in market / user research, academic and medical uses.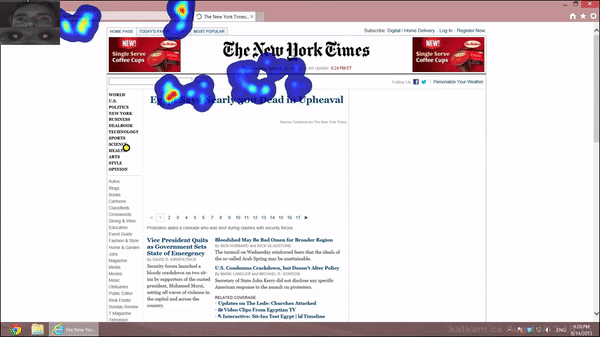 Hawkeye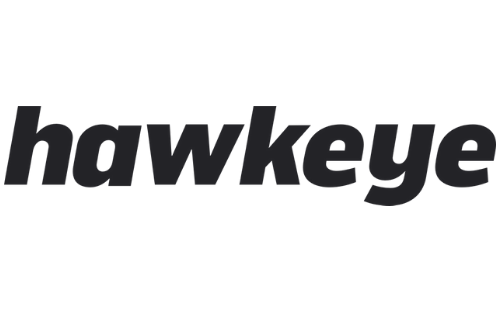 Hawkeye is a user research platform for webcam-based eye tracking using iOS devices.
It captures eye movements, touch events and audio commentary to build understanding of user interactions with websites and apps.
Invite participants to complete tests on their own devices, anywhere in the world. This keeps testers in their natural environment and allows you to scale to a large number of participants.
The platform has a variety of analysis tools, such as session replays, aggregated heatmaps and raw data exports.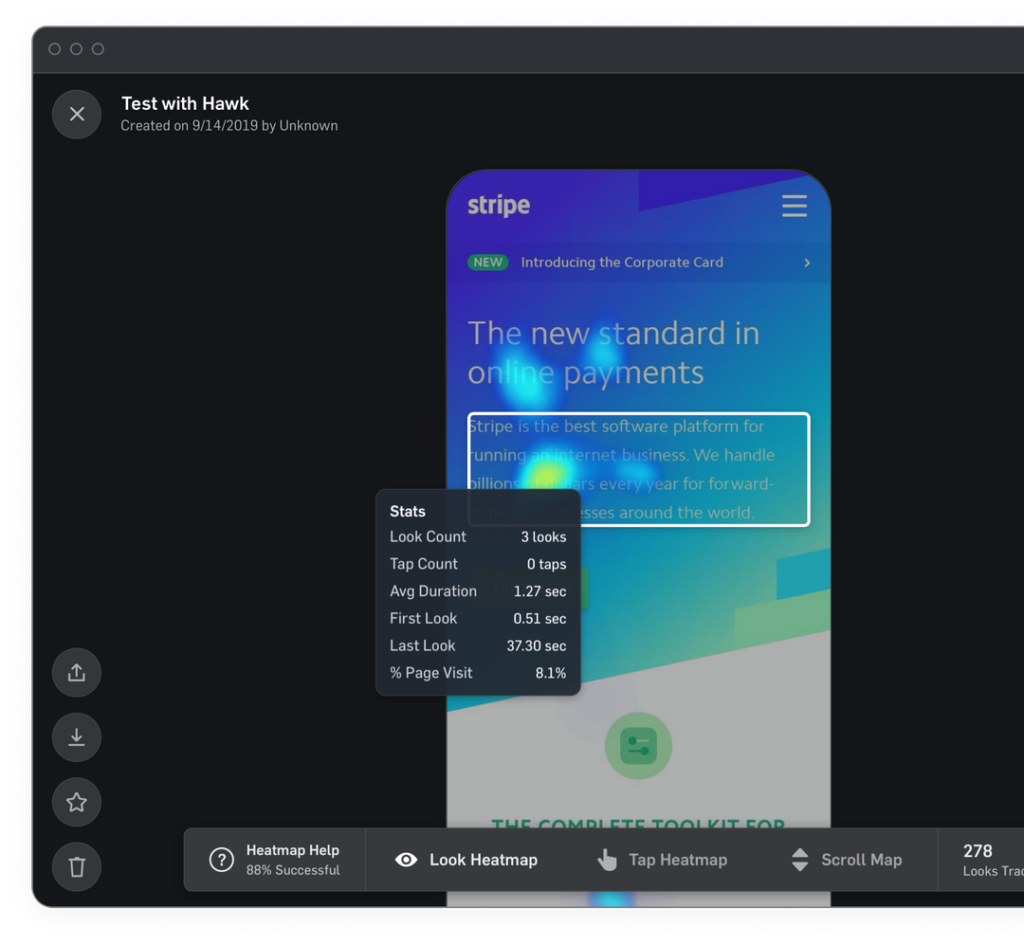 Loceye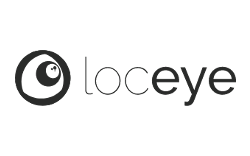 Loceye is an online eye-tracking research platform, particularly suited to CRO, UX and AdTech.
Upload your digital assets onto the Loceye platform where they will be stored safely in the cloud. Import from any tool via PNG/JPG. Loceye will share your content with real people they have recruited for your experiment based on your requested demographics.
Get your results in less than a day. The platform generates custom reports with heatmaps and more visualisations, to enrich your presentation and validate your design assumptions.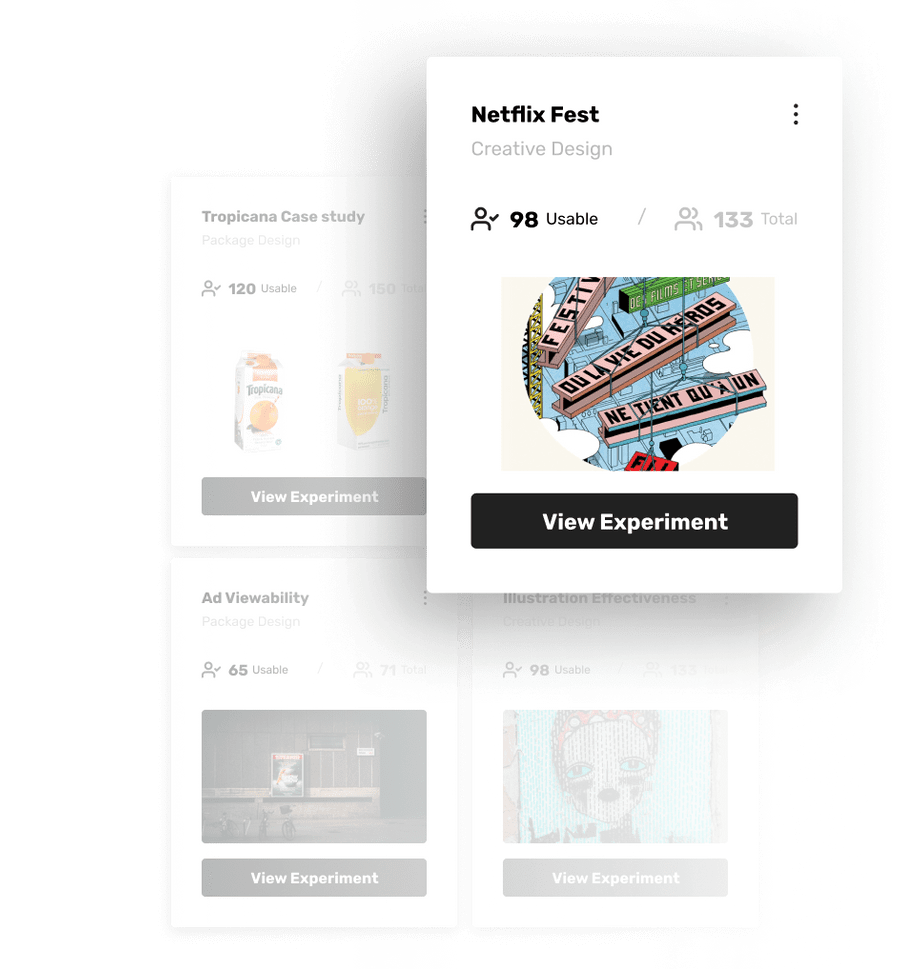 RealEye
RealEye provides screen-based webcam eye-tracking, mouse-tracking and facial coding.
The platform supports 10 languages, and the system can be connected to any panel or survey platform. Basic surveys are also available to add to the studies.
They offer their own analysis tools and dashboards, with results available immediately after each test. Results can be shared with stakeholders and clients by sending a link, or by downloading heatmaps.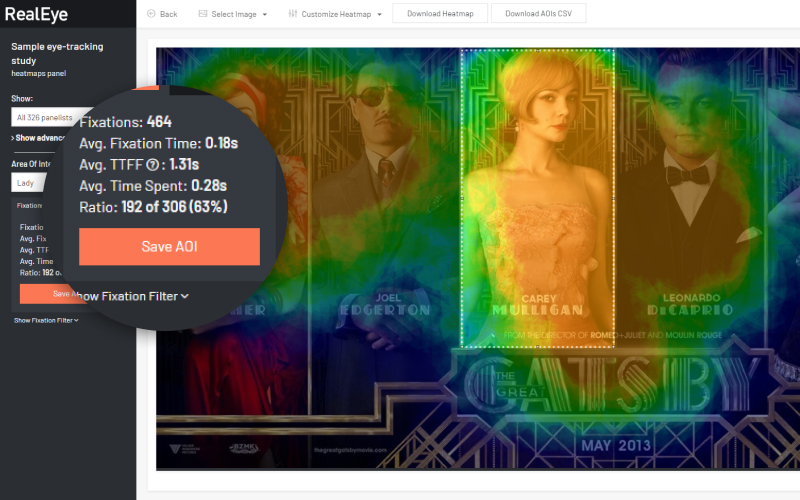 Sticky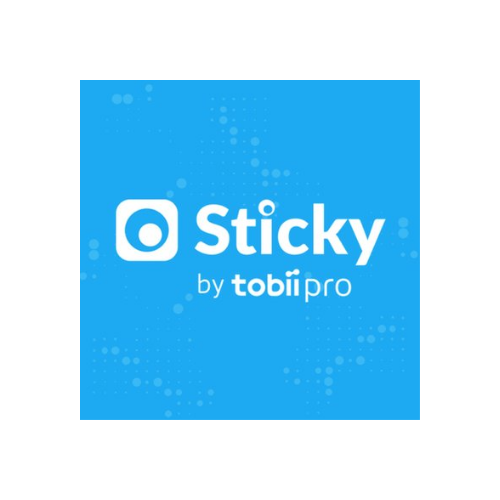 Sticky is an automated cloud-based eye tracking platform from Tobii.
The platform combines online survey questions with webcam eye tracking and emotion recognition. Upload static images or videos and choose from pre-existing study templates or create an experiment from scratch. Facial coding is available as an additional option.
The platform has a range of visualisation tools, such as gaze plots, heatmaps, and data points like percentage seen or time viewed. Emotion recognition is shown as intensity graphs for all six universal emotions as well as valence and mood graphs.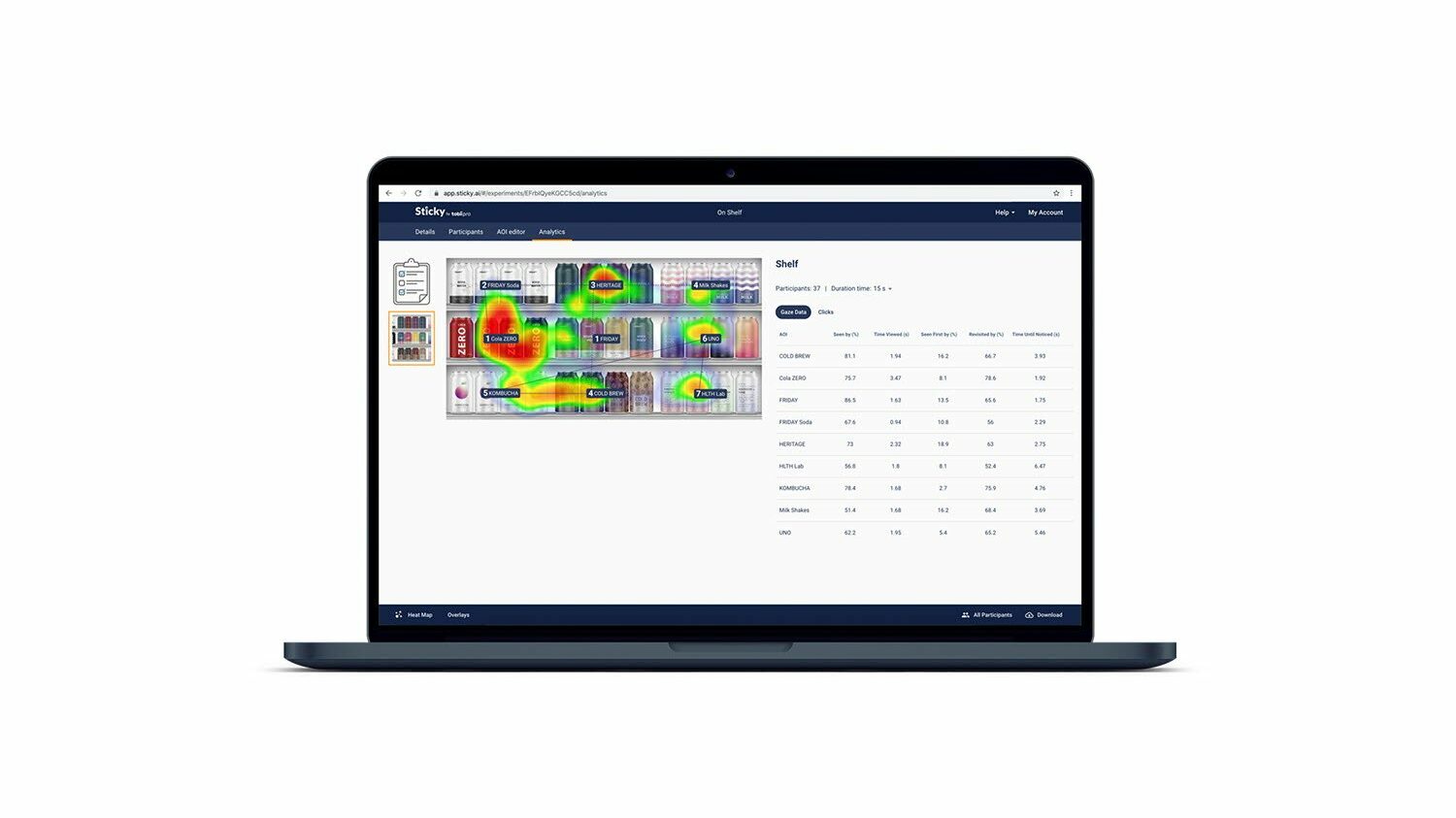 More resources
Still want more information about eye tracking? Well, we've got you covered.
There's several blog articles, webinars, demos and platforms to browse on our Eye Tracking page.
Read:
Read our article What is Eye Tracking for Market & User Research? to get an introduction to the method and learn about use cases.
Read our article about AI in eye tracking; Can Automated Eye Tracking Ever Replace Humans?
Check out our article What are Neuromarketing Research Tools? to see how eye tracking fits in with a variety of biometric and neuromarketing tools.
Watch:
Watch our webinar What Can Behavioural Economics Teach Attention Economics? to get practical tips about how to earn attention using behavioural economics.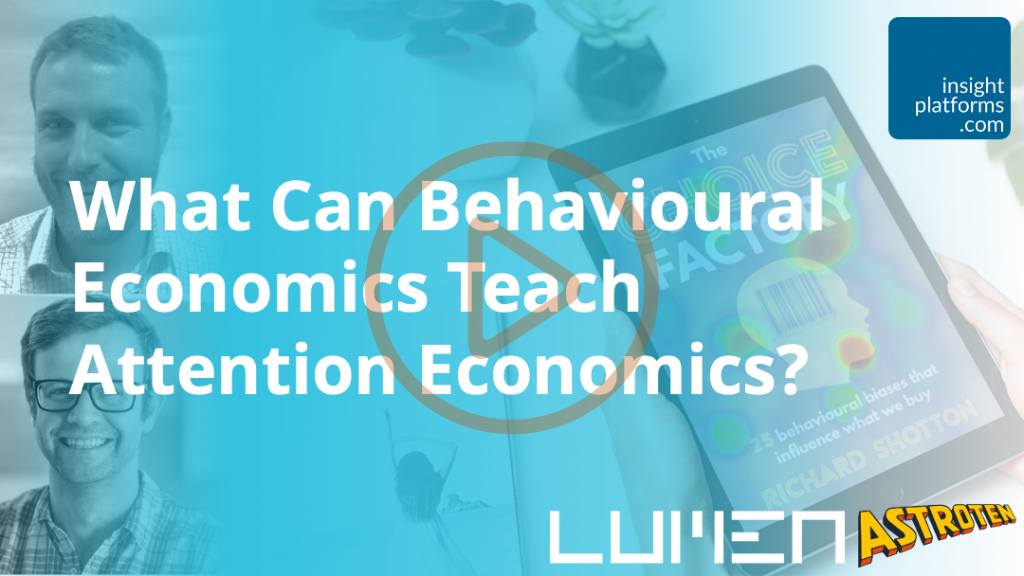 Watch the demo from Element Human to see how they blend question data with biometrics.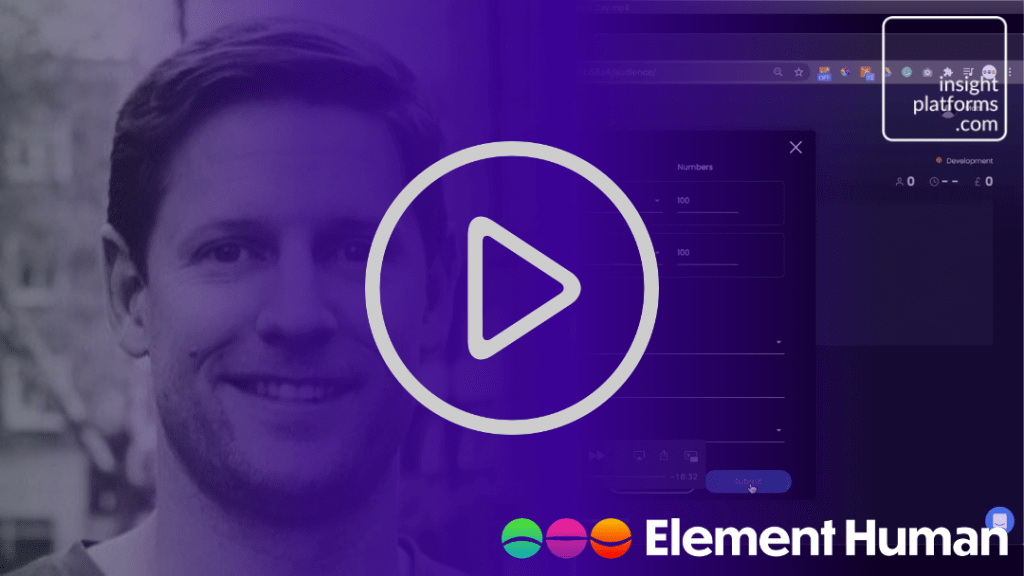 Author
Mike is the founder of Insight Platforms. He is a consultant, advisor and thought leader on the intersection of technology and research.